Evaluasi Pasca Pelatihan, Kementan Kawal Milenial jadi Wirausahawan Pertanian
Indonesia Binuang`s Agricultural Training Center Held the Post-training Evaluation
Editor : M. Achsan Atjo
Translator : Dhelia Gani

PUBLISHED: Selasa, 25 Januari 2022 , 10:36:00 WIB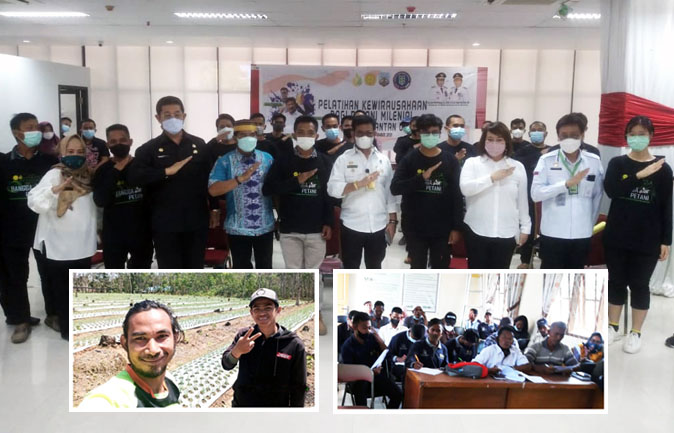 BBPP BINUANG: Mentan Syahrul Yasin Limpo dan Kepala BPPSDMP Kementan, Dedi Nursyamsi bersama petani milenial binaan BBPP Binuang yang didampingi Kepala BBPP Binuang, Yulia Asni Kurniawati [ke-2 kiri] dan para petani milenial [insert foto]
Tapin, Kalsel [B2B] - Kementerian Pertanian RI tiada henti membimbing dan mengawal petani milenial menjadi wirausahawan pertanian, yang dimotori Badan Penyuluhan dan Pengembangan SDM Pertanian [BPPSDMP] melalui Evaluasi Pasca Pelatihan [EPP] sebagai evaluasi tingkat keberhasilan dan bahan penyusunan strategi serta perencanaan program tindak lanjut pelatihan.
Kegiatan EPP dilakukan oleh Balai Besar Pelatihan Pertanian [BBPP] Binuang di BPP Bagendang, Kabupaten Kotawaringin Timur, Provinsi Kalimantan Tengah selama empat hari, 21 - 24 Januari 2022, bagi petani danpenyuluh pertanian pendamping petani milenial/ purnawidya Bimbingan Teknis Motivasi Usaha Menuju Petani Milenial pada 20 - 21 Oktober 2021.
Menteri Pertanian RI Syahrul Yasin Limpo mengatakan bahwa pertanian dapat dianalogikan 'merpati yang tidak pernah ingkar janji' asalkan petani milenial mengelolanya dengan baik dan benar serta memanfaatkan teknologi tepat guna.
"Keberadaan para petani milenial sangat vital dalam mewujudkan pencapaian ketahanan pangan, dengan penerapan teknologi pertanian yang direkomendasikan," kata Mentan Syahrul.
Kepala BPPSDMP Dedi Nursyamsi menyikapi arahan Mentan Syahrul yang berharap melalui pelaksanaan kegiatan pelatihan dapat mendorong petani milenial menjadi unggul, profesional dan berdaya saing dalam mengembangkan usahanya.
Menurutnya, petani milenial, setalah mengikuti pelatihan, dapat melakukan pengembangan usaha melalui Kredit Usaha Rakyat [KUR] dari perbankan seperti BRI, BNI, Mandiri dan bank daerah di tingkat provinsi untuk optimalisasi kegiatan agribisnisnya.
"Hasil pelatihan akan memberikan peningkatan kapasitas bagi petani, khususnya dalam merencanakan kegiatan pertanian, meng-klaster kawasan pertanian dan kelembagaan petani, melakukan enjiniring pertanian dari hulu sampai hilir yang mencakup input permodalan [KUR], budidaya, pascapanen, pengolahan, pengemasan dan pemasaran hasil pertanian yang terstandarisasi, modern dan marketable," kata Dedi.
Kita harus 'dorong' petani milenial, katanya lagi, sebagai SDM unggul dengan karakter mampu beradaptasi, responsif, serta kolaboratif dan menyiapkan resonansi penumbuhan petani milenial membangun potensi lokal pertanian.
Seruan serupa dikemukakan oleh Kepala Balai Besar Pelatihan Pertanian [BBPP] Binuang, Yulia Asni Kurniawati, menyikapi arahan Kepala BPPSDMP Dedi Nursyamsi tentang EPP khusus pada kegiatan Pendampingan dan Bimtek Kerjasama Komisi IV DPR RI di wilayah kerja BBPP Binuang.
"EPP penting sebagai sebagai evaluasi tingkat keberhasilan dan sebagai bahan penyusunan strategi dan perencanaan/ program tindak lanjutnya," kata Yulia.
Terkait materi EPP, menurut Yulia, lebih diarahkan agar Duta Petani Milenial dan Duta Petani Andalan [DPM/DPA] mampu berwirausaha, terkait sosialisasi pembiayaan berbasis KUR.
"Selain itu untuk mengawal para milenial untuk memberi pemahaman kepada peserta tentang bagaimana menjalin kemitraan dan negosiasi yang efektif dengan menerapkan supply chain management, bagaimana menerapkan strategi pemasaran berbasis digitalisasi, serta menerapkan berbagai konsep pembiayaan dan pencatatan usaha yang relevan dengan perkembangan jaman," kata Yulia.
Widyaiswara Budiono selaku Enumerator kegiatan EPP mengatakan bahwa melalui EPP digali informasi biodata petani milenial, potensi, dan sumber daya yang sedang dikembangkan, tingkat kemanfaatan dan penerapan Bimtek, faktor pendukung atau penghambat.
"Harapan atau kontribusi lain dapat membantu mengembangkan usaha tani para milenial, untuk menjadi wirausahawan pertanian di era digital 4.0," katanya. [Budiono/Agus]
Tapin of South Borneo [B2B] - The Indonesian Agriculture Ministry continuously guides and escorts millennial farmers to become agricultural entrepreneurs, which is driven by the Agricultural Extension and Human Resources Development Agency or the BPPSDMP through the Post-Training Evaluation or the EPP as an evaluation of the level of success and materials for developing strategies and planning follow-up training programs.
The EPP activities are carried out by the Binuang Agricultural Training Center [BBPP Binuang] in BPP Bagendang, East Kotawaringin Regency, Central Borneo Province for four days, 21 - 24 January 2022.
The Indonesian Agriculture Minister Syahrul Yasin Limpo said that agriculture can be analogous to 'doves never lie' as long as millennial farmers manage it properly and utilize appropriate technology.
"The existence of millennial farmers is very important to realize the achievement of food security, with the application of recommended agricultural technology," said Minister Limpo.