755 Okupasi Profesi: Kesehatan Hewan Terbanyak, Penyuluh Hanya 3 Jabatan
755 Occupational Profession in Indonesia`s Agricultural Sector
Editor : M. Achsan Atjo
Translator : Dhelia Gani

PUBLISHED: Jum'at, 28 Desember 2018 , 11:07:00 WIB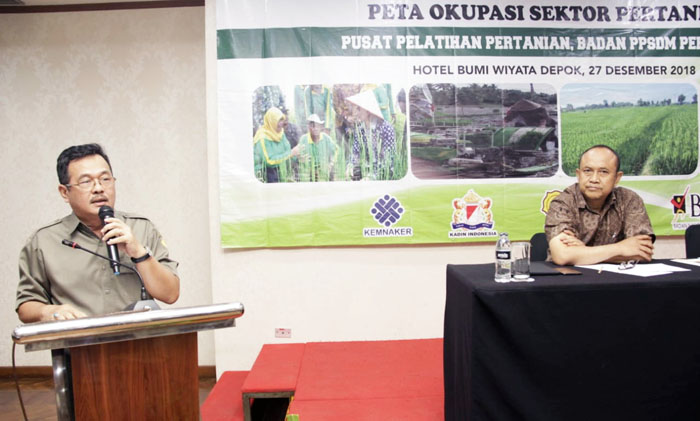 DOKUMEN RESMI: Kepala Puslatan BPPSDMP Kementan, Bustanul Arifin Caya membuka rakor mewakili Momon Rusmono, pembicara utama Ir Surono M. Phil dari BNSP (kanan) Foto2: Humas BPPSDMP/Eko Saputra
Depok, Jabar (B2B) - Kementerian Pertanian RI saat ini menetapkan 755 profesi di sektor pertanian dari lima subsektor, dan area fungsi terbanyak adalah kesehatan hewan sementara penyuluhan pertanian tergolong paling minim, hanya tiga profesi: advisor, supervisor dan fasilitator, yang akan menjadi acuan perencanaan pembangunan SDM pertanian oleh Badan Penyuluhan dan Pengembangan SDM Pertanian (BPPSDMP) Kementerian Pertanian RI.
Dari 255 jabatan di subsektor kesehatan hewan, maka jabatan paramedik yang terbanyak, 70 jabatan; dokter hewan terbagi dalam lima jabatan; veteriner 10 jabatan; enam jabatan perancang kesehatan hewan; dan lainnya yang disusun oleh Pusat Pelatihan Pertanian (Puslatan) BPPSDMP Kementan.
"Dari 755 profesi di sektor pertanian tergambarkan bahwa tahapan profesi veteriner maupun paramedik kesehatan hewan meliputi banyak area fungsi, sekaligus memperlihatkan banyak peluang profesi di situ. Ke depan, institusi pendidikan dapat menerapkan kurikulum sekolah ke dalam skema Peta Okupasi Profesi Sektor Pertanian yang disusun Kementan," kata Kepala Puslatan BPPSDMP Kementan, Bustanul Arifin Caya kepada pers di Depok, Kamis (27/12).
Menurutnya, peta okupasi profesi sektor pertanian akan menjadi acuan perencanaan pembangunan SDM pertanian, untuk ditindaklanjuti oleh Kementerian Ketenagakerjaan, Badan Nasional Serfikasi Profesi (BNSP), Kamar Dagang dan Industri (Kadin), asosiasi profesi dan bisnis.
Hal itu pula, kata Bustanul, Puslatan menggelar kegiatan Penetapan Bersama dan Penyempurnaan Peta Okupasi Sektor Pertanian di Depok, output-nya adalah ´peta okupasi sektor pertanian yang lebih sempurna´ dan mencapai ´kesepakatan bersama Peta Okupasi Sektor Pertanian.
Selama 2018, Kementan telah menghasilkan 41 Standar Kompetensi Kerja Nasional (SKKNI) sektor pertanian dan 10 Kerangka Kualifikasi Nasional Indonesia (KKNI) yang masih tergolong minim ketimbang jumlah area fungsi dari profesi yang mencapai 755 profesi dari lima subsektor pertanian.
"Tujuan pengembangan peta okupasi profesi sektor pertanian merupakan dokumen resmi sebagai referensi standar dalam konteks penyelenggaraan aktivitas sertifikasi kompetensi yang berbasis pada skema okupasi nasional maupun KKNI," kata Bustanul AC yang didampingi Kepala Bidang Standardisasi Sertifikasi Profesi Puslatan, Zuroqi Mubarok.
Tujuan lain adalah pengembangan kurikulum pendidikan tinggi di sektor pertanian yang mengacu pada KKNI sesuai UU yang berlaku. Penyusunan job description berbagai fungsi pertanian yang ada dalam sebuah organisasi komersial maupun nirlaba. Pemetaan profil kebutuhan dan ketersediaan SDM Indonesia dalam berbagai okupasi dan fungsi kunci, dan pembuatan berbagai modul dan desain instruksional berbasis kompetensi yang dibutuhkan oleh lembaga pendidikan dan pelatihan pertanian di seluruh Indonesia. (Esap)
Depok of West Java (B2B) - Indonesian Agriculture Ministry currently assigns 755 professions in the agricultural sector of five subsectors, and the most function area is animal health while agricultural extension is the least, only three professions: advisors, supervisors and facilitators, which will become a reference for agricultural HR development planning by the Directorate General of Extention and Agricultural Human Resource Development or BPPSDMP.
Of the 255 positions in the animal health subsector, most paramedic positions, 70 positions; veterinarians are divided into five positions; veterinary 10 positions; six positions of animal health designers; and others compiled by the Agricultural Training Center or Puslatan of BPPSDMP.
"Of the 755 professions in the agricultural sector, it is described that the veterinary profession and animal health paramedics have the most area of function, while showing many professional opportunities there. In the future, educational institutions can apply the education curriculum into the Agriculture Sector Professional Occupation Map compiled by the agriculture ministry," Director of the Puslatan Bustanul Arifin Caya told the press here on Thursday (December 27).
According to him, the occupational map of the profession in the agricultural sector will become a reference for agricultural HR development planning as the reference of National Professional Certification Board or the BNSP, Manpower Ministry, National Development Planning Agency or Bappenas, Indonesian Chamber of Commerce and Industry or Kadin, professional and business associations.
During 2018, the ministry of agriculture has compiled 41 National Work Competency Standards or the SKKNI in the agricultural sector and the 10 Indonesian National Qualifications Framework or the KKNI which is considered minimal compared to the number of function areas of the profession which reaches 755 professions of the five agricultural subsectors.
"The goal of developing professional occupational maps in the agricultural sector is an official document as a standard reference in the context of organizing competency certification activities based on national occupational schemes and KKNI," said Mr Caya who was accompanied by Head of Professional Certification Standard, Zuroqi Mubarok.
Another goal is the development of a higher education curriculum in the agricultural sector that refers to the KKNI in accordance with the applicable law. Compilation of job descriptions for various agricultural functions in a commercial and non-profit organization. Mapping profiles of the needs and availability of Indonesian HR in various occupations and key functions, and making various competency-based modules and instructional designs needed by agricultural education and training institutions across the country.