Monitoring & Pengawasan, Kementan Pastikan Harga Pangan Pokok Aman
Millennial Farmers Development are the Target of Indonesia`s SMKPPN Sembawa
Editor : Ismail Gani
Translator : Novita Cahyadi

PUBLISHED: Kamis, 22 September 2022 , 11:27:00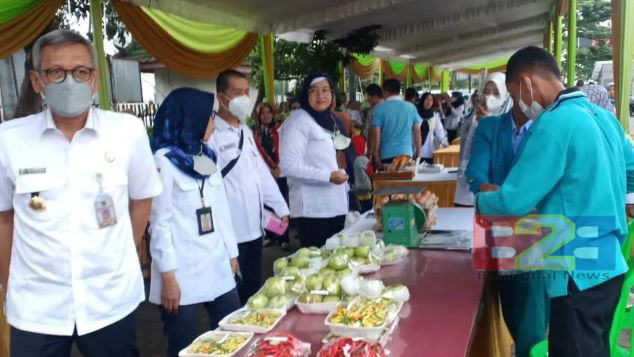 SMK PPN SEMBAWA: Kegiatan Bazar Pangan Murah yang digelar Kementerian Pertanian bersama DKPP Provinsi Sumsel dan Badan Pangan Nasional.
Palembang, Sumsel [B2B] - Kementerian Pertanian terus memantau harga kebutuhan pokok di beberapa daerah yang ada di Indonesia, salah satunya wilayah Sumatera Selatan, melalui Tim Pengawalan dan Monitoring SMK Pertanian Pembangunan Negeri Sembawa yang berkolaborasi dengan Dinas Ketahanan Pangan dan Peternakan [DKPP] Provinsi Sumatera Selatan.
Hal ini menjadi bentuk komitmen untuk terus memfasilitasi generasi milenial terjun menjadi petani dan berwirausaha pertanian.
Dalam berbagai kesempatan Menteri Pertanian Syahrul Yasin Limpo selalu meyakinkan bahwa pertanian adalah bisnis yang menjanjikan.
"Tim Pengawalan dan Monitoring mempunyai tugas melakukan pengawalan, koordinasi, dan monitoring terhadap kepastian ketersediaan dan harga bahan pokok, khususnya dalam menghadapi hari besar nasional," ujar Syahrul.
Kepala Badan Pengembangan dan Penyuluhan SDM Pertanian [BPPSDMP], Dedi Nursyamsi menambahkan, pertanian akan terus berproduksi untuk memastikan masyarakat mendapatkan pangan.
"Bahan pokok sangat dibutuhkan setiap harinya. Karena itu, kita minta tim bekerja efektif untuk memastikan bahan pokok tersedia di masyarakat," ujar Dedi.
Stok 12 komoditas pangan pokok yaitu beras, jagung, kedelai, cabai besar, cabai rawit, bawang merah, bawang putih, telur ayam, daging sapi, gula pasir, dan minyak goreng terpantau mulai mengalami kenaikan yang cukup signifikan, salah satu dari dampak adanya kenaikan BBM.
Hal ini juga disampaikan oleh Kepala Dinas Ketahan Pangan dan Peternakan Provinsi Sumsel dalam pembukaan Bazar Pangan Murah di halaman DKPP Provinsi Sumsel. "Walaupun ada beberapa komoditas yang mengalami kenaikan harga namun stok produk tetap aman", ujarnya.
Bersama DKPP Provinsi Sumsel dan Badan Pangan Nasional, Kementan menggelar Bazar Pangan Murah yang berlangsung selama dua hari [21 - 22 September] yang berlokasi di Gerai Pasar Mitra Tani, Halaman Kantor DKPP Provinsi Sumatera Selatan. Kegiatan Bazar pangan murah ini diharapkan mampu menekan harga kebutuhan pokok yang mulai berangsur naik.
Palembang of South Sumatera [B2B] - The role of agricultural vocational education in Indonesia such as the the Agricultural Development Polytechnic or the SMKPPN, to support Indonesian Agriculture Ministry seeks to maximize its efforts to produce millennial entrepreneur.
Indonesian Agriculture Minister Syahrul Indonesia Yasin Limpo stated that the government´s commitment to developing agriculture, especially in the development of advanced, independent and modern agricultural human resources.
"The goal is to increase the income of farming families and ensure national food security. Farmer regeneration is a commitment that we must immediately realize," Minister Limpo said.
He reminded about the important role of vocational education, to produce millennial farmers who have an entrepreneurial spirit.
"Through vocational education, we connect campuses with industry so that Polbangtan graduates meet their needs and are ready for new things," Limpo said.