Uji Kompetensi CAT, 182 Calon Mahasiswa PEPI Serpong Ikuti Ujian Masuk
CAT Competency Test of Indonesian´s Agricultural Engineering Polytechnic
Editor : M. Achsan Atjo
Translator : Dhelia Gani

PUBLISHED: Kamis, 29 Agustus 2019 , 01:19:00 WIB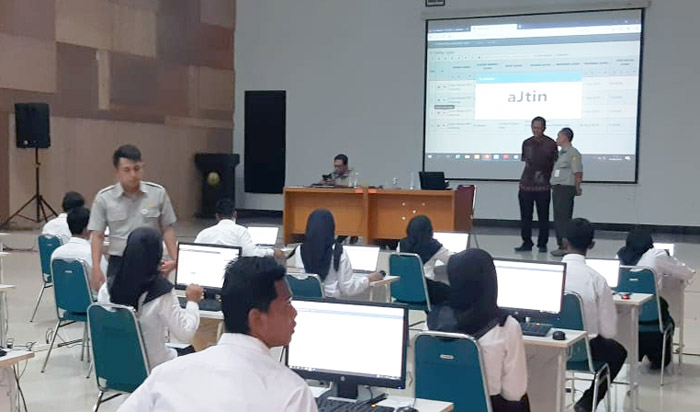 TIGA PRODI: Kepala Subbidang Peserta Didik - Pusdiktan BPPSDMP, R Hermawan [berdiri kanan] meninjau kegiatan uji kompetensi CAT [Foto: Humas Pusdiktan]
Bogor, Jabar [B2B] - Sedikitnya 182 calon mahasiswa Politeknik Enjiniring Pertanian Indonesia [PEPI Serpong] mengikuti uji kompetensi berbasis Computer Assisted Test [CAT] di kampus Polbangtan Bogor, yang digelar oleh Pusat Pendidikan Pertanian [Pusdiktan BPPSDMP Kementan] pada Senin [26/8].
"Uji kompetensi CAT digelar oleh Pusdiktan untuk menjamin transparansi penerimaan mahasiswa baru PEPI maupun Polbangtan mulai 2019," Kepala Subbidang Peserta Didik - Pusdiktan BPPSDMP, R Hermawan.
Menurutnya, PEPI yang berlokasi di Serpong, Kabupaten Tangerang, Banten akan membuka tiga program studi jenjang diploma tiga: teknologi mekanisasi pertanian, tata air pertanian, dan teknologi hasil pertanian. Profil lulusan adalah teknisi alat dan mesin pertanian (Alsintan), teknisi irigasi pertanian, dan teknisi penanganan hasil pertanian.
Sesuai instruksi Menteri Pertanian RI Andi Amran Sulaiman, kampus PEPI didirikan di Serpong untuk mendukung Kawasan Ekonomi Khusus (KEK) Pendidikan Sains dan Enjiniring. Sinergi PEPI dengan BB Mektan akan mengembangkan kegiatan penelitian, perekayasaan, dan pengembangan enjiniring pertanian mulai dari hulu sampai hilir secara efisien, berkelanjutan, dan ramah lingkungan.
"Kebutuhan SDM pertanian Indonesia yang menguasai produksi Alsintan, modernisasi pertanian di pedesaan, dan pemberdayaan masyarakat petani kian mendesak untuk menjawab tantangan pertanian masa depan di era industrialisasi 4.0," kata Kabid Penyelenggaraan Pendidikan, Ismaya NR Parawansa melalui pernyataan tertulis.
Menurutnya, lulusan PEPI Serpong diharapkan mampu menjadi solusi mengisi kekosongan tenaga kerja di bidang Alsintan, dan akan berdampak langsung terhadap peningkatan hasil produksi pertanian.
Bogor of West Java [B2B] - At least 182 prospective students of the Serpong´s Indonesian Agricultural Engineering Polytechnic [PEPI Serpong] took the competency test based Computer Assisted Test [CAT] in Polbangtan Bogor campus was held by the Agriculture Ministry on Monday [August 26].