Alumni Polbangtan Optimalkan Stimulus PWMP di tengah Pandemi Covid-19
Millennial Farmers are the Target of Developing Indonesian Agricultural HR
Editor : M. Achsan Atjo
Translator : Dhelia Gani

PUBLISHED: Sabtu, 06 Juni 2020 , 12:29:00 WIB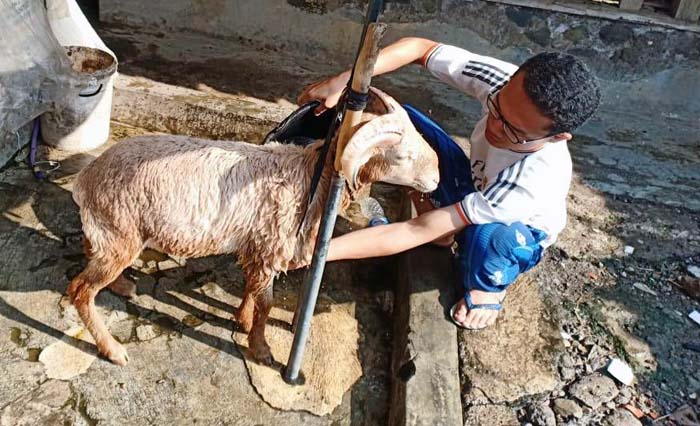 PEMASARAN ONLINE: Dalam memasarkan produknya, Ar-Raihan Farm memanfaatkan media sosial sehingga dapat memenuhi permintaan konsumen hingga ke kawasan Jabodetabek [Foto: Humas Pusdiktan]
Jakarta [B2B] - Arief dan Dudi baru lulus dari Politeknik Pembangunan Pertanian [Polbangtan] pada 2019, kendati begitu kiprahnya sebagai alumni sekolah kedinasan Kementerian Pertanian RI kian moncer lantaran sukses mengembangkan Penggemukan Domba Ar-Raihan Farm di Kecamatan Cimalaka, Kabupaten Sumedang dan Kecamatan Cigudeg, Kabupaten Bogor di Provinsi Jawa Barat.
Keduanya tergolong cerdas memanfaatkan dana stimulus Program Penumbuhan Wirausahawan Muda Pertanian [PWMP] sebesar Rp35 juta. Dana program unggulan Pusat Pendidikan Pertanian [Pusdiktan BPPSDMP] mereka manfaatkan mengembangkan penggemukan domba pada lahan seluas satu hektar di Dusun Margamukti, Desa Licin, Kecamatan Cimalaka, Bogor ditanami rumput untuk memenuhi kebutuhan pakan hewan.
"Melihat potensi pasar yang ada, tidak hanya domba, kami juga menyediakan hewan sapi, dan konsumen yang ingin budidaya juga kami sediakan," kata Arief ketika dihubungi Humas Pusdiktan, Jumat [5/6].
Arief mengakui berupaya menangkal dampak pandemi Covid-19, dengan berbagai strategi di antaranya memenuhi kebutuhan Aqiqah. Kegiatan menyembelih kambing pada hari ketujuh kelahiran seorang anak, yang wajib dilakukan setiap Muslim yang mampu sebagai sunah muakadah.
Dalam memasarkan produknya, Ar-Raihan Farm memanfaatkan media sosial sehingga dapat memenuhi permintaan konsumen hingga ke kawasan Jabodetabek. "Menjelang Idul Adha, hari raya kurban, kami semakin gencar melakukan promosi," kata Arief.
Kepala Pusdiktan Idha Widi Arsanti mengatakan program PWMP menyasar generasi milenial diinisiasi oleh Kementan sebagai upaya percepatan regenerasi petani. "Hal itu selaras dengan Agenda Jangka Panjang dari Mentan Syahrul Yasin Limpo untuk mendorong pertumbuhan 2,5 juta petani milenial."
Menurutnya, program PWMP merupakan implementasi dari instruksi Mentan Syahrul bahwa aktifitas pertanian tidak boleh berhenti, karena sektor pertanian merupakan perekat dan penguat bangsa dan negara di tengah pandemi Covid-19.
"Hidupnya pertanian adalah hidupnya bangsa termasuk generasi milenial," kata Mentan Syahrul dalam berbagai kesempatan, yang meyakini ´dunia dalam genggaman´ apabila generasi milenial mampu menghubungkan jagat maya dengan jagat pertanian.
Kepala Badan Penyuluhan dan Pengembangan SDM Pertanian [BPPSDMP] mengamini pernyataan Mentan Syahrul. "Generasi milenial semakin cerdas mencari peluang bisnis. Mereka telah terjun dan mencintai dunia pertanian akan makin menguasai bagaimana mengembangkan pertanian, mulai dari hulu sampai hilir menjadi peluang bisnis."
Program PWMP untuk melahirkan wirausahawan muda pedesaan di sektor pertanian juga didukung International Fund for Agricultural Development [IFAD] melalui Program Youth Enterpreneurship and Employment Support Services [YESS].
Tujuan strategisnya, menghasilkan job creator dan jobseeker di sektor pertanian, diharapkan pendapatan generasi muda melalui pekerjaan dan kewirausahaan di sektor pertanian meningkat. [Ahs]
Jakarta [B2B] - Indonesian government in the next five years prioritizes the development of human resources that are ready to face globalization in the era of industrialization 4.0, carry out its role to develop millennial farmers who understand information and communication technology, according to the senior official of the agriculture ministry.