Badan SDM Pertanian Komitmen Dukung Target Strategis Kementan 2018
Indonesia´s Agricultural HR Support Increase of Food Production
Editor : M. Achsan Atjo
Translator : Dhelia Gani

PUBLISHED: Selasa, 16 Januari 2018 , 12:39:00 WIB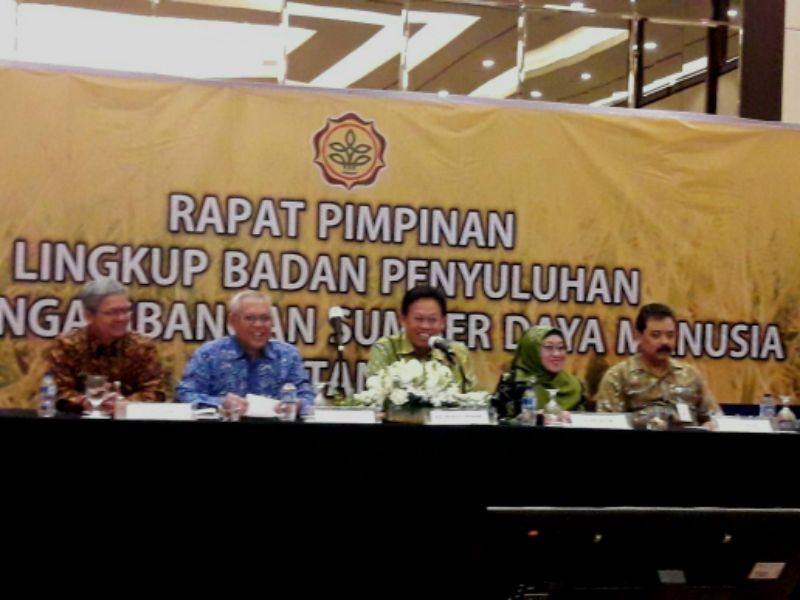 RAPIM SDM KEMENTAN: Kepala BPPSDMP Kementan, Momon Rusmono (tengah) didampingi Kapusdiktan Gunawan Yulianto (kiri), Sekretaris BPPSDMP Surachman S, Kapusluhtan Siti Munifah (ke-2 kanan) dan Kapuslatan Widi Hardjono (Foto: B2B/M. Achsan Atjo)
Depok, Jabar (B2B) - Kepala Badan SDM Kementerian Pertanian, Momon Rusmono menegaskan komitmen jajarannya di Badan Penyuluhan dan Pengembangan SDM Pertanian (BPPSDMP) mendukung target strategis kementerian 2018 seperti diinsteumsikan Menteri Pertanian Andi Amran Sulaiman pada rapat kerja nasional (Rakernas) di Bidakara, Jakarta pada Senin (16/1) untuk mendukung pencapaian target NawaCita sektor pangan di pemerintahan Joko Widodo - Jusuf Kalla.
"Rapat pimpinan ini tidak terpisah dari Rakernas Kementan yang berlangsung di Bidakara Jakarta kemarin, hari ini kita berkumpul untuk mengelaborasi kebijakan, langkah strategis, dan aksi nyata Badan SDM Kementan melaksanakan instruksi Mentan untuk mencapai target strategis Kementan 2018," kata Momon Rusmono dalam arahannya saat membuka Rapim BPPSDMP Kementan di Margo Hotel Depok, Selasa pagi (16/1).
Dia menambahkan selain mengemban tugas pokok di bidang penyuluhan dan pengembangan SDM pertanian, BPPSDMP diharapkan berperan mendukung peningkatan produksi komoditas pangan strategis seperti kedelai oleh Ditjen Tanaman Pangan, Ditjen Hortikultura menargetkan peningkatan produksi bawang putih, program Upsus Siwab oleh Ditjen Peternakan, dan produk perkebunan orientasi ekspor khususnya rempah-rempah yang menjadi tanggung jawab Ditjen Perkebunan.
"Saya yakin pada komitmen bapak dan ibu semua untuk mendukung komitmen BPPSDMP melaksanakan instruksi Mentan, khususnya melaksanakan penugasan untuk mendukung peningkatan produksi kedelai, bawang putih, daging sapi, dan rempah-rempah," katanya.
Tampak hadir Sekretaris BPPSDMP Surachman Suwardi; Kepala Pusat Pelatihan Pertanian (Kapuslattan), Widi Hardjono; Kepala Pusat Penyuluhan Pertanian (Kapusluhtan) Siti Munifah, Kepala Pusat Pendidikan Pertanian (Kapusdiktan) Gunawan Yulianto, dan 18 pimpinan dan pejabat dari unit pelaksana teknis (UPT) dari seluruh Indonesia antara lain Ketua Sekolah Tinggi Penyuluhan Pertanian - STPP Malang, Fathan Rasyid; dan Kepala Balai Besar Pelatihan Peternakan - BBPP Kupang, Adang Warya.
Depok of West Java (B2B) - Depok, West Java (B2B) - Indonesian Agricultural Human Resources agency affirmed its commitment to support the strategic target of the agriculture ministry as instructed by Minister Andi Amran Sulaiman at the national agriculture sector meeting in Jakarta on Monday (January 15) to support the food sector development of Joko Widodo administration, according to the director general.
"This meeting is a follow up to the national agricultural working meeting in Jakarta, yesterday, and today we gather to elaborate policies and strategic steps to implement minister instructions to achieve the strategic target of the agriculture ministry 2018," said the Director General of .Agricultural HR Agency (BPPSDMP) Momon Rusmono here on Tuesday (January 16).
He added that the BPPSDMP is expected to contribute to increasing the production of strategic food commodities such as soybeans, garlic, beef self-sufficiency, and spices that are the responsibility of the directorate general at the ministry.
"I was confident in your commitment to carry out minister instruction in particular to support increased production of soybean, garlic, beef and spices," he said.
It was attended by secretary of directorate general Surachman Suwardi; Director of Agricultural Training Center, Widi Hardjono; Director of Agricultural Extension Center, Siti Munifah; Director of Agricultural Education Center, Gunawan Yulianto, and 18 heads and officials of technical implementation unit across the country among others the Rector of Malang´s Agricultural Extension College - STPP Malang, Fathan Rasyid; and Director of Kupang´s Livestock Training Center - BBPP Kupang, Adang Warya.