Tingkatkan SDM Pertanian Kalteng, Kementan & DPR gelar Bimtek Aspirasi
Millennial Farmers Development are the Target of Indonesia`s SMKPPN Banjarbaru
Editor : Cahyani Harzi
Translator : Dhelia Gani

PUBLISHED: Rabu, 03 Agustus 2022 , 01:03:00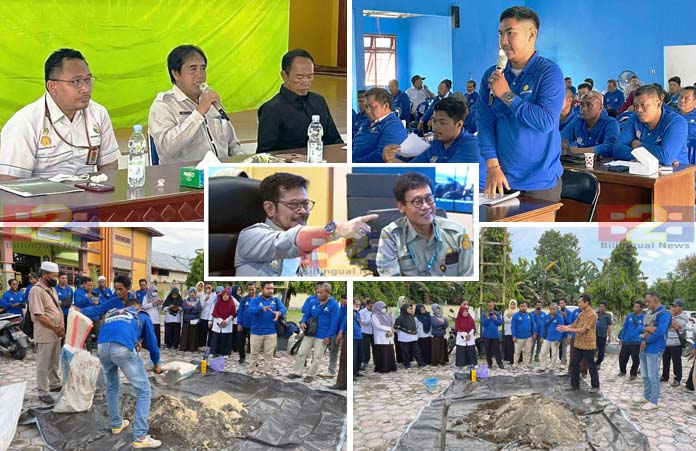 SMKPPN BANJARBARU: Anggota Komisi IV DPR, Bambang Purwanto [kiri atas] didampingi Kepala SMKPPN Banjarbaru, Budi Santoso membuka Bimtek di Pangkalan Benteng dan Arut Selatan, Kalteng, selama dua hari pada 26 dan 27 Juli 2022
Kotawaringin Barat, Kalteng [B2B] - Kementerian Pertanian RI khususnya Badan Penyuluhan dan Pengembangan SDM Pertanian [BPPSDMP] terus berupaya meningkatkan kapasitas SDM pertanian.
Bekerjasama dengan Komisi IV DPR RI, SMK-PP Negeri Banjarbaru memfasilitasi Bimbingan Teknis [Bimtek] Peningkatan Kapasitas Petani Milenial dan Penyuluh berturut-turut di Pangkalan Benteng pada Selasa [26/7] dan Arut Selatan, Rabu [27/7] Kabupaten Kotawaringin Barat, Provinsi Kalimantan Tengah.
Upaya tersebut sejalan harapan Menteri Pertanian RI Syahrul Yasin Limpo bahwa pengembangan SDM pertanian sangat penting, untuk mengoptimalkan sektor pertanian ke depan.
"Bimtek diharapkan memberi manfaat pada peningkatan nilai dan keberlanjutan irigasi pertanian, sehingga tercapai sasaran peningkatan ketahanan pangan dan pendapatan masyarakat pedesaan di Indonesia," katanya.
Hal senada diungkapkan Kepala BPPSDMP Kementan, Dedi Nursyamsi mengatakan sebagai pelaku pembangunan pertanian, maka petani dan penyuluh sudah selayaknya mendapat prioritas dalam program pembangunan pertanian.
"Sebab petani dan penyuluh berperan mengadakan pangan bagi 267 juta jiwa penduduk Indonesia," katanya.
Kepala SMK-PPN Banjarbaru, Budi Santoso mengatakan bahwa tujuan Bimtek untuk meningkatkan kemampuan petani dan penyuluh pertanian di Kalteng, baik dalam bidang pengetahuan maupun keterampilan.
Bimtek yang dihadiri oleh 75 peserta turut dihadiri oleh Sekcam Pangkalan Benteng, Anggota DPRD Kabupaten Kotawaringin Barat dan Anggota Komisi IV DPR RI, Bambang Purwanto.
Membuka jalannya Bimtek, Bambang Purwanto mengatakan sektor pertanian di masa pandemi memberikan kontribusi paling tinggi pada penerimaan negara.
"Pada pelaksanaan Bimtek kali ini, sengaja kami undang unsur kepala desa, dari unsur kecamatan dan dinas juga, agar sinergi dan satu arah bersama-sama membangun pertanian di Kalteng," kata legislator Senayan tersebut.
"Dengan adanya Bimtek, kami berharap akan mendapatkan ilmu dan inovasi baru, berkelanjutan dan akan mengubah perilaku petani (ke arah yang lebih baik) khususnya di Desa Simpang Berambai," kata Painem, salah satu pendamping penyuluh pertanian.
Selain itu, dalam sambutannya di Arut Selatan, Bambang menyampaikan bahwa selain meningkatkan kemampuan, petani juga harus melek teknologi dan alat mesin pertanian supaya petani tidak terlalu capai sehingga setelah melakukan aktivitas pertanian, tetap bisa menjalankan aktivitas lainnya di lingkungan keluarga maupun masyarakat secara maksimal.
"Ke depan, Bimtek akan kita arahkan ke pengolahan hasil, sehingga ketika panen tomat dan panen cabai melimpah, dapat diolah menjadi sambal dan saos, sehingga dapat menaikkan nilai jual," katanya.
Dalam Bimtek tersebut, juga digelar demo tentang pembuatan pupuk organik, harapannya para peserta dapat membuat dan mengembangkan kemampuan secara mandiri ke depan. [tim ekspos smkppn banjarbaru]
West Kotawaringin of Central Borneo [B2B] - The role of agricultural vocational education in Indonesia such as the the Agricultural Development Polytechnic or the Polbangtan, to support Indonesian Agriculture Ministry seeks to maximize its efforts to produce millennial entrepreneur.
Youth Enterpreneurship And Employment Support Services Program or the YESS, to support Indonesian Agriculture Ministry seeks to maximize its efforts for the millennial entrepreneur.
Indonesian Agriculture Minister Syahrul Indonesia Yasin Limpo stated that the government´s commitment to developing agriculture, especially in the development of advanced, independent and modern agricultural human resources.
"The goal is to increase the income of farming families and ensure national food security. Farmer regeneration is a commitment that we must immediately realize," Minister Limpo said.
He reminded about the important role of vocational education, to produce millennial farmers who have an entrepreneurial spirit.
"Through vocational education, we connect campuses with industry so that Polbangtan graduates meet their needs and are ready for new things," Limpo said.