BPPSDMP Kementan Laksanakan TOT Smart Farming dan Digitalisasi Pertanian
Indonesia Binuang`s Agricultural Training Center Enthusiastically Attend ToT
Editor : Kemal A Praghotsa
Translator : Dhelia Gani

PUBLISHED: Rabu, 26 Januari 2022 , 13:39:00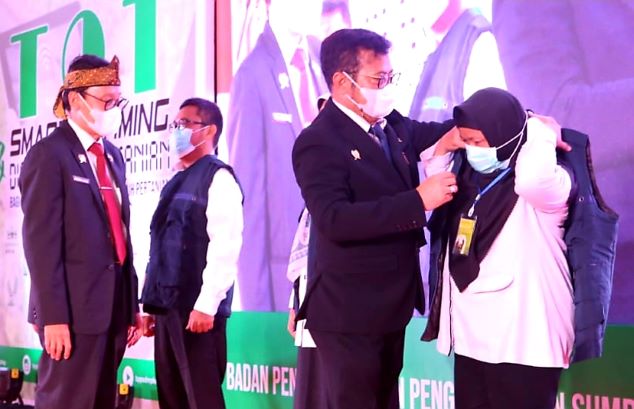 BPP BINUANG: Mentan Syahrul Yasin Limpo [depan] didampingi Kepala BPPSDMP Dedi Nursyamsi [belakang] pada acara pembukaan Training of Trainer [TOT] Smart Farming dan Digitalisasi Pertanian bagi Widyaiswara, Dosen, Guru, dan Penyuluh Pertanian.
Tapin, Kalsel [B2B] - Menteri Pertanian Syahrul Yasin Limpo,berkesempatan membuka kegiatan secara resmi menekankan bahwa ToT sangat penting sehingga harus berhasil. Dengan ToT kita harus mampu bertransformasi dari cara-cara bertani tradisional ke cara-cara baru melalui smart farming dan digitalisasi pertanian.
"Saat ini kita harus mampu beradaptasi terhadap kemajuan dan tantangan baru. Kita menghadapi kondisi perubahan iklim yang tidak pasti. Ke depan kita juga menghadapi kondisi jumlah penduduk makin banyak sementara lahan semakin sempit. maka persoalan ini harus kita jawab dengan kemampuan mengembangkan dan mengadopsi teknologi dan inovasi yang ada," kata Syahrul lebih lanjut.
Smart farming dan digitalisasi pertanian adalah salah satu solusi dalam meningkatkan produktivitas dan produksi pertanian di tengah perubahan iklim dan hantaman pandemi Covid-19.
Hal itu disampaikan oleh Kepala Badan Penyuluhan dan Pengembangan Sumber Daya Manusia Pertanian [BPPSDMP], Dedi Nursyamsi pada saat menyampaikan laporan pada acara pembukaan Training of Trainer [TOT] Smart Farming dan Digitalisasi Pertanian bagi Widyaiswara, Dosen, Guru, dan Penyuluh Pertanian, yang dilaksanakan di Pusat Pelatihan Manajemen dan Kepemimpinan Pertanian, Ciawi, Selasa [25/1].
Smart farming dan digitalisasi pertanian, merupakan inovasi teknologi di era 4.0 yang paling efisien dan signifikan mendongkrak produktivitas dan produksi pertanian, meningkatkan kualitas dan efisiensi.
"Dalam kondisi perubahan iklim dan kondisi kita yang masih dihandam pandemi Covid-19, produktivitas dan produksi pertanian tidak boleh berkurang. Sebaliknya, harus terus meningkat, untuk memenuhi kebutuhan penduduk Indonesia yang terus bertambah," kata Dedi.
Dengan menerapkan teknologi smart farming diharapkan efisiensi biaya, peningkatan produktivitas dan kualitas serta mitigasi dampak perubahan iklim dapat dicapai.
Pelatihan dilaksanakan tiga hari dari 25 – 27 Januari 2022, berpusat di PPMKP Ciawi, Bogor & diikuti oleh peserta yang secara online dan offline. 60 orang peserta hadir secara offline. Sedangkan peserta online terdaftar sekitar 14.000. Narasumber berasal dari akademisi dan praktisi Smart Farming.
Kepala BBPP Binuang, Yulia Asni Kurniawati menambahkan bahwa pihaknya mengerahkan para widyaiswara untuk mengikuti ToT, agar informasi dan pengetahuan yang didapat bisa diimplementasikan dalam bentuk pelatihan. [Adi/Irfan/Agus]
Tapin of South Borneo [B2B] - Indonesian government to increase number of agricultural extension workers to support the farmers to increase agricultural production, develop farmer organizations, utilize technological innovations, access banking capital, and other resources to support food self-sufficiency and improve farmers´ welfare, according senior official of the Agriculture Ministry.