Panen Padi, Petani Timor Tengah Selatan Optimistis Sambut Masa Tanam
Indonesian Govt Support Farmers in East Nusa Tenggara Province
Editor : M. Achsan Atjo
Translator : Dhelia Gani

PUBLISHED: Kamis, 28 November 2019 , 13:43:00 WIB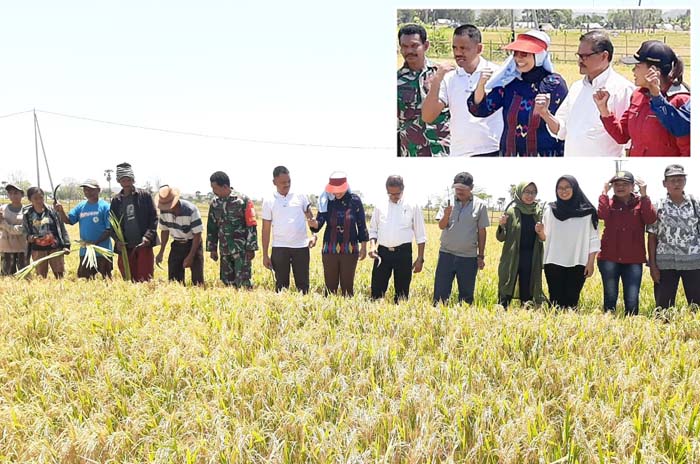 PANEN PADI: Kepala Pusdiktan BPPSDMP Kementan, Idha Widi Arsanti [topi merah] mendampingi petani TTS panen padi disertai Kadis TPHP TTS, Otnial Neonane di areal persawahan Amanuba Selatan seluas 3.615 hektar
Soe, NTT [B2B] - Kemarau panjang tak menyurutkan semangat petani padi di Kabupaten Timor Tengah Selatan [TTS] untuk menyambut masa tanam, karena saat masih bisa panen padi seperti disaksikan oleh Idha Widi Arsanti, Kepala Pusat Pendidikan Pertanian [Pusdiktan BPPSDMP Kementan] saat mendampingi petani setempat panen padi dengan suka cita pada Minggu [24/11] di areal persawahan Amanuba Selatan seluas 3.615 hektar.
"Meskipun kemarau, petani di TTS masih bisa panen padi. Panen hanya berkisar empat sampai lima ton per hektar, memang lebih rendah dibandingkan kondisi panen optimal di wilayah TTS yang dapat mencapai enam hingga delapan ton per hektar," kata Idha WA selaku Penanggung Jawab Upsus Pajale Kementan [PJ Upsus] yang melakukan panen padi bersama sejumlah aparat sektor pertanian dari Pemkab TTS.
Idha WA menambahkan belum turunnya hujan memang akan berdampak pada masa tanam berikutnya, namun pihaknya optimistis ketersediaan akan mencukupi khususnya pada Desember mendatang. Sementara TTS merupakan salah satu kabupaten di Provinsi Nusa Tenggara Timur [NTT] yang terletak di daratan Timor, berjarak sekitar 150 km dari Kota Kupang, ibukota NTT.
"Meskipun sebagian wilayah TTS berada di dataran tinggi, namun hingga November 2019 belum turun hujan, sehingga masa tanam berikutnya belum dapat dilakukan. Syukurlah, sejumlah areal persawahan sedang melaksanakan panen padi," kata Idha WA yang akrab disapa Santi.
Komitmen PJ Upsus Pajale, Idha WA terhadap pencapaian target produksi padi NTT khususnya TTS tampak dari pengerahan tim dari Pusdiktan, untuk mendukung koordinasi dan sinkronisasi sekaligus pemantauan di seluruh lahan pertanian potensial di TTS sehingga dapat mengantisipasi masa tanam berikutnya.
"Tim Pusdiktan melakukan koordinasi dengan penyuluh pertanian di seluruh balai penyuluhan pertanian atau BPP untuk mengawal dan mendampingi petani binaan di kelompok tani, sehingga dapat mendorong petani untuk tetap optimistis menghadapi masa tanam berikutnya," kata Idha WA saat mengunjungi BPP Amanuba Selatan.
Sikap optimistis juga dikemukakan Kepala Dinas Tanaman Pangan, Holtikultura dan Perkebunan [TPHP TTS] Otnial Neonane bahwa petani didukung aparat Pemkabg tetap semangat mendukung kedaulatan pangan meskipun saat ini sedang dilanda kekeringan.
Sebelumnya diberitakan, Kepala Perum Bulog Divisi Regional NTT Eko Pranoto menyatakan penyerapan beras dari petani lokal di provinsi tersebut sudah mencapai 2.674 ton hingga akhir September 2019.
Sentra produksi beras dari petani lokal dari wilayah potensial seperti di Lembor di Kabupaten Manggarai Barat termasuk kabupaten lain seperti TTS, Ngada, Manggarai, Malaka dan Rote Ndao.
Menurut Eko Pranoto, stok beras untuk NTT masih melimpah sekitar 43.000 ton hingga akhir September 2019, diperkirakan dapat memenuhi kebutuhan pangan masyarakat di NTT hingga lima bulan ke depan. [IWA]
Soe of East Nusa Tenggara [B2B] - The long drought did not dampen the enthusiasm of rice farmers in the district of South Central Timor to welcome the planting season, because they still harvest rice, according to senior official of the ministry.