Pengabdian Masyarakat, Mahasiswa Jurluhtan Yogyakarta Tanam Refugia di Klaten
Refugia Used Indonesian Farmers to Expel Plant Pests
Editor : M. Achsan Atjo
Translator : Dhelia Gani

PUBLISHED: Senin, 23 April 2018 , 13:49:00 WIB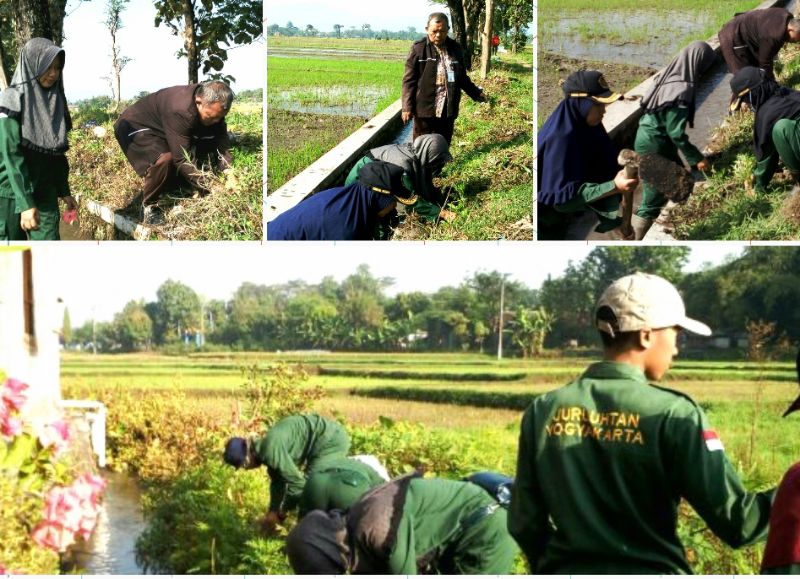 Penanaman refugia dilakukan di sepanjang tepi saluran irigasi barat dari ´lahan bengkok´kepala desa di Dukuh Ngasinan yang meliputi pembersihan saluran irigasi dari gulma (Foto2: Humas STPP Yogyakarta)
Klaten, Jateng (B2B) - Hari-hari ini 10 mahasiswa pendampingan dari Sekolah Tinggi Penyuluhan Pertanian - STPP Yogyakarta di Kecamatan Kalikotes, Kabupaten Klaten, Provinsi Jawa Tengah menanam refugia dengan kelompok tani (Poktan) Sri Sadono dan penyuluh pertanian lapangan (PPL) di Desa Jimbung sejak pagi hari.
Kegiatan penanaman refugia diawali sejak Kamis pekan lalu (19/4) oleh 10 mahasiswa STPP Yogyakarta jurusan penyuluhan pertanian (Jurluhtan) yang ditempatkan di Desa Jimbung.
Penanaman refugia dilakukan di sepanjang tepi saluran irigasi barat dari ´lahan bengkok´kepala desa di Dukuh Ngasinan yang meliputi pembersihan saluran irigasi dari gulma dan sampah yang menyumbat, serta penanaman refugia jenis bunga kenikir di sepanjang tepi parit.
PPL Tugiman mengatakan refugia berfungsi sebagai habitat untuk musuh alami hama wereng dan hama yang lain, sehingga hama yang ada di sawah petani menjadi berkurang dan hasil panen pun bisa meningkat. Refugia juga mempercantik wilayah yang ditanami tersebut.
"Penanaman refugia adalah program dari bupati Klaten sejak dua tahun yang lalu, program ini sudah dilombakan di sebagian wilayah yang ada di Klaten," kata Tugiman.
Kepala Bagian Administrasi Umum STPP Yogyakarta, Irwan Johan Sumarno mengatakan bahwa kegiatan tersebut merupakan program pengabdian masyarakat agar mahasiswa dapat berinteraksi dan mengenali kondisi lapangan sebelum mereka terjun sebagai lulusan Jurluhtan STPP Yogyakarta.
Klaten of Central Java (B2B) - These days 10 counseling students from Yogyakarta Agricultural Extension College - STPP Yogyakarta in Kalikotes subdistrict, Klaten district of Central Java province plant refugia with Sri Sadono farmer group and agricultural field extension officer in Jimbung village since early morning.
Refugia planting activities began on Thursday last week (April 19) by 10 students of STPP Yogyakarta majoring in agricultural extension placed in Jimbung village.
Refugia planting is done along the edge of the irrigation canal of agricultural land in Ngasinan village which includes cleaning irrigation channels from weeds and clogging garbage, as well as the planting of refugia types of kenikir flowers along the edge of the trench.
Agricultural extension Tugiman said refugia serves as a habitat for natural enemies of aphis plant pests and other pests, thus suppressing the number of pests. Refugia also embellished the planted area
Refugia planting is a program from the Klaten Regent since two years ago, the program has been contested in some areas in Klaten," Tugiman said.
Head of General Affairs of STPP Yogyakarta, Irwan Johan Sumarno said that the activity is a community service program so that students can interact and recognize the condition of the field.