LTT Kalbar Surplus, Luas Tanam per Mei 350.000 Ha Lampaui 2017
West Borneo`s Planting area Exceeds of Indonesian Govt`s Target
Editor : M. Achsan Atjo
Translator : Dhelia Gani

PUBLISHED: Jum'at, 27 Juli 2018 , 14:12:00 WIB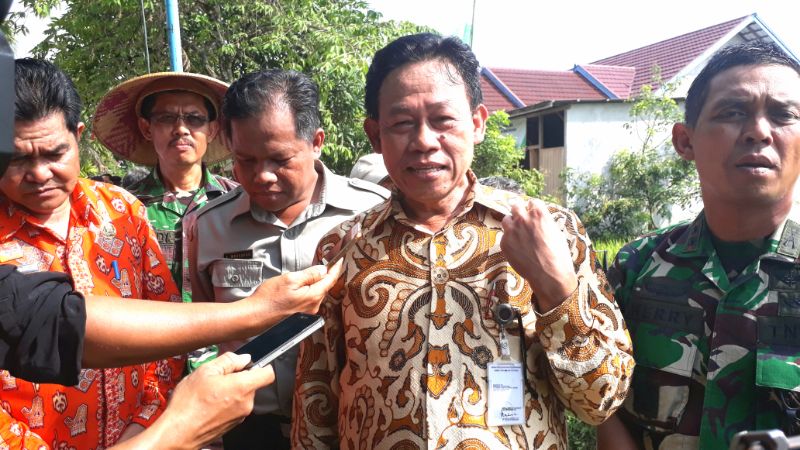 PJ Upsus Kalbar, Momon Rusmono menjawab panen usai panen padi di Sanggau (batik kuning) DM didampingi Kadistan Sanggau John Henry, Kepala BPTP Kalbar, Achmad Musyafak dan Dandim 1204/Letkol Inf Herry Purwanto (Foto: B2B/M. Achsan Atjo)
Sanggau, Kalbar (B2B) - Luas tambah tanam (LTT) Provinsi Kalimantan Barat disingkat LTT Kalbar di 14 kabupaten/kota hingga Mei 2018 mencapai 350.000 hektar atau surplus luas tanam 50.000 hektar, ketimbang periode yang sama tahun lalu hanya mencapai 306.000 hektar.
Menyikapi capaian tersebut, Penanggung Jawab - PJ Upsus Kalbar, Momon Rusmono menargetkan hingga September 2018, surplus luas tanam 100.000 hektar, produktivitas rata-rata 3,2 ton per hektar ekuivalen dengan 320.000 ton gabah kering panen (GKP) setara beras 160.000 ton.
"Berkat kerja keras semua pihak, LTT Kalbar per Mei 2018 surplus 50.000 ton. Tentu bukan hal yang muluk-muluk, kalau kami di kementerian mewakili Mentan Amran Sulaiman berharap banyak pada para petani dan para pemangku kepentingan untuk merealisasikan target surplus 100.000 hektar per September 2018," katanya pada Kamis petang (26/7) usai panen di sawah tadah hujan seluas 100.000 hektar yang diairi dengan air dari sumur bor.
Secara khusus dia mengucapkan terima kasih kepada para petani Kalbar, Kepala Dinas Pertanian Pemprov Kalbar, Heronimus Hero; Kepala Dinas Pertanian Pemkab Sanggau, John Henri; Kepala Balai Pengkajian Teknologi Pertanian - BPTP Kalbar, Achmad Musyafak; Komandan Kodim 1204/Sanggau - Sedakkau, Letkol Inf. Herry Purwanto mewaki para bintara pembina desa (Babinsa) dan para pemangku kepentingan di Kalbar.
Kerjasama Tim
Momon Rusmono menegaskan komitmennya bersama Tim Upsus Kalbar untuk terus bekerja keras dengan mengusung tekad ´the winning team´, "di dalam, saya dorong koordinasi tim kementerian dengan tim kabupaten dan provinsi, dan keluar, saya jaga betul provinsi ini."
"Nasib petani di masa depan, ditentukan oleh komitmen kita hari ini, dan hal itu pula membuat kami tidak pernah lelah melakukan koordinasi dengan kantor dinas pertanian di Kalbar," katanya.
Menurutnya, Tim Upsus Pajale di BPPSDMP Kementan hampir tiap pekan melakukan koordinasi dan pertemuan dengan pihak-pihak terkait, bahkan khusus datang dari Jakarta menyambangi, silaturahim, dan koordinasi dengan pihak-pihak terkait di provinsi/kabupaten/kota.
"Banyak cara ditempuh untuk mendukung pencapaian target LTT kegiatan update data LTT 24 jam, koordinasi harian melalui grup WA diikuti update setiap petang hingga malam hari. Bahkan hampir tiap pekan menyambangi Pontianak, ibukota Kalbar, dilanjutkan ke kantor dinas di seluruh kabupaten," kata Momon Rusmono.
Sanggau of West Borneo (B2B) - The food crop extensification program in West Borneo province or the LTT Kalbar across the province until May 2018 reached 350,000 hectares or surplus planting area of 50,000 hectares, than the same period last year only 306,000 hectares.
Person in Charge of West Borneo´s Increase Food Production or the PJ Upsus Kalbar, Momon Rusmono targeted to September 2018, surplus planted area of 100,000 hectares, the average productivity of 3.2 tons per hectare is equivalent to 320,000 tons of dry grain harvest or equal to 160,000 tons of rice.
"Thanks to the realization of Kalbar per May 2018 surplus planting area of 50,000 tons. The government expects the support of farmers and stakeholders, to realize a 100,000 hectares surplus target as of September 2018," Mr Rusmono said here on Thursday (July 26).
Mr Rusmono say thank you to support of farmers; Head of West Borneo Agriculture Office, Heronimus Hero; Head of Sanggau Agriculture Office, John Henri; Director of West Borneo´s Research Center for Agricultural Technology, Achmad Musyafak; Commander of Sanggau - Sedakkau´s Resort Military Regional Command, Lieutenant Colonel Inf Herry Purwanto; represent the village counselors, and stakeholders.
Teamwork
Mr Rusmono claimed to be working hard with the team of West Kalimantan Upsus with the determination of ´the winning team´, inside, I encourage coordination of ministry teams with district and provincial teams, and on the outside, I take care of the interests of the province."
"The fate of the farmers in the future, determined by our commitment today, and it also makes us never tired of coordinating with agricultural offices in West Borneo," he said.
According to him, Upsus Pajale Team in his Jakarta´s office almost every week to coordinate and meetings with related parties, especially from Jakarta, and coordination with related parties in the province/districts/municipal.
"I represent the team expressed gratitude for the support of all parties to support 24 hour data update, with daily coordination via short message group. Even almost every week visited Pontianak, the provincial capital, continued to the office of agriculture in 14 districts and cities," he said.