4 Hari Kerja, 2 Hari Belajar: Konsep Ideal `Teaching Factory` untuk Polbangtan
The Concept of German Dual System Education is Ideal for Indonesia
Editor : M. Achsan Atjo
Translator : Dhelia Gani

PUBLISHED: Senin, 25 Februari 2019 , 01:41:00 WIB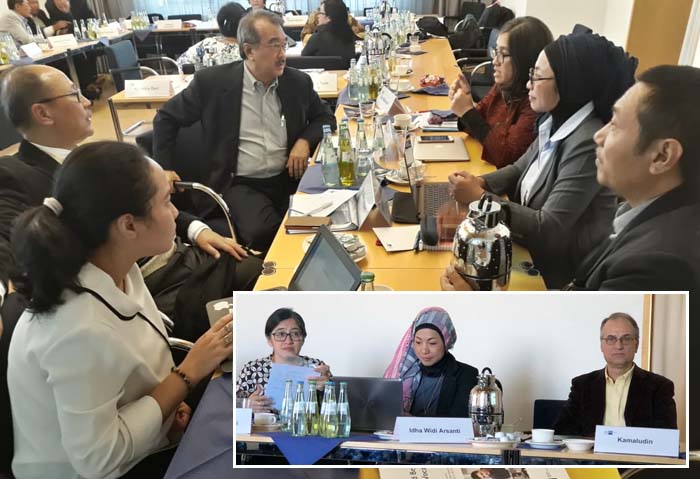 DISKUSI INTERNAL: Wakil Ketua Kadin Anto J Supit (kiri jauh) diskusi dengan Kepala Pusdiktan, Idha WA (tengah kanan) dan tim ´studi banding´ Jerman usai kunjungan ke WestNetz di Trier (Foto2: Pribadi)
Trier, Jerman (B2B) - Pola pendidikan vokasi di Jerman menerapkan praktik 70% dan teori 30%, atau dua hingga empat hari bekerja di perusahaan dan satu hingga dua hari belajar di sekolah. Pendanaan secara umum sekitar 84% ditanggung perusahaan, 16% menjadi beban pemerintah melalui anggaran pendidikan untuk sekolah vokasi.
Konsep ´pendidikan ganda´ Jerman tersebut menjadi fokus perhatian Pusat Pendidikan Pertanian - Badan Penyuluhan dan Pengembangan SDM Pertanian (Pusdiktan BPPSDMP) Kementerian Pertanian RI melakukan studi banding ke Jerman, yang diterapkan oleh Industrie-und Handelskammer - Trier atau IHK (Kadin Jerman) yang sejak 2015 menjadi mitra kerjasama Kamar Dagang dan Industri Indonesia (Kadin) dan telah mencetak 299 orang instruktur (trainer) bersertifikat internasional melalui program training of trainer (TOT).
Hal itu pula yang mendorong Kepala Pusdiktan BPPSDMP Kementan, Idha Widi Arsanti mengikuti kegiatan benchmarking ke Jerman bersama Kadin dipimpin Wakil Ketua Umum Kadin, Antonius J Supit. Turut serta Talent Acquisition Specialist Transmart - Carrefour, Sumarni; dan Direktur Vokasi Kadin, Avien Wibhawa ke Trier, Jerman.
"Di dalam kurikulum pendidikan vokasi Jerman, mata pelajaran umum yang diberikan adalah bahasa Jerman, bahasa asing, dan agama. Matematika masuk ke dalam mata pelajaran praktik, demikian pula mata pelajaran lain yang sifatnya praktik. Sementara biaya yang dikeluarkan oleh perusahaan mencakup biaya untuk siswa, gaji, pelatih tempat kerja dan peralatan kerja," kata Idha WA melalui pesan singkat via WA.
Pusdiktan di BPPSDMP yang bertanggung jawab pada pengelolaan Polbangtan berupaya melakukan terobosan, untuk meningkatkan minat generasi muda kembali ke pertanian melalui pendidikan politeknik pertanian, dengan melakukan link and match Polbangtan dan DuDi.
Menurutnya, link and match yang akan dikembangkan Pusdiktan adalah mengadopsi beberapa best practises di Jerman, yang telah menerapkan sistem pendidikan ganda sejak puluhan tahun lalu. Tim Pusdiktan pun menyambangi Kadin Jerman di Trier, yang mengembangkan ´pendidikan ganda´ dengan melibatkan para pemangku kepentingan dari pemerintah, Kadin, sektor swasta DuDi.
Wakil Ketua Kadin bidang Ketenagakerjaan, Anto Supit menambahkan bahwa konsep pendidikan vokasi pertanian harus segera dimulai dengan benchmarking penerapan vokasi di Jerman, disinergikan dengan kearifan lokal sehingga dapat menghasilkan model yg spesifik untuk Indonesia.
Kementan saat ini mengelola enam kampus Polbangtan di Medan, Bogor, Yogyakarta - Magelang, Malang, Gowa dan Manokwari; dan tiga SMK Pembangunan Pertanian (SMK-PP) di Sembawa, Banjarbaru, dan Kupang. Pengembangan pendidikan bertujuan mengantisipasi menurunnya minat generasi muda di sektor pertanian. (Iwa)
Trier of Germany (B2B) - The concept of German vocational education applies 70% practice and 30% theory, or two to four days working in the company and one to two days studying at school. Education funding is around 84% provided by companies, 16% is allocated by the government through the education budget for vocational schools.
The concept of ´dual system´ education in Germany became focus of the Agricultural Education Center of the Agriculture Ministry or Pusdiktan BPPSDMP doing a comparative study to Germany, applied by Industrie-und Handelskammer - Trier or IHK (German Chamber of Commerce) which since 2015 has been collaborative partner of Indonesian Chamber of Commerce and Industry or the Kadin and has graduated 299 internationally certified trainers through the training of trainer program.
The Director of Pusdiktan, Idha Widi Arsanti join benchmarking to Germany with Kadin Indonesia headed by Deputy Chairman, Antonius J Supit.
"In the German vocational education curriculum, the general subjects given are German language, foreign languages and religion. Mathematics includes practical lessons, as well as other practical lessons. The tuition fees provided by the company include fees for students, salaries, instructors or teachers and work equipment," Arsanti said via WA short messages.
The Pusdiktan at BPPSDMP which is responsible for managing agricultural polytechnics seeks to develop link and match with the private sector.
According to her, the link and match developed by Pusdiktan is adopting several best practices in Germany, who implemented a dual education system since decades ago. The Pusdiktan team then visited the German Chamber of Commerce in Trier, which developed a ´dual system´ education supported by stakeholders from the government, Kadin, and the private sector.
Deputy Chairman of Kadin, Anto Supit said the concept of agricultural vocational education must begin by benchmarking in Germany and then synergy with local wisdom.
The Agriculture Ministry currently manages six agricultural polytechnics in North Sumatra, West Java, Yogyakarta and Central Java, East Java, South Sulawesi and West Papua and three agricultural polytechnic schools in South Sumatra, South Borneo and East Nusa Tenggara. The development of agricultural polytechnics aims to anticipate decreasing interest of younger generation to the agricultural sector.