10 Ribu Penyuluh dan Petani Saksikan Pelepasan Ekspor Manggis di Purwakarta
Indonesia Senior Ministry Officials Met with Thousands of Farmers
Reporter : Gusmiati Waris
Editor : Cahyani Harzi
Translator : Dhelia Gani

PUBLISHED: Rabu, 27 Februari 2019 , 14:25:00 WIB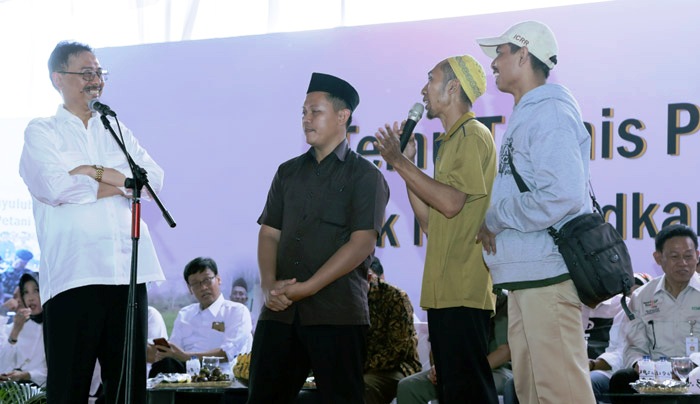 PETANI MILENIAL: Sekjen Kementan Syukur Iwantoro berbincang dengan tiga petani Jabar disaksikan Kepala BPPSDMP Kementan Momon Rusmono (belakang kanan) dan Staf Ahli Mentan Banun Harpini (kiri) Foto: B2B/Mya
Purwakarta, Jabar (B2B) - Sekjen Kementan Syukur Iwantoro melepas ekspor manggis 3.010 ton senilai Rp15 miliar ke China di Purwakarta, Rabu pagi (27/2) di tengah keriuhan 10.000 petani, penyuluh pertanian, santri tani, siswa SMK Pertanian dan mahasiswa perguruan tinggi pertanian dari lima kabupaten di Jawa Barat, di bawah koordinasi Badan Penyuluhan & Pengembangan SDM Pertanian - Kementerian Pertanian RI (BPPSDMP) pada kegiatan ´Temu Teknis Penyuluh dan Petani untuk Mewujudkan Petani Hebat, Maju dan Makmur´ di Purwakarta.
"Ekspor manggis kita luar biasa. Tahun 2013 hanya tujuh ribu ton, naik menjadi 39 ribu ton pada 2018 atau meningkat 400,2 persen. Sekitar 40 persen untuk ekspor berasal dari sentra produksi manggis Jawa Barat antara lain Purwakarta, Subang, Sukabumi dan Tasik dan kabupaten lainnya," kata Sekjen Kementan, Syukur Iwantoro kepada pers di Purwakarta, usai melepas ekspor manggis dari PT Bintang Kiat Kemulyaan dan PT Andalas Fiddini Agrotama.
Menurutnya, ekspor manggis Indonesia telah menembus banyak negara. Yakni China, Hongkong, Thailand, Vietnam, Singapura, Malaysia, Arab Saudi, Kuwait, Oman, Qatar, Amerika, Australia dan beberapa negara di kawasan Asia Tenggara.
"Kita harus meningkatkan ekspor manggis, kalau bisa mengalahkan Thailand, karena lahan kita lebih luas, tinggal kita tingkatkan intensifikasi dan peningkatan produksi juga replanting," katanya.
Dalam kesempatan tersebut, Sekjen Kementan menyerahkan bantuan kepada petani andalan berupa benih padi sawah luasan 3.000 hektar, benih manggis 3.700 pohon, benih pala 1.500 pohon, benih sayuran untuk 50 hektar, benih jagung untuk 1.000 hektar.
"Pemerintah mengharapkan para petani di Jawa Barat khususnya dari lima kabupaten yang hadir di sini didukung pendampingan dan pengawalan dari penyuluh pertanian akan mendukung peningkatan ekspor manggis. Setidaknya, benih manggis 3.700 pohon dapat membangkitkan minat petani menanam manggis lebih banyak selain padi, jagung dan kedelai," kata Momon Rusmono kepada pers.
Momon menyebutkan bahwa salah satu petani sukses mengekspor manggis adalah Dede Mulyana, dari kelompok tani Tani Tirta Surya Pertiwi, Desa Pasirangin, Kecamatan Darangdan, Purwakarta. Juga Wawan Juhyar dari Kelompok Tani Wargi Mukti, Desa Babakan, Kecamatan Wanayasa, Purwakarta.
Diserahkan pula bantuan hewan ternak untuk pondok pesantren dan rumah tangga miskin (RTM) berupa 5.000 ekor ayam, 200 ekor ayam, dan 500 ekor domba.
Dirjen PSP Kementan Sarwo Edhy menyerahkan alat mesin pertanian (Alsintan) berupa 15 unit traktor roda dua, enam unit tresher, delapan unit cultivator, dua unit corn sheller, empat unit power tresher, dan sembilan unit pompa air.
Purwakarta of West Java (B2B) - Indonesian Agriculture Minister Andi Amran Sulaiman this morning, Wednesday (February 27) was scheduled in Purwakarta district of West Java province released 38 tons of mangosteen exports to China, and planting 98 varieties of upland rice in 5.600m2 with 10,000 agricultural extensionists and farmers support the central government program.
Important guests who attended were Purwakarta Regent Anne Ratna Mustika; West Java Governor Ridwan Kamil, Director General of Extension and Development of Agricultural HR, Momon Rusmono and and Director of the Agricultural Training Center Bustanul Arifin Caya.
"This export is a big leap, because Indonesia opens direct access to China, Hong Kong and various other countries. Previously, it must first transit to Malaysia and then go to export destinations. It´s an important point of activity today," said Secretary of Agriculture Ministry, Syukur Iwantoro represent Minister Sulaiman.
Indonesia is an exporter of mangosteen, ranked 5th in the world as a mangosteen producing country after India, China, Kenya and Thailand. About 25 percent of mangosteen production is exported to several countries such as China, Hong Kong, Thailand, Vietnam, Singapore, Malaysia, Saudi Arabia, Kuwait, Oman, Qatar, America, Australia, France, the Netherlands and others.
Syukur Iwantoro also handed over assistance to farmers, among others, rice paddy seeds for 3,000 hectares, 3,700 mangosteen seeds, 1,500 nutmeg seeds, vegetable seeds for 50 hectares, corn seeds for 1,000 hectares.
He also handed over livestock assistance for Islamic boarding schools and poor households including 5,000 race chickens, 200 local chickens, and 500 sheep.
While agricultural machinery included 15 units of two-wheel tractors, six units of tresher, eight units of cultivators, two units of corn shellers, four units of power trainers, and nine units of water pumps.