Kementan dan `Offtaker` Dukung Panen Bawang Putih Humbahas
Indonesia Develop the Food Estate in North Sumatra Province
Editor : M. Achsan Atjo
Translator : Dhelia Gani

PUBLISHED: Minggu, 10 Januari 2021 , 01:44:00 WIB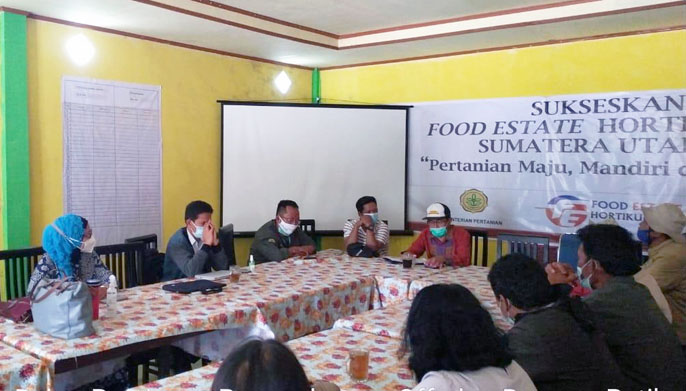 TIM BPPSDMP: Tim BPPSDM turut hadir pada pembahasan kesepakatan gabungan kelompok tani (Gapoktan) dengan offtaker bawang putih, disepakati harga jual bawang putih [Foto: BPPSDMP Kementan]
Humbahas, Sumut [B2B] - Kementerian Pertanian RI khususnya BPPSDMP menggelar diskusi dengan offtaker di lokasi lumbung pangan baru [food estate] Kabupaten Humbang Hasundutan [Humbahas] di Provinsi Sumatera Utara, untuk membahas persiapan panen demo tanam [Demfarm] seluas 15 hektar pada Posko Hortikultura.
Kegiatan diskusi yang digelar Sabtu [9/1] dihadiri jajaran Badan Penyuluhan dan Pengembangan Sumber Daya Manusia Pertanian [BPPSDMP] dipimpin Kepala Pusat Pendidikan Pertanian [Pusdiktan] Idha Widi Arsanti; Direktur Jenderal Hortikultura, Kepala Dinas Pertanian Kabupaten Humbang Hasundutan (Humbahas), Kepala BPTP Provinsi Sumatera Utara serta tim Kementerian Koordinator Bidang Kemaritiman dan Investasi.
Diskusi menyepakati pembentukan Tim Pokja oleh Bupati Humbang Hasundutan yang akan melibatkan berbagai unsur, sebagai upaya percepatan pembentukan korporasi petani di Food Estate Humbahas [FEH].
Menteri Pertanian RI Syahrul Yasin Limpo, mengatakan FEH di Sumatera Utara merupakan pengembangan lahan pertanian berbasis hortikultura sebagai komoditas utama.
"Pengembangan food estate di Humbahas dilakukan sebagai upaya menjaga ketahanan pangan. Tanaman yang dikembangkan antara lain kentang, bawang merah, dan bawang putih," kata Mentan.
Kepala BPPSDMP Dedi Nursyamsi meminta jajarannya mendukung FEH. "Kita harus total mendukung food estate. Harus sukses, karena tujuannya menjaga ketersediaan pangan nasional."
Tim BPPSDM turut hadir pada pembahasan kesepakatan gabungan kelompok tani (Gapoktan) dengan offtaker bawang putih, disepakati harga jual bawang putih, akan dilakukan pula pendampingan oleh offtaker kepada para petani dalam penanganan pasca panen agar mendapat hasil yang lebih baik.
"BPPSDMP terus melakukan pendampingan dalam penguatan kelembagaan, pelatihan teknis dan okupasi hasil panen," kata Dedi.
Menurutnya, Tim BPPSDMP pun telah melakukan invetarisasi offtaker yang diharapkan dapat membeli hasil panen bawang putih seluas 200 hektar pada Maret hingga Mei mendatang.
Selanjutnya, kata dia, Tim BPPSDMP melakukan pertemuan terkait persiapan revitalisasi Gapoktan Ria Tani dengan koordinator penyuluh BPP Polung serta enam kelompok tani [Poktan] penerima manfaat FEH untuk revitalisasi Gapoktan Ria Tani dengan membentuk kepengurusan yang baru. [Cha]
Humbang Hasundutan of North Sumatera [B2B] - North Sumatera province has been chosen as the site for Indonesia´s new food barn to be established under the government´s food estate program, said Agriculture Minister Syahrul Yasin Limpo here on July 1. For the first phase of the program, which encompasses the initial construction of the food barn, the government has provided land in the Humbang Hasundutan regency.