BBPP Kementan Godok Kurikulum Latsar Fungsional Penyuluh Kalimantan
Indonesia Binuang`s Agricultural Training Center Support Borneo Farmers
Editor : Cahyani Harzi
Translator : Dhelia Gani

PUBLISHED: Kamis, 12 Mei 2022 , 14:50:00 WIB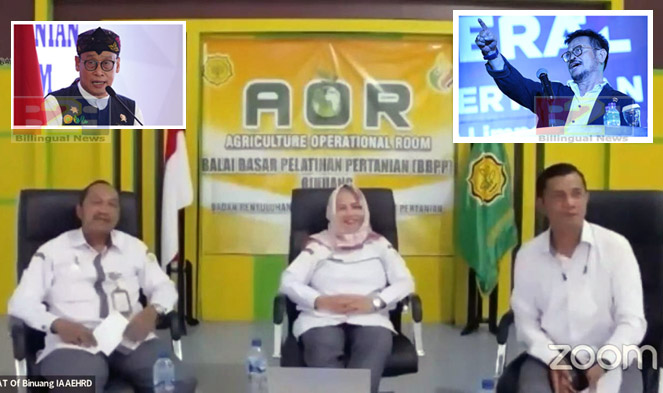 BBPP BINUANG: Kepala BBPP Binuang, Yulia Asni Kurniawati [tengah] membuka WisaTani sesi 100 didampingi Widyaiswara Yusuf Rijayanto dan Angga Bayu Saputra yang dihadiri 500 partisipan zoom meeting dari seluruh Indonesia
Tapin, Kalsel [B2B] - Penyuluh ideal masa depan bagi pembagunan pertanian berkelanjutan menjadi topik utama Widyaiswara Sapa KostraTani [WisaTani] Sesi 100 yang digelar oleh BBPP Binuang, Rabu [11/5] yang diikuti oleh 500 partisipan dari seluruh Indonesia melalui zoom meeting dari Balai Besar Pelatihan Pertanian [BBPP] Binuang di Kabupaten Tapin, Provinsi Kalimantan Selatan.
Wisatani Sesi 100 bertajuk Kurikulum Pelatihan Dasar [Latsar] Fungsional Penyuluh Pertanian dibuka oleh Kepala BBPP Binuang, Yulia Asni Kurniawati. Hadir Widyaiswara BBPP Binuang, Yusuf Rijayanto dan Angga Bayu Saputra selaku narasumber webinar tersebut.
Upaya BBPP Binuang sejalan instruksi Menteri Pertanian RI Syahrul Yasin Limpo bahwa penyuluh masa depan dicirikan oleh kemampuan menguasai inovasi teknologi, berdaya juang tinggi dan menjadi sahabat [soulmate] dari pelaku utama dan pelaku usaha pertanian.
"Penyuluh adalah garda terdepan dalam pertanian. Sosok yang harus mendampingi petani dan memastikan pertanian tidak terkendala," kata Mentan Syahrul.
Sementara Kepala Badan Penyuluhan dan Pengembangan SDM Pertanian [BPPSDMP] Dedi Nursyamsi menyoroti tentang peran penting penyuluh sebagai bagian dari tiga faktor kunci pembangunan pertanian. Pertama adalah peneliti sebagai produsen inovasi teknologi. Kedua, petani sebagai user teknologi, yang memanfaatkan teknologi untuk menggenjot produktivitas.
Ketiga, katanya, penyuluh sebagai ´jembatan´ antara peneliti dan petani, sosok yang menjembatani antara produk inovasi teknologi dan implementasi di lahan pertanian.
"Penyuluh harus memastikan petani mau dan mampu mengimplementasikan inovasi teknologi. Tugas penyuluh mendampingi petani, sehingga petani dapat dan mau mengimplementasikannya untuk menggenjot produktivitas," kata Dedi Nursyamsi.
Kepala BBPP Binuang, Yulia AK mengingatkan tentang fungsi dan peran Komando Strategis Pembangunan Pertanian [KostraTani] untuk pemberdayaan Balai Penyuluhan Pertanian [BPP].
Menurutnya, UU No 16/ 2006 tentang Sistem Penyuluhan Pertanian, Perikanan dan Kehutanan mengamanatkan bahwa peran strategis dari penyuluh pertanian adalah mewujudkan Strategi Revitalisasi SDM dan Revitalisasi Kelembagaan Penyuluhan Pertanian.
Di sisi lain, kata Yulia AK, untuk memotivasi dan mengapresiasi penyuluh agar mampu meningkatkan kinerjanya, telah diatur penjenjangan karier melalui Permenpan RB RI No 35/2020 tentang Jabatan Fungsional Penyuluh Pertanian.
"Guna mendukung langkah tersebut, BBPP Binuang sebagai UPT dari Pusat Pelatihan Pertanian BPPSDMP Kementan berupaya mendukung implementasi dari Permenpan RB No 35/2020 melalui kegiatan Latdas Fungsional Penyuluh Pertanian," katanya.
Webinar WisaTani sesi 100, menurutnya, berupaya menggali dan mendapat masukan dari para peserta terkait kurikulum, yang disesuaikan dengan wilayah koordinasi. Jumlah peserta minimal 25 dan maksimal 30 orang untuk setiap angkatan, yang dilaksanakan selama 168 jam pelajaran.
Widyaiswara Yusuf Rijayanto menambahkan bahwa ada 13 kegiatan tugas jabatan fungsional penyuluh pertanian kategori keterampilan, salah satunya adalah menyusun programa penyuluhan pertanian.
"Pertanyaannya, apakah dari 13 tugas tersebut sudah dilaksanakan semuanya?" tanya Angga Bayu Saputra. [Yusuf/Bayu/Agus]
Tapin of South Borneo [B2B] - The role of agricultural training in Indonesia such as the Agricultural Training Center of Indonesia Agriculture Ministry across the country or the BBPP so the ministry seeks to maximize its efforts to produce millennial entrepreneur.
Indonesian Agriculture Minister Syahrul Indonesia Yasin Limpo stated that the government´s commitment to developing agriculture, especially in the development of advanced, independent and modern agricultural human resources.
"The goal is to increase the income of farming families and ensure national food security. Farmer regeneration is a commitment that we must immediately realize," Minister Limpo said.
He reminded about the important role of agricultural training, to produce millennial farmers who have an entrepreneurial spirit.
"Through agricultural training, we connect farmers with technology and innovation so that BBPP meet their needs and are ready for new things," Limpo said.