Pilih Ketua PB, Mahasiswa Polbangtan Sepakat Transformasi Himappi jadi IMPI
Indonesian Agricultural Polytechnic Students Establish Cmmunity Organizations
Editor : M. Achsan Atjo
Translator : Dhelia Gani

PUBLISHED: Kamis, 15 Agustus 2019 , 15:12:00 WIB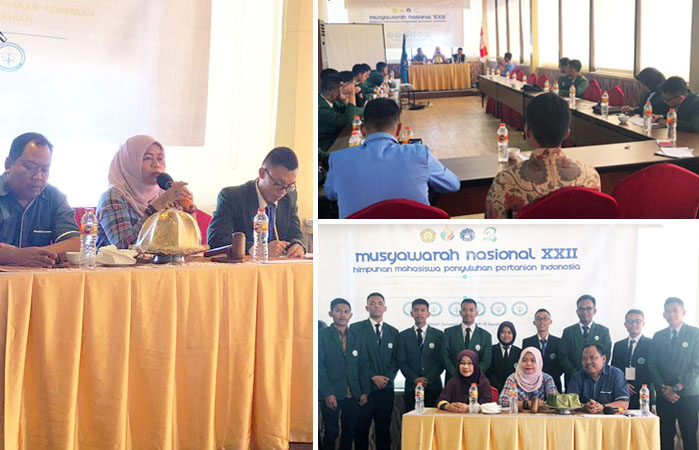 MUNAS IMPI: Kabid Penyelenggaraan Pendidikan Pusdiktan, Ismaya NR Parawansa [hijab pinki] memimpin Munas ke-23 didampingi Wakil Direktur III Polbangtan Gowa, Abdul Rahman Arinong [kiri] Foto2: Fika
Makassar, Sulsel [B2B] - Mahasiswa Politeknik Pembangunan Pertanian [Polbangtan] sepakat menetapkan perubahan nomenklatur Himpunan Mahasiswa Penyuluh Pertanian Indonesia [Himappi] menjadi Ikatan Mahasiswa Polbangtan Indonesia disingkat IMPI pada Munas Himappi ke-23 di Makassar, ibukota Sulawesi Selatan, belum lama ini. Munas juga sepakat memilih Riki Rudiyat dari Polbangtan Bogor sebagai Ketua PB IMPI didampingi wakilnya, Muhammad Habibsyah PH dari Polbangtan Gowa, sementara Ketua Badan Pengawas Nasional [BPN IMPI] adalah Akbar Fadillah dari Polbangtan Bogor.
Munas Himappi ke-23 di Makassar dibuka oleh Ismaya NR Parawansa, Kepala Bidang Penyelenggaraan Pendidikan - Pusat Pendidikan Pertanian [Pusdiktan BPPSDMP Kementan] selaku Pembina IMPI juga sepakat mengubah struktur organisasi sesuai ´perubahan nomenklatur´ khususnya pucuk pimpinan di level sekretaris jenderal [Sekjen] menjadi ketua pengurus [Ketua PB IMPI] yang dipilih oleh delegasi dari enam kampus Polbangtan dari seluruh Indonesia.
"Munas Himappi di Makassar bertujuan menjalin silaturahim dan menyamakan persepsi dari delegasi pengurus daerah Himappi untuk bermusyawarah, sekaligus memilih Sekjen yang baru. Tak kalah penting adalah mengubah nama organisasi dari Himappi menjadi IMPI, konsekuensinya harus terjadi perubahan struktural organisasi termasuk pucuk pimpinan dari Sekjen Himappi menjadi Ketua PB IMPI," kata Ismaya.
Kegiatan IMPI di Makassar dihadiri oleh Wakil Direktur III Polbangtan Malang Novita Dewi Kristanti; Wakil Direktur III Polbangtan Gowa, Abdul Rahman Arinong dan delegasi dari enam polbangtan seluruh Indonesia.
"IMPI adalah wadah bagi mahasiswa Polbangtan dari seluruh Indonesia untuk berkoordinasi dengan Kementan, khususnya Pusdiktan BPPSDMP untuk menyuarakan aspirasi mahasiswa Polbangtan," kata Ismaya Parawansa.
Dia mengharapkan terpilihnya kepengurusan baru IMPI akan menjadikan organisasi mahasiswa ini akan mendukung kebijakan Kementan dalam meningkatkan SDM pertanian yang profesional, mandiri dan berdaya saing. [Fka]
Makassar of South Sulawesi [B2B] - Indonesian Agricultural Polytechnic Students [Polbangtan] agreed to determine the nomenclature changes of the Indonesian Agricultural Extension Students Association [Himappi] became became the Indonesian Polbangtan Student Association [IMPI] at the 23rd national conference in Makassar, the capital of South Sulawesi province, recently. IMPI´s national conference agreed to choose Riki Rudiyat of the Polbangtan Bogor as the Chairman and Muhammad Habibsyah PH from Gowa Polbangtan as the Deputy Chairman.