BPPSDMP - PISAgro, Kadin Dukung Kementan Capai Target Investasi dan Ekspor
Indonesian Chamber of Commerce Supports Investment in Agricultural Sector
Editor : M. Achsan Atjo
Translator : Dhelia Gani

PUBLISHED: Sabtu, 24 November 2018 , 15:23:00 WIB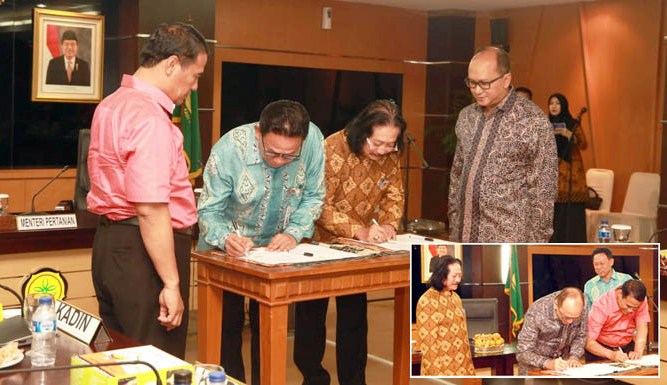 SINERGI PANGAN: Kepala BPPSDMP Kementan Momon Rusmono (ke-2 kiri) teken kesepakatan dengan Fransiscus Welirang disaksikan Mentan Amran Sulaiman (kiri) dan Ketua Umum Kadin Rosan PR (Foto2: Humas BPPSDMP/Pito)
Jakarta (B2B) - Badan Penyuluhan dan Pengembangan SDM Pertanian (BPPSDMP) Kementerian Pertanian RI menandatangani kesepakatan investasi Partnership for Indonesia´s Sustainable Agriculture - (PISAgro) dengan Kamar Dagang dan Industri (Kadin) untuk mendukung percepatan perizinan investasi sektor pangan di seluruh Indonesia yang diapresiasi oleh Ketua Umum Kadin Indonesia, Rosan P Roeslani pada komitmen Menteri Pertanian RI Andi Amran Sulaiman membangun pertanian nasional.
Kesepakatan investasi diteken oleh Kepala BPPSDMP Kementan, Momon Rusmono dengan Fransiscus Welirang selaku Ketua Komite Tetap Ketahanan Pangan Kadin Indonesia disaksikan oleh Mentan Amran Sulaiman dan Rosan P Roeslani didampingi Wakil Ketua Umum Kadin Indonesia bidang Industri Pangan Strategis, Juan P Adoe di Jakarta, Jumat petang (23/11).
"Kadin Indonesia mengharapkan kesepakatan investasi dengan BPPSDMP Kementan segera berjalan, karena akan berdampak luas bagi petani dan masyarakat sebagai konsumen," kata Rosan PR dalam sambutannya.
Menurutnya, apabila investasi anggota Kadin dipermudah maka secara tidak langsung turut mendukung stabilitas pasokan dan harga pangan, serta mendorong ekspor yang memberi dampak positif pada pertumbuhan ekonomi nasional.
"Investasi di sektor pertanian sangat penting karena pertanian adalah sektor terbesar menyerap tenaga kerja di Indonesia, dari 130 tenaga kerja di Indonesia maka sekitar 30 persen berkutat di sektor pertanian," kata Rosan PR.
Mentan Amran Sulaiman berjanji akan mendukung langkah Kadin mempercepat investasi di sektor pangan, dan segera laporkan apabila ada pihak-pihak yang menghambat langkah anggota Kadin investasi di sektor pertanian.
"Kalau perlu pak ketua laporkan langsung pada saya via WA atau telepon kalau ada yang menghambat atau macam-macam untuk investasi," kata Mentan.
Menurutnya, Kementan sudah melakukan deregulasi untuk menghilangkan hambatan investasi, dengan melakukan penyederhanaan kebijakan dan prosedur investasi. Hasilnya, investasi pertanian pada 2017 mencapai Rp45,9 triliun atau naik rerata 14% per tahun sejak 2013 hanya Rp29,3 triliun.
"Dulu izin investasi di Kementan bisa satu bahkan dua tahun, sekarang hanya tiga jam saja sudah selesai. Investasi harus kita kawal sampai ke daerah. Inshaa Allah akan lebih cepat apalagi setelah deregulasi," katanya. (Cha)
Jakarta (B2B) - Indonesian Agriculture Ministry through the Directorate General of of Agricultural HR Development or the BPPSDMP signed an investment agreement Partnership for Indonesia´s Sustainable Agriculture - PISAgro with the Indonesian Chamber of Commerce and Industry or Kadin to support the acceleration of investment permits for the food sector across the country.
The investment agreement was signed by the Director General of BPPSDMP Momon Rusmono with the Chair of the Kadin Committee, Fransiscus Welirang witnessed by Agriculture Minister Amran Sulaiman and Chairman of the Kadin, Rosan P Roeslani here on Friday evening (November 23).
"The Kadin Indonesia expects investment deal with BPPSDMP start running immediately, it will have a impact to farmers and the community as consumers," Mr Roeslani said in his speech.
According to him, if the investment of Kadin members is facilitated it will support supply stability and food prices, and encourage exports that have a positive impact on national economic growth.
"Agricultural investment is very important, especially employment in Indonesia of 130 million workers, around 30 percent in the agricultural sector," he said.
Minister Sulaiman promised to support Kadin´s move to accelerate investment in the food sector, and immediately report if there are parties who hinder Kadin´s members for invest in the agricultural sector.
"If necessary, the Kadin chairman reports directly to me via smartphone, if there are ministry officials who hinder investment," Minister Sulaiman said.
According to him, the ministry has carried out licensing deregulation to eliminate investment barriers by simplification of investment policies and procedures. The impact is positive, agricultural investment in Indonesia in 2017 reached IDR 45.9 trillion, up an average of 14% per year of 2013.
"Previously, investment permits in the ministry could be one or two years, now only three hours are finished. We must monitor investment permits to the regions. Thank God is faster after deregulation of investment permits,"he said.