Tujuan KostraTani, Sinergi Pembangunan Pertanian Pemerintah Pusat dan Daerah
Indonesia`s Agricultural Extension Connected through the KostraTani
Reporter : Gusmiati Waris
Editor : Cahyani Harzi
Translator : Dhelia Gani

PUBLISHED: Rabu, 26 Februari 2020 , 15:31:00 WIB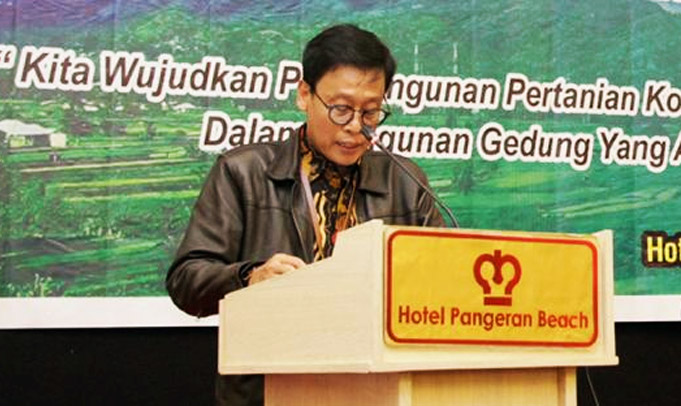 NARASUMBER UTAMA: Kepala BPPSDMP Kementan, Prof Dedi Nursyamsi sebagai narasumber pada ´rapat koordinasi pemerintah provinsi dan kabupaten/kota seluruh Sumatera Barat´ di Padang [Foto: Humas BPPSDMP/Eko Saputra]
Padang, Sumbar [B2B] - Pembangunan pertanian dari Sabang sampai Merauke dan dari Miangas sampai Pulau Rote menjadi tanggung jawab pemerintah pusat dan daerah dan para pemangku kepentingan untuk kepentingan 267 juta penduduk. Mewujudkan pertanian maju, mandiri dan modern mustahil terwujud apabila hanya bertumpu pada Kementerian Pertanian RI tanpa dukungan pemerintah daerah dan seluruh rakyat Indonesia.
"Membangun pertanian butuh kerjasama dan sinergi yang baik antara pusat dan daerah serta seluruh pemangku kepentingan," kata Kepala BPPSDMP Kementan, Prof Dedi Nursyamsi di Padang, Sumbar pada Rabu [26/7] saat hadir sebagai narasumber pada 'rapat koordinasi pemerintah provinsi dan kabupaten/kota seluruh Sumatera Barat' serta sosialisasi Sensus Penduduk 2020.
Menurutnya, Menteri Pertanian RI Syahrul Yasin Limpo [SYL] telah menggagas revitalisasi tugas, peran dan fungsi balai penyuluhan pertanian [BPP] sebagai motor penggerak di kecamatan, selaku locust pembangunan pertanian melalui Komando Strategis Pembangunan Pertanian [KostraTani].
"Kostratani merupakan salah satu upaya membangun pertanian yang maju mandiri modern, sebagai upaya optimalisasi fungsi BPP di tingkat kecamatan berbasis IT dengan Penyuluh sebagai ujung tombak," kata Dedi Nursyamsi pada rapat koordinasi yang dihadiri Gubernur Sumbar, Irwan Prayitno.
Menurutnya, dengan teknologi informasi era 4.0 maka seluruh kegiatan penyuluhan, pendidikan dan pelatihan ke depan akan dilakukan di BPP. Peran BPP dalam KostraTani tidak berubah, tetap melaksanakan tiga tugas utama BPP sebagai pusat data dan informasi, pusat gerakan, pembangunan pertanian, pusat pembelajaran plus pusat konsultasi agribisnis, dan pusat pengembangan jejaring dan kemitraan.
Gubernur Irwan Prayitno saat membuka rapat koordinasi mengatakan bahwa Rakor dibuka dengan topik utama sektor pertanian, khususnya KostraTani sebagai gebrakan utama dari Mentan SYL, untuk revitalisasi peran penyuluh.
"Fungsi penyuluh makin diberdayakan secara aktif dengan tujuan akhir peningkatan kesejahteraan petani. Kita berharap dengan pelaksanaan rapat koordinasi ini dapat ditingkatkan sinergitas antar lembaga dan hadir nya narasumber dapat kita ambil manfaatnya bersama," kata Irwan Prayitno [Esapt]
Padang of West Sumatera [B2B] - The Indonesian Agriculture Ministry to disseminate the development of agricultural extension centers at the sub-district level [BPP] into the center of Indonesian agricultural development [KostraTani] across the country, according to Indonesian senior official of the ministry here on Wednesday [Februari 26].