Apel Pagi jadi Sarana Koordinasi dan Silaturahim STPP Yogyakarta
The Morning Ceremony became a Coordination Forum in Indonesia`s STPP Yogyakarta
Editor : Cahyani Harzi
Translator : Dhelia Gani

PUBLISHED: Minggu, 25 Maret 2018 , 15:32:00 WIB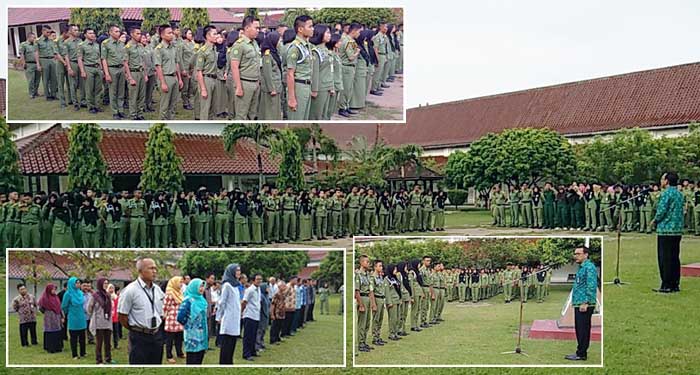 WADAH KOORDINASI: Pengarahan ketertiban dan kebersihan oleh Kepala BAU STPP Yogyakarta Irwan JS (batik biru) dalam apel pagi mewakili Ketua Ali Rachman dengan komandan upacara Bimo Kuncoro (Foto2: Humas STPP Yogyakarta)
KOMITMEN dan disiplin menjadi kunci sukses sebuah organisasi melalui kegiatan apel pagi setiap Senin dan tanggal 17 setiap bulan, maupun hari-hari tertentu yang dianggap penting, sebagai komponen utama dalam pembentukan karakter maupun penajaman visi, misi dan tujuan organisasi.
Apel pagi menjadi kegiatan teratur dan rutin dilakukan oleh Sekolah Tinggi Penyuluhan Pertanian - STPP Yogyakarta yang diikuti oleh mahasiswa, para pegawai, dan pimpinan dari kampus terpadu di Jl Kusumanegara 2 di sisi utara dari ´kota gudeg´ tersebut.
"Apel pagi walau berlangsung singkat dapat dimanfaatkan untuk menyampaikan berbagai informasi penting terkait kegiatan belajar mengajar dan manajemen organisasi sebagai bagian dari Kementerian Pertanian RI," kata Kepala Bagian Administrasi Umum STPP Yogyakarta, Irwan Johan Sumarno melalui pernyataan tertulis.
Menurutnya, banyak manfaat dari pelaksanaan apel pagi diantaranya, membiasakan disiplin juga membuka ruang dalam koordinasi, komunikasi, meningkatkan silaturahmi, dan rasa kekeluargaan.
"Apel pagi secara rutin akan menciptakan kedekatan di antara sesama mahasiswa maupun mahasiswa dengan dosen dan pegawai. Apabila ada yang tidak hadir karena sakit atau izin dapat langsung diketahui oleh yang lain," kata Irwan JS yang memimpin apel pagi mewakili Ketua STPP Yogyakarta, Ali Rachman.
Irwan JS juga menyinggung tentang tugas pokok dan fungsi (tupoksi) terkait masalah perencanaan apakah pegawai yang ada cukup, kurang, atau bahkan lebih. Mengingat keberadaan pegawai sangat menentukan dalam memberikan pelayanan kepada kegiatan kampus, kepentingan organisasi sebagai unit pelaksana teknis (UPT) dari Badan Penyuluhan dan Pengembangan SDM Pertanian (BPPSDMP) di Kementerian Pertanian RI. (IJS)
THE COMMITMENT and discipline become the key success of an organization through the morning ceremony activities every Monday and the 17th of each month, as well as certain important days, as the main component shaping the character and sharpening the vision, mission and goals of organization.
The morning ceremony is a regular and routine activity carried out by the Yogyakarta´s Agriculture Training Center or STPP Yogyakarta was attended by students, employees, and leaders of an integrated campus in 2 Kusumanegara Street on the north side of Yogyakarta.
"The morning ceremony can be used to convey various information related to teaching and learning activities, and organizational management as part of the Indonesian Agriculture Ministry," said said Head of General Affairs of STPP Magelang, Irwan Johan Sumarno through a written statement recently.
According to him, many benefits of the implementation of the morning ceremony, among others, to improve discipline, coordination and communication, friendship, and kinship.
"The morning ceremony will encourage closeness among fellow students, as well as students with lecturers and staff. If anyone is absent due to illness or permission can be immediately known by others," said Mr Sumarno who leads the morning ceremony representing Rector of STPP Yogyakarta, Ali Rachman.
Mr Sumarno also discusses about main tasks and functions related to planning and evaluation of organization. Because, civil servants are very decisive in providing services to campus activities, the interests of the organization as a technical implementation unit of the Directorate General of Agricultural Human Resources or BPPSDMP.