Jambore Pertanian 2019, BPPSDMP Ajak Milenial jadi Pengusaha Pertanian
Millennial Farmers are the Target of Developing Indonesian Agricultural HR
Editor : M. Achsan Atjo
Translator : Dhelia Gani

PUBLISHED: Jum'at, 18 Oktober 2019 , 01:54:00 WIB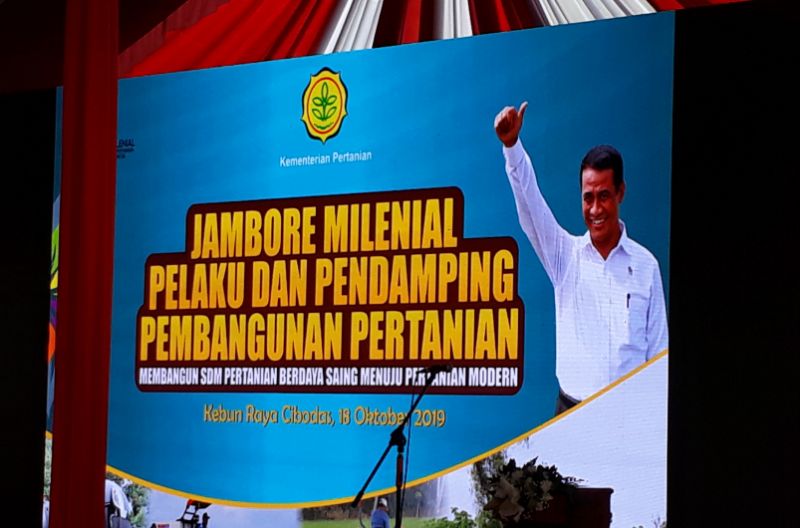 JAMBORE MILENIAL: Mentan Amran Sulaiman diwakili Kepala BPPSDMP Kementan, Prof Dedi Nursyamsi membuka ´Jambore Milenial Pelaku dan Pendamping Pembangunan Pertanian´ di Kebun Raya Cibodas, Cianjur, Jabar. [Foto: B2B/Mac]
Cianjur, Jabar [B2B] - Sekitar 20 petani milenial sukses hadir bersama 1.500 petani, penyuluh pertanian, widyaiswara dari seluruh Indonesia pada kegiatan 'Jambore Pertanian 2019' di Kebun Raya Cibodas, Kabupaten Cianjur, Provinsi Jawa Barat pada Jumat pagi [18/10] yang dibuka oleh Kepala BPPSDMP Kementan, Prof Dedi Nursyamsi mewakili Mentan Amran Sulaiman dan dihadiri segenap jajaran Badan Penyuluhan dan Pengembangan SDM Pertanian - Kementerian Pertanian RI [BPPSDMP].
"Keterlibatan generasi milenial dalam mendukung, mengembangkan dan memajukan sektor pertanian sangat dibutuhkan. Pertanian harus didukung kalangan milenial sebagai generasi muda, mendukung upaya pemerintah melakukan regenerasi petani sekaligus melahirkan pengusaha muda pertanian yang berdampak sosial dan ekonomi bagi masyarakat pertanian Indonesia," kata Dedi Nursyamsi dalam arahannya usai mengukuhkan 21 petani milenial didampingi Sekretaris BPPSDMP Kementan, Siti Munifah pada ´Jambore Milenial Pelaku dan Pendamping Pembangunan Pertanian´ di Cibodas.
Menurutnya, sektor pertanian apabila dikelola dengan baik, benar dan serius akan menjadi bidang yang prospektif, bahkan ada banyak komoditas pertanian yang dapat diekspor dan menjadi peluang menambah pundi-pundi devisa negara.
"Petani milenial seperti Sandi Octa Susila dan Agus Ali Nurdin adalah dua sosok penting dari puluhan, ratusan bahkan ribuan petani milenial sukses di seluruh Indonesia yang dapat menjadi contoh keberhasilan petani milenial menjawab tantangan jaman di era 4.0. BPPSDMP Kementan berupaya melakukan replikasi atas prestasi mereka kepada kalangan milenial lainnya di seluruh Indonesia," kata Dedi Nursyamsi.
Dedi Nursyamsi menyebut keduanya sebagai figur utama dari generasi milenial yang memilih bertani sebagai pilihan masa depan. Omset usaha masing-masing mencapai ratusan juta rupiah per bulan. "Kedua petani milenial membuat Kementan yakin lumbung pangan dunia 2045 akan kita capai."
Penyuluh Pertanian
BPPSDMP Kementan menyadari peran petani dan penyuluh pertanian di era 4.0, mengingat perannya sebagai ujung tombak kekuatan pangan Indonesia. Penyuluh pertanian dianalogikan oleh Prof [R] Dedi Nursyamsi sebagai ´pasukan infantri´ yang hadir di depan memimpin petani sebagai ´serdadu pangan´ nasional.
"Penyuluh itu ibarat ujung tombak. Ibaratnya perang, yang paling terdepan itu pasukan infantrinya adalah penyuluh," kata Dedi Nursyamsi.
Pemerintah RI dalam lima tahun ke depan memprioritaskan pembangunan SDM Indonesia yang siap menghadapi globalisasi di era industrialisasi 4.0, Kementerian Pertanian RI khususnya BPPSDMP Kementan melaksanakan perannya untuk mengembangkan petani milenial yang menguasai teknologi informasi dan komunikasi [TIK]. Cha/Esap
Cianjur of West Java [B2B] - Indonesian government in the next five years prioritizes the development of human resources that are ready to face globalization in the era of industrialization 4.0, the Agriculture Ministry in particular the Directorate General of Extension and Agricultural HR Development [BPPSDMP] carry out its role to develop millennial farmers who understand information and communication technology, according to the senior official of the agriculture ministry.