KostraTani Momentum Bangkitnya Penyuluhan Pertanian Indonesia
Indonesia`s Agricultural Extension Connected through the KostraTani
Reporter : Gusmiati Waris
Editor : Cahyani Harzi
Translator : Dhelia Gani

PUBLISHED: Senin, 09 Maret 2020 , 15:46:00 WIB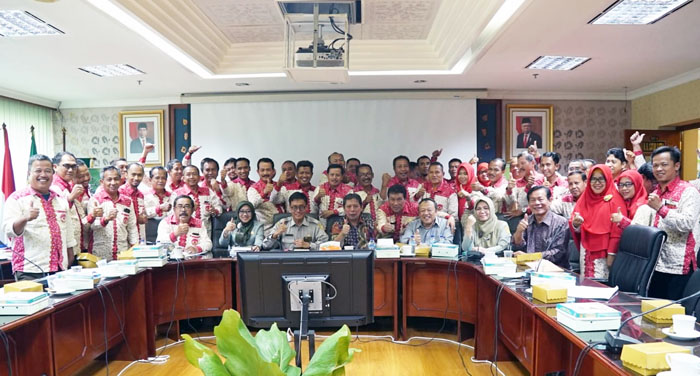 AUDIENSI PERHIPTANI: Kepala BPPSDMP Kementan, Prof Dedi Nursyamsi dan Sekretaris BPPSDMP Siti Munifah [duduk] bersama pimpinan, pengurus dan anggota Perhiptani [Foto: Humas BPPSDMP]
Jakarta [B2B] - Pengembangan Komando Strategis Pembangunan Pertanian didukung Agriculture War Room [AWR KostraTani] adalah momentum luar biasa untuk mendukung kebangkitan penyuluhan pertanian di Indonesia, sebagai salah satu dari tiga program utama Kementerian Pertanian RI.
Hal itu mengemuka dari pertemuan Sekjen Kementan, Momon Rusmono didampingi Kepala BPPSDMP Prof Dedi Nursyamsi di Jakarta, Senin [9/3] saat menerima audiensi Perhimpunan Penyuluh Pertanian Indonesia [Perhiptani] dipimpin Agus Subagyo selaku Anggota Dewan Pembina Perhiptani.
"KostraTani adalah momentum bangkitnya penyuluhan pertanian Indonesia, maka ditunjuknya Syahrul Yasin Limpo sebagai Menteri Pertanian RI adalah momen yang luar biasa, karena salah satu dari tiga program utama Kementan adalah Penguatan BPP melalui gerakan Kostratani," kata Momon Rusmono.
Hal senada dikemukakan Kepala Badan Penyuluhan dan Pengembangan SDM Pertanian [BPPSDMP] Prof Dedi Nursyamsi bahwa dukungan Perhiptani dan seluruh penyuluh pertanian memberikan semangat dan energi untuk pembangungan pertanian nasional.
"Tunjukkan kalau penyuluh itu eksis. Penyuluh itu bisa.
Kinerja penyuluh perlu dijembatani agar sampai dan dipahami dengan baik oleh wakil rakyat di DPR RI," kata Dedi Nursyamsi.
Agus Subagyo membenarkan hal itu, karena KostraTani adalah Kesempatan yang harus kita sempurnakan langkahhya, khususnya dalam menunjukkan kinerja penyuluh dalam pencapaian tujuan pembangunan pertanian.
"Penguatan BPP menjadi signifikan, karena BPP selaku KostraTani akan menjadi tempat berkumpulnya semua jabatan fungsional pertanian di kecamatan," katanya.
Menurutnya, tidak hanya penyuluh, ada pengawas mutu pakan, analis pasar, medik veterinek, pengendali OPT dan banyak lagi, yang bersinergi meningkatkan pembangunan pertanian langsung di kecamatan.
Jakarta [B2B] - The Indonesian Agriculture Ministry to disseminate the development of agricultural extension centers at the sub-district level [BPP] into the center of Indonesian agricultural development [KostraTani] across the country, according to Agriculture Minister Syahrul Yasin Limpo here on Friday [March 6].