Mentan: 5 Cara Indonesia Jamin Ketersediaan Pangan
Indonesian Agriculture is Moving towards the Digitalization Era 4.0
Editor : Ismail Gani
Translator : Novita Cahyadi

PUBLISHED: Sabtu, 23 Januari 2021 , 15:52:00 WIB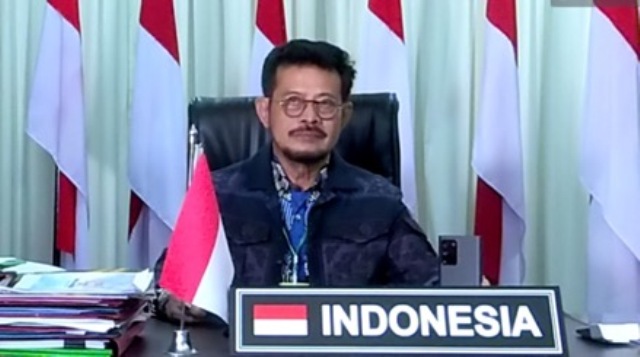 GFFA: Menteri Pertanian RI Syahrul Yasin Limpo pada pertemuan The 13th GFFA secara virtual. [Foto: Kementan]
Jakarta [B2B] - Dalam pertemuan the 13th Global Forum for Food and Agriculture (GFFA) yang dihadiri oleh Pejabat Setingkat Menteri dan Wakil Menteri dari 97 negara serta perwakilan 13 Organisasi International, Menteri Pertanian RI Syahrul Yasin Limpo menyampaikan upaya Indonesia menjamin ketersediaan pangan di masa pandemi ini, melalui rangkaian kebijakan yang dikemas dalam Lima Cara Bertindak (CB).
"Kementerian Pertanian menetapkan kebijakan mendukung arahan Presiden, yaitu pertanian maju, mandiri, dan modern melalui CB satu sampai lima. Arah kebijakan tersebut menjadi pedoman bertindak cerdas, cepat, dan tepat," kata Mentan Syahrul dalam pertemuan GFFA secara virtual, pada Jumat [22/01].
Lebih lanjut Mentan menguraikan cara bertindak yang telah disusun pihaknya dalam mewujudkan ketahanan pangan dan meningkatkan nilai tambah serta ekspor komoditas pertanian, antara lain:
Lima Cara Bertindak [CB]:
Pertama, meningkatkan kapasitas produksi melalui perluasan areal budidaya baru untuk komoditas strategis.
Kedua, mendorong diversifikasi pangan berbasis kearifan lokal melalui pemanfaatan pekarangan dan lahan marjinal.
Ketiga, memperkuat cadangan pangan dan sistem logistik.
Keempat, mengembangkan pertanian modern melalui (i)mekanisasi pertanian; (ii) food estate; (iii) korporasi petani.
Kelima, gerakan peningkatan ekspor komoditas pertanian
Melalui berbagai upaya yang dilakukan tersebut sektor pertanian terbukti mampu menjadi penyelamat perekonomian Indonesia di tengah kondisi sulit yang menyebabkan berbagai sektor hampir lumpuh. Hal ini terlihat dari peningkatan kontribusi pada Produk Domestik Bruto [PDB] di kuarta III tahun 2020 yang makin menguat sebesar 14,58 persen.
Badan Pusat Statistik [BPS] merilis pertumbuhan ekonomi triwulan III thaun 2020 berdasarkan besaran Produk Domestik Bruto [PDB] berbagai sektor pertanian yang mengalami pertumbuhan positif, yakni tumbuh sebesar 2,15 persen [y on y].
Dalam Forum Pertemuan GFFA menyambut baik dan memberikan apresiasi tinggi terhadap upaya Menteri Pertanian dalam menjaga ketersediaan pangan bagi 273 juta penduduk Indonesia di tengah pandemi Covid-19 yang melanda dunia.
Jakarta [B2B] - The Indonesia´s Agricultural Development Strategy Command or KostraTani will carry out and oversee Indonesia´s agricultural development into the digital era. Empowerment of duties, functions and roles of the Agricultural Extension Agency or BPP refers to the qualifications for the 4.0 industrialization era, according to the senior official of Indonesian Agriculture Ministry.