Polbangtan Malang, Kapusdik BPPSDMP Ajak Mahasiswa Kembangkan Agrososiopreneur
Indonesian Official Ministry Invites Agricultural Students Back to Farming
Editor : M. Achsan Atjo
Translator : Dhelia Gani

PUBLISHED: Minggu, 23 Februari 2020 , 01:55:00 WIB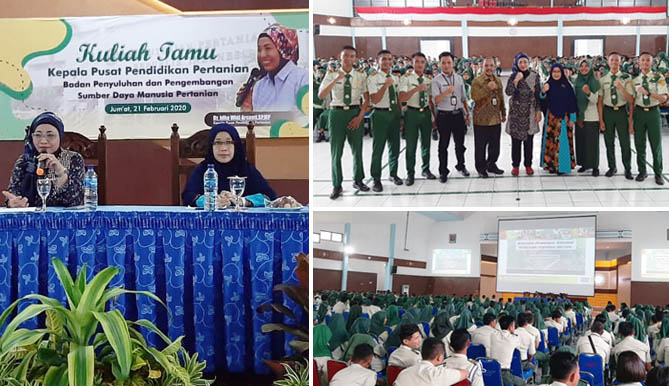 KULIAH UMUM: Kepala Pusdiktan BPPSDMP Idha Widi Arsanti [kiri, inset]; bersama mahasiswa Polbangtan Malang [hijab biru] dan kuliah umum diikuti mahasiswa dari seluruh program studi [Prodi] Foto: Humas Pusdiktan
Malang, Jatim [B2B] - Sekitar 500 mahasiswa Polbangtan Malang diingatkan dan diajak oleh Kepala Pusat Pendidikan Pertanian [Pusdiktan BPPSDMP] Idha Widi Arsanti untuk bekerja keras dan tekun belajar sehingga lulus sebagai sarjana knowledgeable [berpengetahuan luas] yang siap bekerja dan siap menjadi agrososiopreneurs sukses didukung teknologi informasi era 4.0.
"Mahasiswa sebagai generasi milenial harus smart dalam memanfaatkan inovasi dan teknologi informasi, untuk mendukung karier di masa depan sebagai agrososiopreneurs di bidang pertanian yang menguasai lini on farm dan off farm," kata Kapusdik Idha WA pada kuliah umum di Polbangtan Malang, Provinsi Jawa Timur Jumat [21/2] yang dihadiri oleh Direktur Polbangtan Malang, Dr Bambang Sudaryanto dan sejumlah dosen.
Dia mengingatkan mahasiswa sejak dini untuk mengembangkan kemampuan membaca peluang pasar dan karakter sosial masyarakat, serta kemampuan manajerial dalam pengambilan keputusan dengan memperhitungkan risiko bisnis.
"Semua itu akan didapat dalam proses pembelajaran di Polbangtan Malang melalui sinkronisasi dengan kegiatan utama Kementerian Pertanian RI yakni KostraTani serta penumbuhan dan pengembangan pengusaha pertanian milenial," kata Kapusdik Idha WA yang akrab disapa Santi.
Pada kuliah umum bertajuk ´Dukungan Pendidikan terhadap Pengembangan Pengusaha Pertanian Milenial´, Kapusdik menguraikan tentang rencana-rencana strategis, program kerja jangka pendek dan jangka panjang utama dari Kementerian Pertanian RI, terutama untuk mendukung perekonomian nasional dalam konteks nasional dan global.
Direktur Dr Bambang Sudaryanto menyambut baik kuliah umum Kapusdik BPPSDMP yang bersedia hadir untuk memotivasi mahasiswanya mendukung sektor pertanian, yang diharapkan dapat memberi dorongan kepada civitas academica Polbangtan Malang agar senantiasa antusias mendukung pertanian nasional.
Dalam kesempatan tersebut, Kapusdik Idha WA melakukan dialog interaktif dengan sejumlah mahasiswa, khususnya terkait pemilihan bisnis; mengapa harus menggerakkan kalangan milenial; serta pilihan karier.
"Kami harapkan kuliah umum dan interaksi dengan mahasiswa akan meningkatkan semangat belajar dan motivasi untuk maju menjadi pengusaha pertanian milenial," katanya. [IWA]
Malang of East Java [B2B] - Indonesian government invited students of Malang´s Agricultural Development Polytechnic [Polbangtan Malang] back to farming to support Indonesia to achieve food sovereignty, according to senior official of the agriculture ministry.