Transformasi STPP ke Polbangtan, Mentan akan Luncurkan 18 September di Bogor
Indonesian Agriculture Minister will Launch Agricultural Development Polytechnic
Editor : M. Achsan Atjo
Translator : Dhelia Gani

PUBLISHED: Senin, 10 September 2018 , 15:57:00 WIB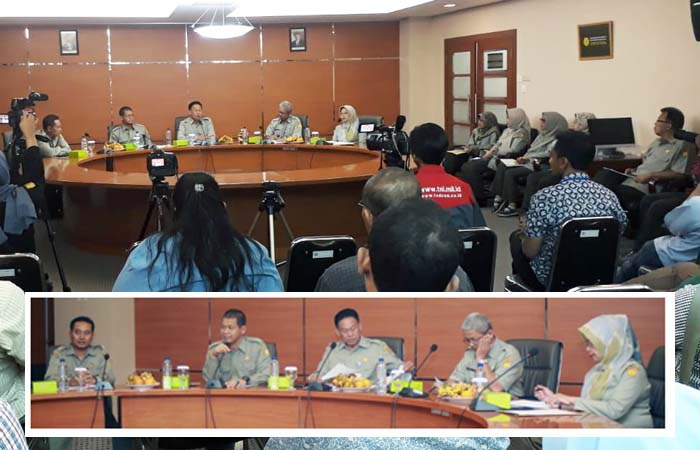 KONPERS SDM: Kepala BPPSDMP Kementan Momon Rusmono menjawab pers tentang rencana Mentan Amran Sulaiman meluncurkan Polbangtan di Bogor (Foto2: Humas BPPSDMP Kementan/Saputra Eko & Pito)
Jakarta (B2B) - Menteri Pertanian RI Andi Amran Sulaiman pada 18 September 2018 dijadwalkan meluncurkan Politeknik Pembangunan Pertanian (Polbangtan) di STPP Bogor yang akan beralih nama menjadi Polbangtan Bogor, sebagai transformasi pendidikan Sekolah Tinggi Penyuluhan Pertanian (STPP) yang semula hanya berorientasi menghasilkan penyuluh pertanian dan peternakan, maka lulusan Polbangtan diarahkan menjadi job creator yang berjiwa wirausaha atau socioagropreneur dengan keahlian tertentu di bidang pertanian, peternakan, dan perkebunan.
"Kalau STPP hanya meluluskan penyuluh pertanian dan peternakan dari tiga program studi atau Prodi, maka Polbangtan mengusung 13 Prodi untuk meningkatkan pengembangan pendidikan dan kualitas sarjana terapan sesuai visi Polbangtan menjadi politeknik pembangunan pertanian unggulan," kata Kepala Badan Penyuluhan dan Pengembangan SDM Pertanian (BPPSDMP) Kementan, Momon Rusmono kepada pers di Jakarta, Senin (10/9) tentang kesiapan Kementan meluncurkan Polbangtan pada enam Polbangtan di seluruh Indonesia.
Dari 13 Prodi, sembilan di antaranya dengan jenjang sarjana terapan disingkat S.Tr antara lain Penyuluh Pertanian Berkelanjutan, Penyuluh Perkebunan Presisi, Teknologi Produksi, Penyuluhan Peternakan dan Kesehatan Hewan, Agribisnis Hortikultura, Teknologi Benih, Teknologi Pakan Ternak, Produksi Ternak, dan Agribisnis Peternakan.
"Empat Prodi lainnya dengan jenjang diploma tiga disingkat D III antara lain Kesehatan Hewan, Mekanisasi Pertanian, Budidaya Hortikultura, Budidaya Ternak," kata Momon Rusmono.
Tampak hadir Sekretaris BPPSDMP Kementan, Andriko Notosusanto; Kepala Pusat Pendidikan Pertanian (Pusdiktan) Gunawan Yulianto; Kepala Bidang Kelembagaan dan Ketenagaan Penyuluhan BPPSDMP, Joko Samiyono; dan Kepala Bidang Kelembagaan dan Ketenagaan Pendidikan, Inneke Kusumawaty.
Untuk tahap awal, ke-13 Prodi politeknik pertanian akan masuk kurikulum pendidikan pada enam STPP yakni STPP Medan menjadi Polbangtan Medan, STPP Bogor menjadi Polbangtan Bogor, STPP Magelang menjadi Polbangtan Yogyakarta - Magelang, STPP Malang menjadi Polbangtan Malang, STPP Gowa menjadi Polbangtan Gowa, dan STPP Manokwari menjadi Polbangtan Manokwari. (Cha)
Jakarta (B2B) - Indonesian Agriculture Minister Andi Amran Sulaiman on September 18, 2018 is scheduled to launch the Agricultural Development Polytechnic or the Polbangtan at the STPP Bogor, which will change its name to the Polbangtan Bogor, as transformation of of the Agricultural Extension College or the STPP for agricultural and livestock extension education, then the Polbangtan graduates focus on becoming a job creator or socioagropreneur.
"If the STPP is only education for agricultural and livestock extensionist with three study programs or the Prodi, then Polbangtan carries 13 Prodi to improve the of polytechnic education in agricultural development," said Director General of Agency for Agricultural Extension and Human Resources Development or BPPSDMP, Momon Rusmono here on Monday (September 10).
Of the 13 study programs, nine of them with the applied bachelor degree abbreviated as S.Tr, among others Sustainable Agriculture Extensionist, Precision Planting Extensionist, Production Technology, Livestock and Animal Health Extensionist, Horticultural Agribusiness, Seed Technology, Animal Feed Technology, Animal Production, and Livestock Agribusiness.
"Four other study programs with three diploma levels abbreviated as D III include Animal Health, Agricultural Mechanization, Horticultural Cultivation, Livestock Cultivation," Mr Rusmono said.
For the initial stage, the 13 agricultural polytechnic study programs will enter the education curriculum at the six STPP, namely the STPP Medan become Polbangtan Medan, STPP Bogor becomes Polbangtan Bogor, STPP Magelang becomes Polbangtan Yogyakarta - Magelang, STPP Malang becomes Polbangtan Malang, STPP Gowa becomes Polbangtan Gowa, and STPP Manokwari becomes Polbangtan Manokwari.