Efisien Bernilai Tambah, Mentan Dorong Pengembangan Smart Farming
Millennial Farmers Development are the Target of Indonesia`s SMKPPN Sembawa
Editor : Kemal A Praghotsa
Translator : Novita Cahyadi

PUBLISHED: Jum'at, 25 November 2022 , 15:58:00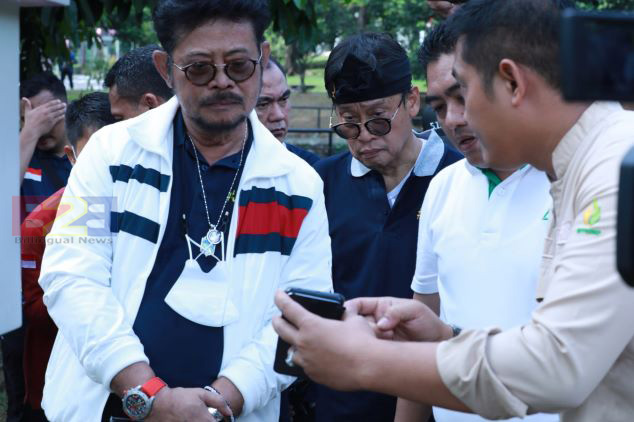 SMKPPN SEMBAWA: Menteri Pertanian RI Syahrul Yasin Limpo (kiri) didampingi Kepala BPPSDMP Kementan Dedi Nursyamsi (ke-2 kiri) seusai senam pagi dalam rangka memperingati Hut Korpi yang Ke 51.
Jakarta [B2B] - Menteri Pertanian Syahrul Yasin Limpo mendorong penerapan program smart farming di Indonesia terus dilakukan untuk meningkatan nilai tambah produk pertanian, sekaligus meningkatkan efisiensi sehingga perbaikan ekonomi dan peningkatan produksi bisa diwujudkan.
"Hari Jumat yang akan datang tolong pertemukan semua staf andalan kita untuk mencoba mencari pada sektor masing-masing yang mana akan diaplikasikan program smart farming," ujar Mentan Syahrul seusai senam pagi dalam rangka memperingati Hut Korpi yang Ke 51 di halaman kantor pusat Kementan, pada Jumat [25/11].
Menurut Mentan, percepatan menuju pertanian modern dapat diwujudkan secara cepat apabila program tersebut dapat dikembangkan secara baik. Yang pasti, kata dia, efisiensi tenaga, waktu dan biaya produksi harus bisa diturunkan hingga 30 persen.
"Dengan efisiensi, marginnya bisa kita naikan. Saya kira semua bisa kita wujudkan dengan kebersamaan. Dan ingat pertanian itu memberi keuntungan dan memberi kebaikan," katanya.
Kepala Badan Penyuluhan dan Pengembangan Sumber Daya Manusia Pertanian [BPPSDMP] Dedi Nursyamsi mengungkapkan saat ini adalah eranya generasi milenial dalam mengambil peran dan kesempatan.
Menurutnya, kemajuan pertanian harus didukung petani milenial karena milenial memiliki semangat berinovasi yang tinggi untuk melakukan cara-cara yang baru terhadap penanganan pertanian yang maju, mandiri, dan modern.
"Di era 4.0 ini ada lima hal yang harus di pegang oleh petani milenial yaitu rencana, antusias, ilmu, pengetahuan, keterampilan dan aksi nyata. Jika itu semua ada di genggaman kalian impian mu pasti akan terwujud. Sudahlah, hilangkan pardigma kalau petani itu miskin. Mulai untuk mengelola dengan serius dari budidaya, hilirisasi produk, hingga pengembangan pasarnya, pasti akan lebih mengembangkan ekonomi, jangan hanya budidayanya saja," jelasnya.
Sebagai informasi, Kementan terus menggaungkan pentingnya penerapan smart farming untuk meningkatkan produktivitas dan kualitas sektor pertanian dalam menghadapi tantangan masa depan
Jakarta [B2B] - The role of agricultural vocational education in Indonesia such as the the Agricultural Development Polytechnic or the Polbangtan, to support Indonesian Agriculture Ministry seeks to maximize its efforts to produce millennial entrepreneur.
Indonesian Agriculture Minister Syahrul Indonesia Yasin Limpo stated that the government´s commitment to developing agriculture, especially in the development of advanced, independent and modern agricultural human resources.
"The goal is to increase the income of farming families and ensure national food security. Farmer regeneration is a commitment that we must immediately realize," Minister Limpo said.
He reminded about the important role of vocational education, to produce millennial farmers who have an entrepreneurial spirit.
"Through vocational education, we connect campuses with industry so that Polbangtan graduates meet their needs and are ready for new things," Limpo said.