Barantan Fasilitasi Ekspor 300 ton `Cocoa Butter` Sultra ke Belanda
Indonesian Agricultural Quarantine Supports Export of Cocoa Butter
Reporter : Khairullah Musyafa
Editor : Cahyani Harzi
Translator : Dhelia Gani

PUBLISHED: Senin, 13 Agustus 2018 , 01:57:00 WIB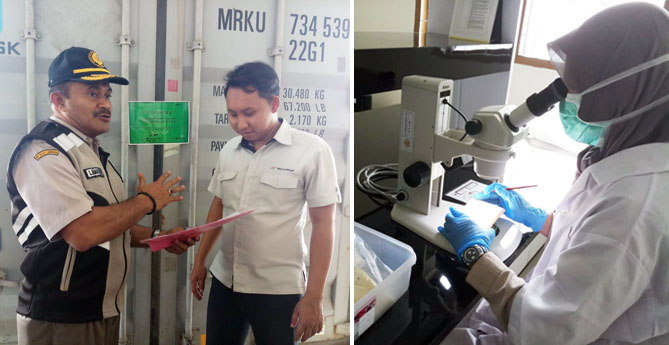 Barantan telah tiga kali memfasilitasi eksportir, PT KKI untuk mengekspor cocoa butter dalam dua bulan terakhir yakni 160 ton, 40 ton dan yang terakhir 100 ton langsung ke Belanda (Foto: Humas Barantan)
Kendari, Sultra (B2B) - Badan Karantina Pertanian di Kementerian Pertanian RI memfasilitasi ekspor 300 ton cocoa butter dari Sulawesi Tenggara (Sultra) senilai Rp27 miliar langsung ke Belanda melalui Pelabuhan Kendari New Port, yang sebelumnya melalui Makassar atau Surabaya.
"Karantina Kendari siap membantu fasilitasi agar komoditas ekspor yang dikeluarkan dari Kendari memenuhi standar kesehatan yang dipersyaratkan negara tujuan ekspor," kata Kepala Karantina Pertanian Kendari, Mastari kepada pers di Kendari, belum lama ini.
Menurutnya, Barantan telah tiga kali memfasilitasi eksportir, PT KKI untuk mengekspor cocoa butter dalam dua bulan terakhir yakni 160 ton, 40 ton dan yang terakhir 100 ton langsung ke Belanda.
"Untuk memperlancar ekspor produk kakao di Sulawesi Tenggara, Karantina Kendari telah menerapkan sistem pengawasan inline inspection, untuk mengawal persyaratan kesehatan dan keamanan komoditas untuk memenuhi persyaratan yang diminta negara tujuan ekspor," kata Mastari.
Menurutnya, Belanda mempersyaratkan phitosanitary certificate dari karantina, maka proses hulu sampai hilir di bawah pantauan petugas Barantan. "Hingga saat tibanya ekspor, tidak perlu ada bongkar muat kontainer untuk diperiksa, karena semua hal sudah dilakukan di gudang eksportir."
Kendari of Southeast Sulawesi (B2B) - Indonesian Agricultural Quarantine Agency at the agriculture ministry facilitates export of 300 tons of cocoa butter from Southeast Sulawesi worth IDR 27 billion directly to the Netherlands via Kendari New Port, previously from Makassar or Surabaya.
"Kendari agricultural quarantine is ready to support exports from Kendari to meet the health standards required by export destination countries," Head of the Kendari´s Agricultural Quarantine, Mastari told the press here recently.
He added, his office had facilitated exporters three times, PT KKI to export cocoa butter in the past two months was 160 tons, 40 tons and 100 tons directly to the Netherlands.
"To facilitate cocoa exports from Southeast Sulawesi province, Kendari´s agricultural quarantine implements an inline inspection monitoring system," Mastari said.
According to him, the Netherlands requires the phitosanitary certificate from quarantine, upstream to downstream processes under the supervision of agricultural quarantine officers.