Jiwa Wirausahawan, BPPSDMP Kementan Apresiasi KIM Polbangtan dan KIS SMK-PP
Agricultural Scientific Work as an Effort of Indonesia Farmers` Rebranding
Editor : M. Achsan Atjo
Translator : Dhelia Gani

PUBLISHED: Kamis, 12 September 2019 , 15:08:00 WIB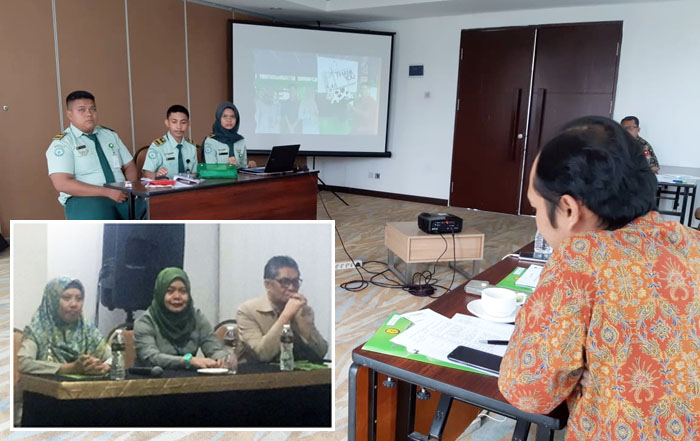 KEGIATAN PENJURIAN: Peserta lomba dari mahasiswa Polbangtan mengikuti kegiatan penjurian, Kabid Penyelenggaraan Pendidikan - Pusdiktan, Ismaya NR Parawansa [inset, tengah] Foto: Humas Pusdiktan/Fika
Bogor, Jabar [B2B] - Lebih dari 60 karya tulis terjaring pada kegiatan Karya Inovasi Mahasiswa dari Politeknik Pembangunan Pertanian [KIM Polbangtan] dan Karya Inovasi Siswa dari Sekolah Menengah Kejuruan Pertanian Pembangunan [KIS SMKPP] binaan Kementerian Pertanian RI. Lomba karya inovatif diharapkan sebagai awal langkah ke depan mengembangkan penelitian dengan hasil yang dapat diterapkan secara umum.
"Kegiatan lomba diselenggarakan BPPSDMP Kementan sebagai salah satu upaya rebranding sektor pertanian, khususnya menumbuhkembangkan jiwa wirausahawan atau agripreneurship sebagai profesi pekerjaan mulia, dan bermartabat melalui pemanfaatan inovasi teknologi pertanian," kata Ismaya NR Parawansa, Kabid Penyelenggaraan Pendidikan mewakili Kepala Pusat Pendidikan Pertanian [Pusdiktan BPPSDMP Kementan] di Bogor, belum lama ini.
Menurutnya, lomba karya tulis KIM dan KIS diharapkan mengubah persepsi tentang petani di mata kaum milenial sebagai profesi yang menjanjikan masa depan melalui inovasi teknologi. KIM dan KIS juga menjadi kegiatan menumbuhkembangkan minat, bakat, dan kemampuan mahasiswa Polbangtan dan siswa SMK-PP binaan Kementan dalam menulis karya ilmiah yang inovatif dan menciptakan teknologi baru untuk kepentingan pertanian.
"Lomba karya inovatif jadikanlah sebagai awal langkah ke depan mengembangkan penelitian dengan hasil yang dapat diterapkan secara umum. Kelak setelah memenangkan lomba karya ilmiah, jangan hanya menjadi hiasan kebanggaan yang dipajang di meja atau dinding, tapi harus ditindaklanjuti menjadi karya yang lebih besar lagi," katanya.
Ismaya NR Parawansa menambahkan secara garis besar dewan juri menilai penelitian yang dihasilkan oleh para siswa berasal dari pengamatan hal-hal yang sederhana di sekelilingnya, menarik dan dapat ditindaklanjuti sebagai bahan penelitian lebih lanjut agar dapat diterapkan secara luas.
"Bagi pemenang KIS merupakan peluang untuk masuk Polbangtan, karena dengan prestasi yang dimiliki sebagai pemenang KIS untuk memasuki penerimaan mahasiswa baru Polbangtan ke depan melalui jalur prestasi, olahraga, seni, keilmuan dan minat," kata Ismaya yang juga mantan pejabat eselon tiga di Polbangtan Gowa, Sulsel.
Sebagaimana diketahui, indikator penilaian KIM dan KIS oleh tim juri mengacu pada aspek: ide/orisinalitas, azas manfaat, aspek lingkungan, kearifan lokal, kemudahan pembuatan dan penerapan, nilai ekonomis, nilai tambah, sistematika penulisan, bahasa, pembahasan/ulasan hasil karya, dan landasan teori.
"Kreativitas, inovasi dan motivasi yang ada pada jiwa peserta KIM dan KIS harus terus didukung baik oleh dosen Polbangtan maupun guru SMK-PP yang membimbing untuk mencapai prestasi yang memuaskan," kata Ismaya NR Parawansa. [Fka]
Bogor of West Java [B2B] - More than 60 scientific papers were collected in the Student Innovation Work activities of Agricultural Development Polytechnic [KIM Polbangtan] and Student Innovation Works of the Agricultural Development Vocational High School [KIS SMKPP] organized by Indonesian Agriculture Ministry. The innovative work competition is expected by the government as a step forward in developing agricultural research, scientific work competition is expected as an effort to develop agricultural research.