Rp27,1 Miliar, Kolaborasi Barantan - Sumsel Realisasi Ekspor Tiga Komoditas Pertanian
Indonesian Agricultural Quarantine Supports Commodity Exports
Reporter : Gusmiati Waris
Editor : Cahyani Harzi
Translator : Dhelia Gani

PUBLISHED: Jum'at, 15 Maret 2019 , 16:21:00 WIB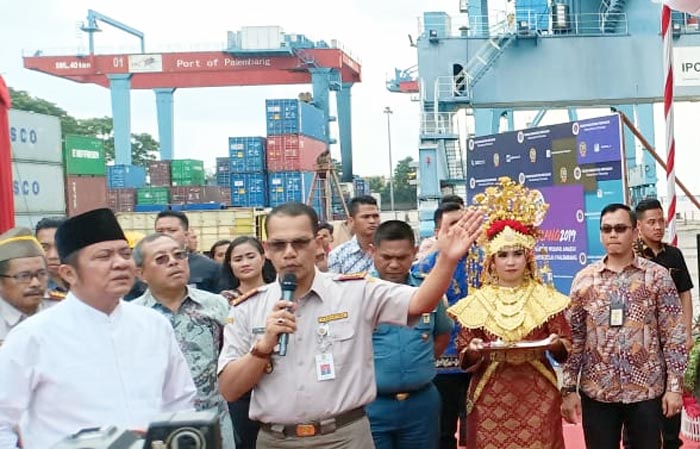 SERTIFIKAT KESEHATAN TUMBUHAN: Kepala Barantan, Ali Jamil [kacamata hitam] menjelaskan prosedur perkarantinaan kepada Gubernur Sumsel H Herman Deru (kemeja putih) Foto: B2B/Gusmiati Waris
Palembang, Sumsel [B2B] - Badan Karantina Pertanian - Kementerian Pertanian RI [Barantan] menyerahkan Sertifikat Kesehatan Tumbuhan [Phytosanitary Certificate/PS] kepada Pemprov Sumatera Selatan (Sumsel) menandai pelepasan ekspor 1.108 ton karet, 500 ton kelapa, dan 210 ton kopi dengan total nilai ekspor Rp27,1 miliar, yang berlangsung di Pelabuhan Boom Baru Palembang, Jumat [15/3].
Sertifikat PS diserahkan oleh Kepala Barantan, Ali Jamil kepada Gubernur Sumsel, Herman Deru disaksikan Walikota Palembang, H Harnojoyo; Kepala Karantina Pertanian Palembang, Bambang Hesti Susilo.
"Kami berkomitmen melakukan percepatan layanan ekspor komoditas pertanian, tujuannya agar para petani dan pelaku usaha bisa mendapat nilai tambah yang proporsional, selain menjadi masukan devisa bagi negara. Hal ini sejalan dengan instruksi Presiden RI Joko Widodo, untuk menggenjot ekspor nonmigas guna meraup devisa negara," kata Ali Jamil dalam sambutannya.
Menurutnya, petugas karantina pertanian melakukan pemeriksaan dokumen dan fisik, memastikan komoditas pertanian tersebut bebas hama dan penyakit. Apabila ditemukan adanya investasi hama, maka dilakukan tindakan karantina seperti fumigasi atau tindakan karantina lainnya guna mengeliminasi hama tersebut. Hal ini agar tidak terjadi penolakan saat tiba di negara tujuan.
Gubernur H Herman Deru mengapresiasi semua pihak dan para pemangku kepentingan khususnya Kementerian Pertanian RI yang mendukung ekspor komoditas unggulan Sumsel melalui upaya khusus terhadap komoditas unggulan di wilayah provinsinya.
"Pelepasan ekspor adalah momentum untuk menguatkan komitmen kita semua dalam upaya meningkatkan nilai tambah dari hulu ke hilir. Pelepasan ekspor komoditas pertanian dari Sumsel diharapkan menjadi titik tolak bagi kita semua untuk senantiasa peduli terhadap peningkatan kesejahteraan petani yang merupakan faktor penting meningkatkan ekspor komoditas pertanian," kata Gubernur Sumsel.
Kepala Karantina Pertanian Palembang, Bambang Hesti Susilo memaparkan jumlah komoditas yang diekspor adalah karet sebanyak 1.108 ton dengan nilai Rp. 21,6 milyar atau setara US$1.550.0000 tujuan Jepang dan Finlandia. Komoditas kelapa 500 ton senilai Rp1,3 milyar atau setara US$95.000 tujuan China, dan komoditas kopi 210 ton senilai Rp4,2 milyar atau setara US$301.770 tujuan Inggris.
Bersamaan dengan pelepasan ekspor yang ditandai dengan penyerahan PC kepada masing-masing eksportir yakni PT Surya Ido Cocos, PT Hevea Muara Klingi, dan PT Budi Wahana. Atas nama Kementan, Ali Jamil juga menyerakan aplikasi peta komoditas pertanian unggulan ekspor untuk Pemprov Sumsel kepada Gubernur H Herman Deru. [US$1 = 14,255.0000 rupiah]
Palembang of South Sumatera [B2B] - The Directorate General of Agricultural Quarantine at the Indonesian Agriculture Ministry or the Barantan handed over the Phytosaniatary Certificate to South Sumatra Provincial Government to export 1,108 tons of rubber, 500 tons of coconut, and 210 tons of coffee. Total exports of US$2 million, according to senior Indonesian official.
The phytosanitary certificate is handed over by DG of Barantan, Ali Jamil to South Sumatera Governor, H Herman Deru witnessed by the Mayor of Palembang, H Harnojoyo; and Head of Palembang Agricultural Quarantine, Bambang Hesti Susilo.
"The Barantan is committed to accelerate the export of agricultural commodities, the goal is for farmers and entrepreneurs to get profits, and foreign exchange for the country. This is in line with President Joko Widodo´s instructions to encourage non-oil exports," Ali Jamil said in his remarks.
According to him, agricultural quarantine officers carry out document and physical checks, ensuring that agricultural commodities are free of pests and diseases. If pests are found, quarantine measures are carried out such as fumigation or other quarantine actions to eliminate pests, to prevent rejection in the export destination country.
Governor Herman Deru appreciates parties and stakeholders, especially the Indonesian Agriculture Ministry, which supports the commodity exports of South Sumatra.
"The release of exports is a momentum to strengthen Indonesia´s commitment to increase added value of upstream to downstream. Exports of South Sumatra agricultural commodities are expected to be a driving force for Indonesia to care about improving the welfare of farmers, which is the main goal of increasing exports of agricultural commodities," said Governor Deru.
Susilo described the export commodity was 1,108 tons of rubber of US$1,550,0000 to Japan and Finland. 500 tons of coconut of US$95,000 to China, and and 210 tons of coffee US $ 301,770 to England.