Zona Integritas, Sekretaris BPPSDMP Ingatkan Peningkatan Maturitas SPIP
Indonesia`s Agriculture Ministry is committed to Eradicating Gratification
Reporter : Gusmiati Waris
Editor : Cahyani Harzi
Translator : Dhelia Gani

PUBLISHED: Kamis, 22 Agustus 2019 , 16:48:00 WIB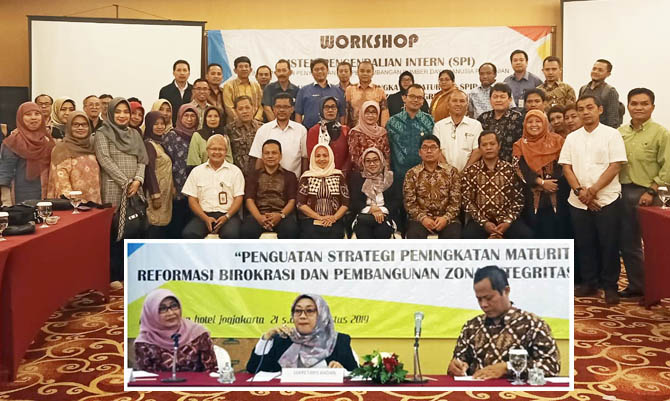 SISTEM PENGENDALIAN INTERN: Sekretaris BPPSDMP Kementan, Siti Munifah [tengah, inset] didampingi Kabag Evalap Titin Gartini [kiri] dan Direktur Polbangtan YoMa, Dr Rajiman dan peserta workshop [Foto: Humas BPPSDMP]
Yogyakarta, DIY [B2B] - Kementerian Pertanian RI telah mencapai Level 3 atas Maturitas Sistem Pengendalian Intern Pemerintah (SPIP) dan Kapabilitas Aparat Pengawas Intern Pemerintah (APIP) dari hasil validasi Badan Pengawasan Keuangan dan Pembangunan (BPKP), Sekretaris Badan Penyuluhan dan Pengembangan SDM Pertanian (BPPSDMP) Siti Munifah mendorong penguatan strategis peningkatan maturitas SPIP di lingkup BPPSDMP, melakukan reformasi birokrasi dan pembangunan zona integritas menuju Wilayah Bebas dari Korupsi (WBK) dan Wilayah Birokrasi. Bersih dan Melayani (WBBM).
Siti Munifah mengharapkan BPPSDMP dapat membangun instansi pemerintah yang bebas korupsi, kolusi dan nepotisme [KKN] dan dapat melaksanakan pelayanan prima, dengan mengusulkan empat UPT BPPSDMP meraih predikat WBK dan WBBM dari seluruh unit pelaksana teknis [UPT]: Polbangtan Yoma, Polbangtan Medan dan PPMKP Ciawi, dan yang sedang diusulkan mencapai WBBM adalah BBPP Batangkaluku.
Dia menambahkan bahwa sampai saat ini hanya empat UPT yang akan diusulkan, namun ke depan seluruh UPT diusulkan untuk WBK/WBBM, yang bertujuan memberikan pengakuan oleh pihak luar bahwa BPPSDMP telah menerapkan SPI dan menciptakan reformasi yang baik, yang didukung oleh seluruh jajaran mulai dari pimpinan, pejabat struktural, pejabat fungsional dan staf harus terlibat.
"SPI yang baik pasti akan menciptakan good governance yang sekaligus akan membangun reformasi birokrasi yang baik di kementerian dan lembaga pemerintah khususnya Kementan," kata Siti Munifah dalam arahannya pada ´Workshop SPI lingkup BPPSDMP´ di Yogyakarta, pada Rabu [21/8] yang dijadwalkan berlangsung hingga Jumat [23/8].
Lokakarya/workshop SPI BPPSDMP diikuti oleh para pimpinan UPT dan seluruh satuan pelaksana [Satlak] di tingkat pusat maupun UPT yang membahas tentang ´penguatan strategis peningkatan maturitas SPIP, reformasi birokrasi dan pembangunan zona integritas menuju WBK/WBBM´.
"SPI berperan mengawal kegiatan dan menyusun SOP pengendalian secara jelas agar tidak terjadi kelalaian. Kenapa semua harus mendukung, karena hakikatnya SPI harus melibatkan seluruh pelaksana kegiatan termasuk fungsional khusus," kata Siti Munifah didampingi Direktur Polbangtan YoMa, Dr Rajiman dan Kepala Bagian Evaluasi dan Pelaporan BPPSDMP [Evalap] Titin Gartini.
Dia mengharapkan semua pihak dapat bergandengan tangan untuk membangun sistem pengendalian intern yang baik agar menjamin semua kegiatan berjalan dengan baik dan tercapai tujuan serta bebas dari KKN dalam setiap pelaksanaan kegiatan," katanya.
Direktur Polbangtan YoMam Dr Rajiman mengatakan bahwa penerapan SPI merupakan tugas seluruh pelaksana layanan pemerintah agar kegiatan akuntabel, artinya semua dapat dipertanggung jawabkan sesuai dengan aturan.
"Penerapan SPI harus dimulai oleh komitmen pimpinan yang menjadi role model, sehingga pelaksanaan kegiatan menjadi lebih efektif dan efisien," katanya. [Cha]
Yogyakarta [B2B] - Indonesian Agriculture Ministry has reached Level 3 of the Government Internal Control System Maturity [SPIP] and Capability of Government Internal Supervisors [APIP] from the validation of Indonesian Financial and Development Supervisory Agency [BPKP], Secretary of the ministry´s Directorate General of Extension and Agriculture HR Development [BPPSDMP] Siti Munifah pushed for a strategic strengthening in increasing the maturity of the government´s internal control unit of BPPSDMP to conduct bureaucratic reform and eradicate corruption, collusion and nepotism.