Pemberdayaan Mahasiswa dalam Agribisnis Ternak Ayam di Batang
Indonesian Agriculture Anticipate Covid-19 by Weaker Health Systems
Editor : M. Achsan Atjo
Translator : Dhelia Gani

PUBLISHED: Kamis, 23 April 2020 , 23:18:00 WIB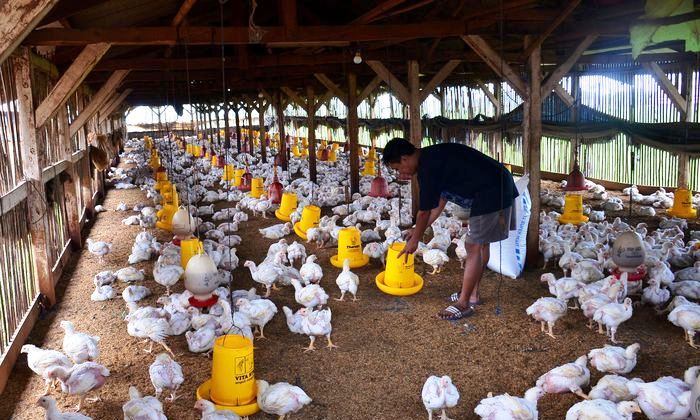 Foto: istimewa
Batang, Jateng [B2B] - Kementerian Pertanian RI koordinasi dengan para pemangku kepentingan perunggasan untuk antisipasi dampak Covid-19 terhadap ketersediaan daging ayam dan telur konsumsi untuk hadapi Lebaran sebagai Hari Besar Keagamaan Nasional [HKBN] pada akhir Mei 2020.
Koordinasi dilakukan Kementan melalui Ditjen Peternakan dan Kesehatan Hewan [PKH] dengan asosiasi perunggasan seperti GPPU, Gopan, PPRN dan Pinsar; Satgas Pangan; Kementerian Koordinator Perekonomian RI dan Kementerian Perdagangan RI.
Langkah tersebut sejalan dengan instruksi Menteri Pertanian Syahrul Yasin Limpo [SYL] pada seluruh jajarannya untuk tetap bekerja meski kerja dari rumah atau working from home [WFH] bukan alasan dalam menjamin dan memastikan ketersediaan pangan.
Instruksi Mentan SYL disosialisasikan oleh Kepala BPPSDMP Prof Dedi Nursyamsi kepada petani dan penyuluh serta para pemangku kepentingan untuk tetap ke lapangan tanpa mengabaikan Protokol Kesehatan.
"Instruksi Mentan SYL dan Kabadan SDM menggerakkan Polbangtan YoMa tetap melaksanakan pembinaan dan pengembangan sektor peternakan di Kabupaten Batang, Provinsi Jawa Tengah," kata Direktur Polbangtan YoMa, Dr Rajiman di Yogyakarta, Rabu [22/4].
Menurutnya, mahasiswa Polbangtan YoMa bersama peternak ayam broiler melakukan intensifikasi ketersediaan pangan dengan menjaga produktifitas ketersediaan daging ayam. Misalnya di peternakan ayam broiler Kayu Manis Group dengan tujuh kandang close house, total populasi 21.000 ekor per kandang di Desa Ketanggan, Kecamatan Gringsing, Kabupaten Batang.
Muhammad Luqman Husain, mahasiswa semester delapan Jurusan Peternakan Polbangtan YoMa turut menjaga produktifitas dan ketersediaan daging ayam di tengah pandemi Covid-19.
"Mahasiswa Polbangtan YoMa sangat membantu di peternakan khususnya menjaga produktifitas, jumlah panen terkait mortalitas, laba perusahaan dan sistem pemeliharaan ternak dari DOC hingga masa panen," kata Imam selaku penanggung jawab kandang.
Batang of Central Java [B2]- Indonesia´s Agriculture Ministry is in intensive care after testing positive for the novel coronavirus, as civil servants in head office and across the country were ordered to close over the health threat. The World Health Organization has said it is particularly concerned about high-risk nations with weaker health systems, which who may lack the facilities to identify cases.