National Procurement Awards 2018 , Kementan Terbaik Terapkan Standar LPSE dari LKPP
Indonesian Agriculture Ministry Got the 2018 National Procurement Awards
Reporter : Gusmiati Waris
Editor : Cahyani Harzi
Translator : Dhelia Gani

PUBLISHED: Kamis, 01 November 2018 , 17:22:00 WIB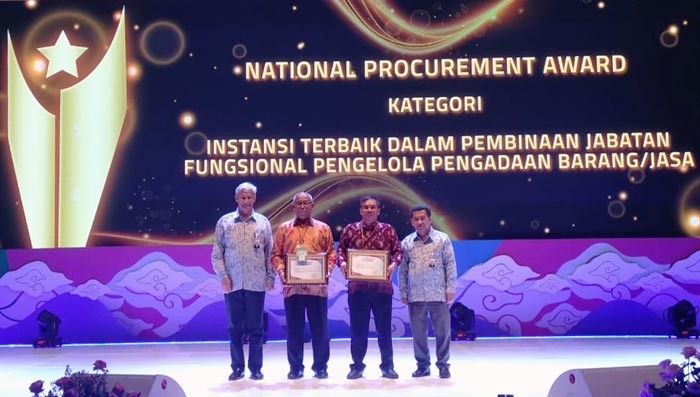 Penghargaan diserahkan oleh Kepala LKPP, Agus Prabowo kepada Sekjen Kementan, Syukur Iwantoro yang diwakili Kabag Pengadaan Biro Umum dan Pengadaan, Toto Sumanto. (Foto: Humas Kementan)
Bandung, Jabar (B2B) - Lembaga Kebijakan Pengadaan Barang Jasa Pemerintah (LKPP) memberi penghargaan ´National Procurement Awards 2018´ kepada Kementerian Pertanian RI, yang dinyatakan ´instansi pembina terbaik jabatan fungsional pengelola barang/jasa sesuai standar Lembaga Kebijakan Pengadaan Barang dan Jasa Pemerintah (LKPP) terhadap standar Layanan Pengadaan Secara Elektronik (LPSE).
Penghargaan diserahkan oleh Kepala LKPP, Agus Prabowo kepada Sekjen Kementan, Syukur Iwantoro yang diwakili oleh Kepala Bagian Pengadaan Biro Umum dan Pengadaan Sekjen Kementan, Toto Sumanto di Bandung, Selasa (30/10).
Agus Prabowo menyatakan LKPP memberi penghargaan ´National Procurement Awards 2018´ kepada Kementan setelah dinilai telah memenuhi 17 standar pelayanan LKPP, juga didasari atas pertimbangan kuatnya komitmen pimpinan Kementan dalam implementasi transformasi pengadaan secara elektronik atau e-Procurement.
"Salah satu bentuk kebijakan reformasi birokrasi di bidang pengadaan barang dan jasa pemerintah yang memanfaatkan teknologi informasi melalui aplikasi sistem pengadaan secara elektronik. Lingkupnya dimulai dari perencanaan kebutuhan sampai dengan katalog elektronik," kata Agus Prabowo.
Penghargaan National Procurement Awards, atau ´kepemimpinan dalam transformasi pengadaan secara elektronik kategori komitmen penerapan standar LPSE, diberikan pada kementerian/lembaga yang dinilai sudah melakukan pengadaan barang/jasa yang sesuai dengan etika dan prinsip-prinsip pengadaan barang/jasa. Sebagaimana diatur Peraturan Presiden No 16/2018 tentang Pengadaan Barang/ Jasa Pemerintah.
Sekjen Kementan Syukur Iwantoro seperti dikutip Toto Sumanto mengatakan bahwa penghargaan tersebut adalah bentuk apresiasi atas pembinaan yang dilakukan Kementan terhadap pejabat fungsional pengadaan barang/jasa yang merupakan unsur terpenting atau ujung tombak dalam proses pengadaan barang/jasa.
"Kementan melalui instruksi Menteri Pertanian Andi Amran Sulaiman akan terus mendorong unit layanan pengadaan barang dan jasa disingkat ULP Kementan melakukan pengadaan barang dan jasa melalui e-katalog," kata Toto yang mewakili Sekjen Kementan yang berhalangan hadir.
Bandung of West Java (B2B) - Indonesia´s Regulator of Government Goods and Services Procurement or the LKPP awarded ´the 2018 National Procurement Awards´ to Indonesian Agriculture Ministry stated that the best government agencies carry out the LKPP rules of implement electronic procurement.
The award was submitted by the Head of LKPP, Agus Prabowo to Syukur Iwantoro as the Secretary General of Agriculture Ministry represented by the Head of the Procurement Section at the Ministry´s General Bureau, Toto Sumanto here on Tuesday (October 30).
Mr Prabowo said the LKPP gave the ´2018 National Procurement Awards´ to the Agriculture Ministry after implementing 17 LKPP service standards, also based on the commitment of the ministry leaders to transform procurement electronically or the e-Procurement.
"One form of bureaucratic reform policy is the procurement of government goods and services utilizing information technology through an electronic procurement system application," Mr Prabowo said.
The National Procurement Awards are awards to government ministries or agencies that procure goods and services in accordance with the ethics and principles of e-governance as stipulated in Presidential Regulation Number 16/2018 concerning Procurement of Government Goods and Services.
Mr Iwantoro, as quoted by Mr. Sumanto, said that the award was a form of appreciation for the ministry´s guidance to functional officials procurement of goods and services.
"The ministry as instructed Minister Andi Amran Sulaiman will encourage service units to procure goods and services through the e-catalogs," said Mr Sumanto quoted the statement of his boss, Mr Iwantoro.