Kurikulum Kopi dan Kakao, Kolaborasi Kadin dan BPPSDMP di Polbangtan
Indonesia`s Chambers of Commerce Support the Polbangtan Curriculum
Editor : M. Achsan Atjo
Translator : Dhelia Gani

PUBLISHED: Sabtu, 08 Desember 2018 , 17:35:00 WIB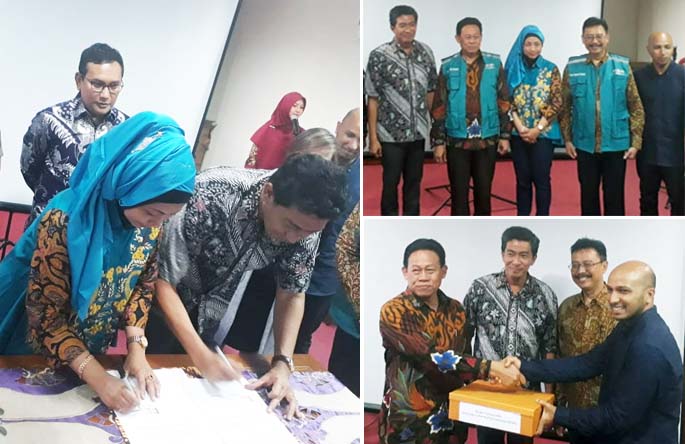 KERJASAMA STRATEGIS: Kapusdiktan Idha Widi Arsanti (kiri) teken kerjasama dengan Board of PISAgro, Wisman Jaya disaksikan Sekjen Syukur Iwantoro dan Kepala BPPSDMP, Momon Rusmono (Foto2: Humas Kementan/Fajar)
Jakarta (B2B) - Badan Penyuluhan dan Pengembangan SDM Pertanian di Kementerian Pertanian RI (BPPSDMP) dan PIS Agro dari Kamar Dagang dan Industri Indonesia (Kadin) mengembangkan kurikulum nasional kopi dan kakao untuk diterapkan pada Politeknik Pembangunan Pertanian (Polbangtan) di bawah koordinasi Pusat Pendidikan Pertanian - Pusdiktan BPPSDMP Kementan, untuk meningkatkan kompetensi generasi muda pertanian menjadi job creator dan bukan pencari kerja atau job seeker.
Kolaborasi BPPSDMP Kementan dan Kadin direalisasikan melalui perjanjian kerjasama yang diteken oleh Kepala Pusdiktan, Idha Widi Arsanti dengan Chairman of Executive Board Scopi, sementara untuk kurikulum kakao dengan Director Swisscontact Indonesia. Disaksikan oleh Sekjen Kementan, Syukur Iwantoro; Kepala BPPSDMP Kementan, Momon Rusmono dan Board of PISAgro, Wisman Jaya.
"Perjanjian kerjasama ini merupakan tindak lanjut MoU sebelumnya, antara Kepala BPPSDMP Pertanian dengan PIS Agro yang disaksikan oleh Mentan Andi Amran Sulaiman dan Ketua Umum Kadin, Rosan P Roeslani," kata Sekjen Syukur Iwantoro dalam arahannya di Jakarta, Jumat (7/12).
Menurutnya, kerjasama kurikulum kopi dan kakao di Polbangtan bertujuan meningkatkan kompetensi generasi muda pertanian khususnya untuk para mahasiswa Polbangtan.
Momon Rusmono menyebutkan beberapa poin kerjasama antara lain menyusun kurikulum yang disesuaikan dengan kebutuhan dunia usaha dan industri, melalui pengembangan pola-pola pembelajaran Teaching Factory (TeFa) di kampus dan industri, untuk magang bagi para mahasiswa dan dosen Polbangtan.
"Teman-teman di industri sudah menyusun kurikulum kopi dan juga kakao secara nasional, kurikulum disusun berdasarkan kebutuhan industri, sehingga Pusdiktan di BPPSDMP akan menyesuaikan untuk kurikulum di Polbangtan maupun di balai-balai pelatihan," katanya.
Kapusdiktan Idha Widi Arsanti menambahkan bentuk kurikulum yang akan disusun berorientasi pada substansi dari suatu keahlian dan uraian silabus untuk mencapai kompetensi tertentu yaitu dalam bidang kopi dan kakao, mulai dari aspek budidaya dan pengolahan.
"Komposisi kurikulum yang akan dituangkan nantinya adalah teori 30% dan 70% praktek melalui TeFa, proses pembelajaran yang sesuai dengan situasi dunia usaha, indutri dan pekerjaan," kata Idha WA yang akrab disapa Santi.
KaBadan SDM, Momon Rusmono mengharapkan setelah mencapai keahlian tertentu mahasiswa bisa mendapatkan sertifikat, untuk digunakan dalam mengembangkan dunia usaha dan bisnis di bidang kopi maupun kakao.
Wisman Jaya mengatakan bahwa masa depan industri pertanian berada di petani, sehingga sinergi dengan pemerintah sangat diperlukan khususnya untuk pengembangan komoditas kopi dan kakao dalam hal ini.
"Saya sangat senang dengan adanya kerjasama ini, mudah- mudahan ini bisa membawa perubahan bagi petani khususnya petani kakao dan kopi," katanya. (Cha)
Jakarta (B2B) - Indonesian Agriculture Ministry collaborates with the Indonesian Chamber of Commerce and Industry or the Kadin developing the coffee and cocoa curriculum for Agricultural Development Polytechnic or the Polbangtan under coordination of Directorate General of Extention and Agricultural HR Development or the BPPSDMP Kementan to improve competence of Polbangtan students become job creators, not job seekers after graduates of Polbangtan.
The cooperation agreement was signed by the Director of Agriculture Education Center or the Pusdiktan Idha Widi Arsanti with the Chairman of Executive Board Scopi, while for the cocoa curriculum with Director Swisscontact Indonesia. Witnessed by Secretary General of ministry Syukur Iwantoro; Director General of BPPSDMP Momon Rusmono and Board of PISAgro, Wisman Jaya.
"The cooperation agreement is a follow-up to the MoU between the ministry and PIS Agro PIS which was witnessed by Agriculture Minister Andi Amran Sulaiman and Chairman of Kadin Rosan P Roeslani," Mr Iwantoro said in his directive here on Friday (December 7).
According to him, cooperation in the coffee and cocoa curriculum at the Polbangtan aims to improve competence of young generation of agriculture especially for students.
While Momon Rusmono highlighted several points of cooperation, among others curriculum tailored to business and industry, through development of Teaching Factory or TeFa learning patterns in campus and industry, and apprenticeship programs for Polbangtan students and lecturers.
"PIS Agro has compiled a coffee and cocoa curriculum for the nation, compiled based on industry needs, so the Pusdiktan of BPPSDMP will adjust the curriculum at the Polbangtan and agricultural training center," he said.
Director Idha Widi Arsanti said the curriculum was oriented to substance of expertise and syllabus for competencies of coffee and cocoa, cultivation to processing.
The composition of curriculum is theory of 30% and 70% practice through TeFa, the learning process that is in line with business and industry," Mrs Arsanti said.
Mr Rusmono expects that students who graduate will receive a special certificate, to developing coffee and cocoa entrepreneurship.
Mr Jaya said said that farmers are the determinant of the future of Indonesian agriculture, so that synergy with the government is very important to support the development of coffee and cocoa commodities.
"I appreciate the collaboration, hopefully it can have a positive impact on farmers, especially coffee and cocoa," he said.