Paradigma Baru, Penyuluh harus `Move On` Wujudkan Kesejahteraan Petani
The New Paradigm of Indonesian Agricultural Extension
Editor : M. Achsan Atjo
Translator : Dhelia Gani

PUBLISHED: Sabtu, 21 Juli 2018 , 17:58:00 WIB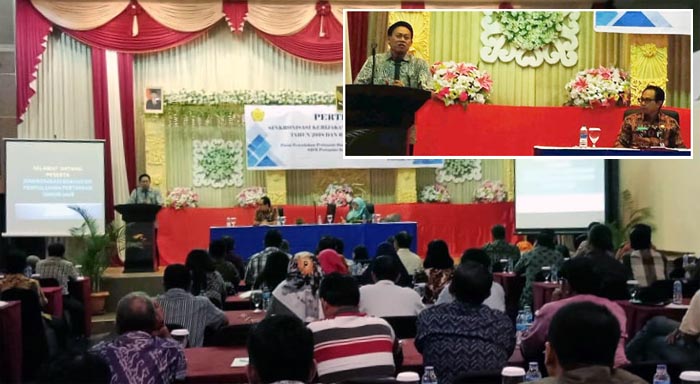 Kepala BPPSDMP Kementan Momon Rusmono memaparkan paradigma baru penyuluhan pertanian pada ´Sinkronisasi Kebijakan Penyuluhan Pertanian´ di Pontianak, Kalbar (Foto2: Pusluhtan BPPSDMP/Septalina Pradini)
Pontianak, Kalbar (B2B) - Kementerian Pertanian RI mengingatkan tentang paradigma baru penyuluhan pertanian jaman now harus ´move on´ dari output (hasil) menjadi outcome (manfaat) pada kesejahteraan petani yang menjadi indikator kinerja utama (IKU), maka realisasi IKU adalah peningkatan produktivitas selaras dengan meningkatnya pendapatan petani untuk mewujudkan kesejahteraan petani dan keluarganya.
"Hakikat penyuluhan pertanian adalah mendukung mewujudkan kesejahteraan petani. Prinsip penyuluhan sifatnya sederhana, tentang bagaimana mewujudkan better farming, better business, dan better income," kata Kepala Badan Penyuluhan dan Pengembangan SDM Pertanian (BPPSDMP) Kementan, Momon Rusmono pada pertemuan ´Sinkronisasi Kebijakan Penyuluhan Pertanian´ di Pontianak, Kamis (19/7) yang dihadiri para penyuluh pertanian dan pejabat terkait dari seluruh Provinsi Kalimantan Barat.
Menurutnya, tujuan move on dari output menjadi outcome merupakan wujud dari militansi kinerja penyuluh pertanian harus berorientasi pada kesejahteraan petani. Sementara kedaulatan pangan merupakan ´kinerja sasaran´ bagi penyuluh pertanian melaksanakan tugasnya sesuai IKU.
Kepala BPPSDMP Kementan mengingatkan tentang regulasi penyuluhan pertanian, UU Sistem Penyuluhan Pertanian, Perikanan, dan Kehutanan Nomor 16/2006 bahwa penyuluhan merupakan proses pembelajaran bagi pelaku utama dan pelaku usaha agar mereka mau dan mampu menolong untuk mengorganisasikan dirinya mencapai makna penyuluhan pertanian.
"Untuk mencapai tujuan dari makna penyuluhan pertanian, perlu dilakukan penguatan kelembagaan penyuluhan sampai Posluhdes, kelembagaan petani yang menjadi sasaran utama dari kegiatan penyuluhan pertanian," kata Momon Rusmono.
Kelembagaan penyuluhan akan dilakukan dengan penguatan melalui optimalisasi peran balai penyuluhan pertanian (BPP) dan wilayah kerja penyuluh pertanian (WKPP), sedangkan kelembagaan provinsi dan kabupaten/kota harus lebih kuat melakukan pembinaan dan supervisi pelaksanaan kegiatan penyuluhan pertanian.
"Kelembagaan petani dilakukan melalui penguatan dari sisi manajemen usaha tani, mulai dari on farm sampai off farm," kata Momon.
Tampak hadir Kepala Dinas Pertanian Pemprov Kalbar, Heronimus Hero; Kepala Pusat Penyuluhan Pertanian (Pusluhtan) BPPSDMP Kementan, Siti Munifah; Kepala Bidang Program dan Evaluasi Pusluhtan, I Wayan Ediana; Kasubbid Program Pusluhtan, Hasan Latuconsina; Kasubbid Informasi dan Materi Penyuluhan Pusluhtan, Septalina Pradini; dan Penyuluh Pertanian Utama Kementan, Siti Nurjanah.
Pontianak of West Borneo (B2B) - Indonesian Agriculture Ministry reminds about the new paradigm of agricultural extension nowadays should move on from output to outcome for farmers´ welfare as key performance indicators or IKU, and its goal for increased productivity in tune with the welfare of farmers, according to senior ministry official.
"The main task of agricultural extension to support the welfare of farmers. The principle of counseling is simple about how to realize better farming, better business, and better income," said Director General of Indonesia´s Agricultural Extension and Agricultural Human Resources or the BPPSDMP, Momon Rusmono here on Thursday (July 19).
According to him, the purpose of moving on from output to outcome is a form of agricultural extension militancy oriented to the welfare of farmers. While food sovereignty is the intermediate target of agricultural extensionist performance indicators.
Mr. Rusmono reminded about the Agricultural Extension, Fisheries and Forestry Law Number 16/2006, that counseling is a learning process for farmers to motivate them, and organize themselves to achieve the meaning of agricultural extension.
"To achieve the objectives of the meaning of agricultural extension, it is necessary to strengthen the extension institution up to the rural extension center farmer institutions that are the main target of agricultural extension activities," Mr Rusmono said.
Institutional government is done by strengthening the role of agricultural extension center or BPP and agricultural extension work areas while provincial or WKPP and district/city institutions should support coaching, and supervise the implementation of agricultural extension activities.
"The institution of farmers is done through strengthening from the management side of farming from on farm to off farm," Mr Rusmono said.
Also attended by Head of West Borneo agriculture office, Heronimus Hero; Director of Agricultural Extension Center or Pusluhtan in the ministry Siti Munifah; Head of Program and Evaluation of Pusluhtan, I Wayan Ediana; Head of the Program Subfields, Hasan Latuconsina; Head of Public Relations of Pusluhtan, Septalina Pradini; and Senior of Agriculture Extentionistt, Siti Nurjanah.