Era 4.0, SDM Pertanian Indonesia Harus Kuasai `Smart Farming`
Indonesian Agriculture Human Resources must have Smart Farming Skills
Editor : M. Achsan Atjo
Translator : Dhelia Gani

PUBLISHED: Rabu, 25 September 2019 , 18:14:00 WIB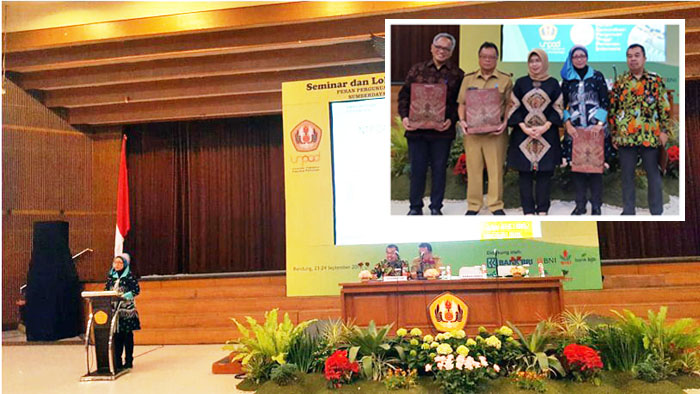 SEMINAR UNPAD BANDUNG: Kepala Pusdiktan BPPSDMP Kementan, Idha Widi Arsanti menjadi keynote speaker pada seminar dan lokakarya di Unpad Bandung, bersama pembicara utama lainnya [Foto2: Humas Pusdiktan]
Bandung, Jabar [B2B] - SDM pertanian unggul menjadi penentu keberhasilan Indonesia di era revolusi industri 4.0, menguasai teknis pertanian sekaligus mampu mengadopsi teknologi informasi [TI], untuk mendukung aksesibilitas petani terhadap prasarana, sarana, akses pembiayaan dan informasi pasar, sehingga stigma pertanian yang identik dengan ´cangkul´ harus beralih menjadi pertanian modern yang mengusung konsep ´smart farming´.
"Sudah tak terelakkan lagi bahwa perkembangan teknologi yang begitu pesat, menuntut dunia untuk mampu merespon perubahan dengan lebih cepat," kata Idha Widi Arsanti, Kepala Pusat Pendidikan Pertanian [Pusdiktan BPPSDMP Kementan] di Universitas Padjajaran Bandung [Unpad] pada Senin [23/9].
Dalam sambutannya pada Seminar dan Lokakarya Nasional Forum Komunikasi Perguruan Tinggi Pertanian Indonesia 2019 di Unpad Bandung, Idha WA menguraikan tentang SDM unggul merupakan penentu keberhasilan Pemerintah RI dalam hal ini Kementerian Pertanian RI mencapai target ´Indonesia Lumbung Pangan Dunia 2045´.
Menurutnya, definisi SDM pertanian unggul saat ini bergeser ke arti lebih luas, SDM yang menguasai pertanian secara teknis juga mampu mengadopsi TI sehingga aksesibilitas terhadap sarana dan prasarana pertanian, pembiayaan, dan informasi pasar dapat diperoleh dengan mudah.
Guna mencapai target tersebut, tingkat pendidikan SDM Pertanian menjadi poin utama yang harus diperhatikan, khususnya di era Revolusi Industri 4.0. Stigma pertanian yang mulanya identik dengan ´cangkul´ mau tidak mau harus bergeser menjadi pertanian modern dengan konsep Smart Farming," kata Idha WA yang akrab disapa Santi.
Kapusdik menambahkan, pada era 4.0, setiap proses kerja harus dikemas lebih efisien dan efektif melalui otomatisasi dan komputerisasi yang dipadukan dengan teknologi internet of things, artificial intelligent, Big Data maupun robotic, maka penguasaan teknologi harus terus dikembangkan agar Indonesia dapat menjadi negara yang unggul di era industri 4.0.
Dalam hal ini, pendidikan tinggi vokasi pertanian harus terus digenjot untuk menghasilkan SDM unggul yang link and match dengan dunia usaha dan dunia industri [DuDi] untuk menjawab kebutuhan tenaga kerja yang sifatnya praktis, salah satu caranya dengan melakukan penyelarasan kurikulum dan Standar Kompetensi Kerja Nasional Indonesia [SKKNI].
Sebagaimana diketahui, SKKNI adalah rumusan kemampuan kerja yang mencakup aspek Pengetahuan [knowledge], keterampilan dan/atau keahlian [skills] serta sikap kerja [attitude] yang relevan dengan pelaksanaan tugas dan syarat jabatan yang ditetapkan sesuai dengan ketentuan peraturan perundang-undangan yang berlaku.
"Selain itu, pendidikan tinggi vokasi juga terus didorong agar menghasilkan SDM yang menguasai konsep Smart Farming, sehingga minat generasi muda di bidang pertanian dapat bertumbuh dan isu regenerasi petani dapat dengan mudah diatasi," katanya.
Saat ini Kementan melalui Pusdiktan pada Badan Penyuluhan dan Pengembangan SDM Pertanian [BPPSDMP] telah mengarah pada penyiapan SDM pertanian dengan kompetensi Smart Farming melalui Politeknik Pembangunan Pertanian [Polbangtan] dan Politeknik Enjiniring Pertanian Indonesia (PEPI).
"Harapannya, para alumni Polbangtan dan PEPI dapat menjadi agen perubahan bagi pertanian Indonesia mencapai target lumbung pangan dunia," kata Idha WA. [Vanelly RS]
Bandung of West Java [B2B] - Agricultural human resource competency determines the success of Indonesia in the era of the industrial revolution 4.0, mastering agricultural technical as well as being able to adopt information technology, to support farmers´ accessibility to infrastructure, facilities, access to finance and market information, so that the agricultural stigma that is synonymous with ´hoe´ must shift to modern agriculture that carries the concept of ´smart farming´.