Peluang Ekspor ke Brasil, Amran Sulaiman Terima Kunjungan Mentan Tereza Cristina
Brazil Opens Opportunities for Exporting Indonesian Agricultural Commodities: Minister
Reporter : Gusmiati Waris
Editor : Cahyani Harzi
Translator : Dhelia Gani

PUBLISHED: Senin, 20 Mei 2019 , 18:27:00 WIB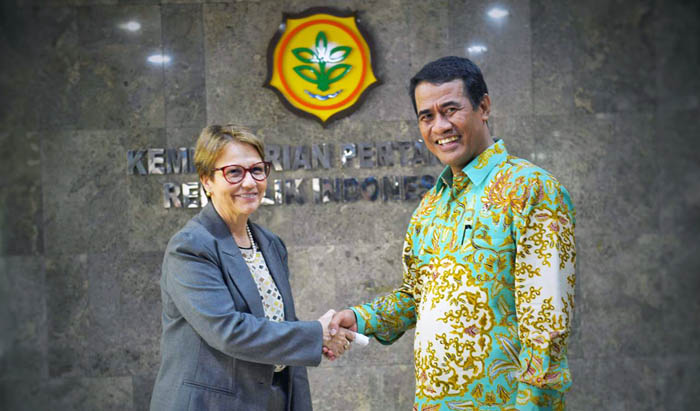 PERTEMUAN BILATERAL: Menteri Pertanian Brasil, Tereza Cristina [kiri] dan Mentan Amran Sulaiman [Foto: Humas Kementan]
Jakarta [B2B] - Pemerintah Brasil membuka peluang ekspor enam komoditas pertanian Indonesia di antaranya salak dan manggis, sementara saat ini nilai ekspor RI ke Brasil mencapai US$0,3 miliar per tahun dan sebagian besar adalah minyak kelapa sawit [CPO].
Hal itu dikemukakan Mentan Amran Sulaiman usai menerima kunjungan Menteri Pertanian Brasil, Tereza Cristina di Jakarta, Senin pagi [20/5] dengan pembahasan utama adalah ekspor dan impor kedua negara.
"Beberapa komoditas strategis kita seperti salak, manggis dan lain-lain diberi ruang untuk ekspor ke Brasil. Mereka (Brasil, red) membuka peluang komoditas strategis untuk kita ekspor dan membuka sekitar enam komoditas pertanian kita. Tadi tidak dibatasi mana saja yang diekspor ke Brasil," kata Mentan kepada pers.
Dia mengaku optimistis volume ekspor pangan Indonesia ke Brasil akan meningkat, karena pada pertemuan bilateral tersebut disepakati agar komoditas pertanian seperti salak, sarang burung walet, nanas dan komoditi lainnya harus dapat diterima.
"Hal terpenting adalah produk pertanian kita harus diterima, dan mereka bersedia. Sampai sekarang ini, ekspor ke Brazil sudah menyentuh US$0,3 miliar per tahun, sebagian besar disumbang oleh minyak kelapa sawit," kata Mentan.
Menteri Tereza Cristina juga diajak oleh Amran Sulaiman untuk mengajak investor Brasil ke Indonesia, khususnya di sektor pertanian dengan tujuan menekan biaya produksi, seperti pengembangan pabrik gula mengingat kapasitas Brasil sebagai produsen gula terbesar di dunia, sehingga akan terjadi alih teknologi pabrik gula untuk Indonesia.
"Kita diskusi khususnya untuk pabrik gula, Menteri Tereza mengatakan terbuka untuk pengalaman pengolahan dan siap untuk membantu. Kita tahu produsen gula terbesar di dunia adalah Brasil. Mereka beminat mendukung alih teknologi dan pengetahuan tentang produksi gula dengan Indonesia," kata Mentan Amran. [Budi]
Jakarta [B2B] - Brazilian government opens the opportunity to export Indonesian agricultural commodities to Brazil such as salak and mangosteen, while currently the value of Indonesian exports to Brazil reaches US$ 0.3 billion per year, most of it is palm oil.
"Some of Indonesia´s strategic commodities such as salak, mangosteen have the export opportunities to Brazil. Brazil opens opportunities for Indonesia, around six of our agricultural commodities," Indonesian Agriculture Minister Andi Amran Sulaiman told the press here after meeting with Brazil Agriculture Minister, Tereza Cristina.
He is optimistic that Indonesia´s food export volume to Brazil will increase, because at the bilateral meeting it was agreed that agricultural commodities such as salak, swallow´s nest, pineapple and other commodities.
"The most important thing is that our agricultural products must be accepted, and they are willing. Until now, exports to Brazil have reached US $ 0.3 billion per year, mostly contributed by palm oil, "said Minister Sulaiman.
Minister Tereza Cristina was also invited by Amran Sulaiman to invite Brazilian investors to Indonesia, especially in the agricultural sector with the aim of reducing production costs, such as the development of sugar mills given the capacity of Brazil as the largest sugar producer in the world, so there will be a technology transfer of sugar mills for Indonesia.
"We are discussing specifically for sugar factories, Minister Tereza Cristina said, open to processing experience and ready to help. We know the biggest sugar producer in the world is Brazil. They are interested support the transfer of technology and knowledge about sugar production with Indonesia," Minister Sulaiman said.