Malaka Dilanda Kekeringan, Kapusdik Koordinasi Dinas Pertanian NTT
Drought Hit Agricultural Land in Indonesia`s East Nusa Tenggara Province
Editor : M. Achsan Atjo
Translator : Dhelia Gani

PUBLISHED: Sabtu, 30 November 2019 , 01:08:00 WIB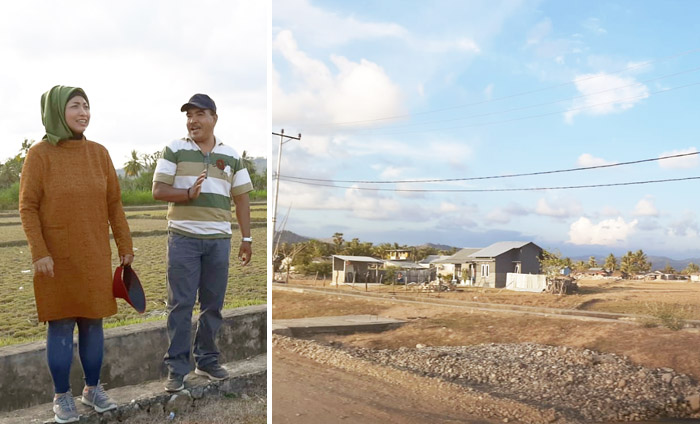 LAHAN KEKERINGAN: Kapusdik BPPSDMP Kementan, Idha Widi Arsanti [kiri] didampingi Kabid Tanaman Pangan Distan Malaka, Fransiscus Nahak memantau lahan yang dilanda kekeringan akibat kemarau [Foto: Humas Pusdiktan]
Malaka, NTT [B2B] - Kementerian Pertanian RI berupaya mengatasi kekeringan yang melanda areal persawahan di Kabupaten Malaka, Provinsi Nusa Tenggara Timur [NTT] melalui koordinasi dan sinkronisasi program dengan unit kerja eselon satu terkait di Kementerian Pertanian RI maupun dinas pertanian kabupaten dan provinsi.
"Upaya untuk persiapan tanam dengan menyiapkan benih, sarana produksi atau Saprodi diikuti pengolahan tanah harus segera dilakukan sehingga ketika turun, petani dapat langsung menanam," kata Kepala Pusat Pendidikan Pertanian [Pusdiktan BPPSDMP Kementan] Idha Widi Arsanti saat memantau kondisi persawahan di Kabupaten Malaka, NTT, belum lama ini.
Dia menambahkan bahwa dirinya selaku Penanggung Jawab Upsus Pajale NTT [PJ Upsus] akan berusaha keras mencapai realisasi target luas tambah tanam [LTT] pada Desember 2019 di NTT khususnya Kabupaten Malaka.
Menurutnya, kekeringan di penghujung 2019 masih terus berlangsung di NTT, hal ini berdampak langsung pada Kabupaten Malaka, karena petani tidak dapat menanam padi lantaran menunggu turun hujan.
"Terdapat bendungan untuk mengairi ribuan areal persawahan, namun debit air sangat rendah sehingga tidak mampu memenuhi kebutuhan air untuk pertanaman padi," kata Idha WA yang akrab disapa Santi.
Kepala Bidang Tanaman Pangan dan Hortikultura pada Dinas Pertanian Kabupaten Malaka, Fransiscus Nahak mengapresiasi perhatian dan dukungan PJ Upsus NTT terhadap kondisi kekeringan yang melanda lahan pertanian di Malaka.
"Sepanjang mata memandang adalah areal persawahan yang kering dan tidak tertanami, maka dukungan Kementan sangat kami harapkan untuk mengatasi kekeringan lahan pertanian di Malaka," katanya.
Malaka of East Nusa Tenggara [B2B] - Indonesian Agriculture Ministry seeks to overcome the drought that has hit agricultural land in Malacca district of East Nusa Tenggara province through coordination and synchronization of programs with related work units in the ministry also district and provincial agriculture offices, according to senior official of the ministry.