Swasembada Pangan, PPL Kalbar Harus sebagai `Penyerang` bukan `Pemain Bertahan`
Indonesian Agricultural Extensionist should the Initiative Despite the Limited Govt Budget
Editor : M. Achsan Atjo
Translator : Dhelia Gani

PUBLISHED: Minggu, 01 Juli 2018 , 18:33:00 WIB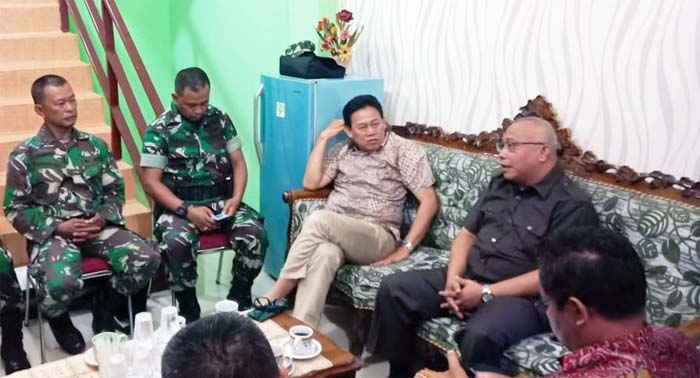 Kepala BPPSDMP Kementan, Momon Rusmono (ke-3 kiri) rapat koordinasi dengan Kadistan Kabupatan Kubu Raya, Gandhi Satyagraha (kanan) Foto: Humas Pusluhtan/Septalina P)
Kubu Raya, Kalbar (B2B) - Para penyuluh pertanian lapangan (PPL) di Kalimantan Barat diingatkan untuk bertindak sebagai ´pemain penyerang´ bukan posisi ´bertahan´ agar tetap tangguh mendukung program pembangunan pertanian Pemerintah RI, meskipun dana pemerintah daerah terbatas untuk mendukung kebijakan dan program dari pemerintah pusat untuk dilaksanakan di daerah. Kementerian Pertanian berharap Kalbar dapat menjadi sentra produksi beras di Kalimantan.
"Penyuluh Pertanian harus mampu menjadi 'Pemain Penyerang' yang berani untuk melaksanakan program pembangunan demi kesejahteraan petani, bukan hanya menjadi pemain bertahan. Jika Kabupaten tidak mendapatkan program pembangunan pertanian, bagaimana nasib petani?" kata Kepala Badan Penyuluhan dan Pengembangan SDM Pertanian (BPPSDMP) Kementerian Pertanian, Momon Rusmono di Provinsi Kalimantan Barat pada rapat koordinasi (Rakor) dengan Kepala Dinas Pertanian Kabupaten Kubu Raya, Gandhi Satyagraha, Selasa (26/6).
Momon Rusmono menilai tidak menutup peluang bagi Kalbar menjadi salah satu penghasil padi utama di Kalimantan, mengingat potensi lahan yang dioptimalisasi pemanfaatannya maka PPL harus bersikap sebagai ´penyerang´ dan bukan ´pemain bertahan´ merujuk pada istilah pesepakbola di tengah ´demam bola´ saat ini dari ajang Piala Dunia 2018 di Rusia.
Kementan mengharapkan PPL di Kalbar memanfaatkan teknologi pengindraan jauh, akuisisi data dari sebuah objek atau fenomena melalui teknologi satelit yang dikenal sebagai Sistem Informasi Monitoring Pertanaman Padi atau Simotandi diperoleh luas baku lahan sawah Kalbar mencapai 391.595 hektar.
"Sementara target tanam padi Kalbar periode Januari hingga Juni 2018 melalui program Upsus Pajale hampir mencapai 300 ribu hektar yang ditanam di 14 kabupaten dan kota, dengan rata-rata indeks pertanaman baru mencapai 130," kata Momon Rusmono yang juga menjabat PJ Upsus Kalbar dan PJ Opsin Nasional.
Menurutnya, butuh strategi yang dikawal intensif untuk mencapai target tersebut, mengingat pola bertani di Kalbar yang khas dan kental dengan pengaruh budaya dan kearifan lokal.
"PPL tentu mahfum dengan tanam padi Kalbar dengan sistem pertanian sawah tadah hujan mengikuti pola musim gaduh, Oktober hingga Maret. Kemudian rendengan pada April hingga September, dengan puncak tanam pada September hingga Oktober, sedangkan puncak musim panen pada Februari hingga Maret," kata Momon yang didampingi Kepala Balai Pengkajian Teknologi Pertanian (BPTP) Kalbar, Achmad Musyafak selaku PJ Upsus Kabupaten Kubu Raya, Kayong Utara, Mempawah, dan Sekadau.
Tampak hadir Liaison Officer (LO) LTT Kubu Raya, Zuhran dan Tim Upsus Kalbar, Septalina Pradini. (Liene)
Kubu Raya of West Borneo (B2B) - Agricultural extensionist in West Borneo province are reminded to act as a ´striker´ not as a ´defender´ despite local government funds are limited to support central government policies and programs to be implemented in the regions, according to senior ministry official.
"Agricultural extensionist should take the initiative to implement development programs for the welfare of farmers. If the district government does not have enough budget for agriculture, do not give up," said the
Director General of Agricultural Extension and Agricultural Human Resources or the BPPSDMP of Indonesian Agriculture Ministry, Momon Rusmono here here on Tuesday (June 26) at the coordination meeting with Head of Kubu Raya agriculture office, Gandhi Satyagraha.
Mr. Rusmono considers West Borneo has opportunity to become a rice production center in Borneo island because of potential and area of agricultural land.
The ministry expects agricultural extensionist to utilize remote sensing technology, known as Rice Crops Monitoring Information System or Simotandi, and the total area of rice fields in all provinces reached 391,595 hectares.
"While the rice planting target of January to June 2018 through a special program of nearly 300 thousand hectares in 14 districts and cities, with the average index of cropping is 130," Mr Rusmono said.
According to him, it takes a special strategy with intensive supervision to achieve the target, given the pattern of agriculture in West Kalimantan is influenced by local wisdom.
"Agricultural extensionist of course understand with rain-fed rice field from October to March and the rainy season, October to March. Then the dry season in April to September, peak planting from September to October, while peak harvest February to March," Mr Rusmono said.
Also attended Liaison Officer of Kubu Raya district for extensification of paddy fields program locally known as the LTT and team of LTT Septalina Pradini.