Outbound Pusdiktan, Olah Tubuh dan Jiwa Tingkatkan Semangat Kerja
Outbound Training Improves Performance of Indonesia`s Civil Servants
Editor : M. Achsan Atjo
Translator : Dhelia Gani

PUBLISHED: Sabtu, 22 Desember 2018 , 19:06:00 WIB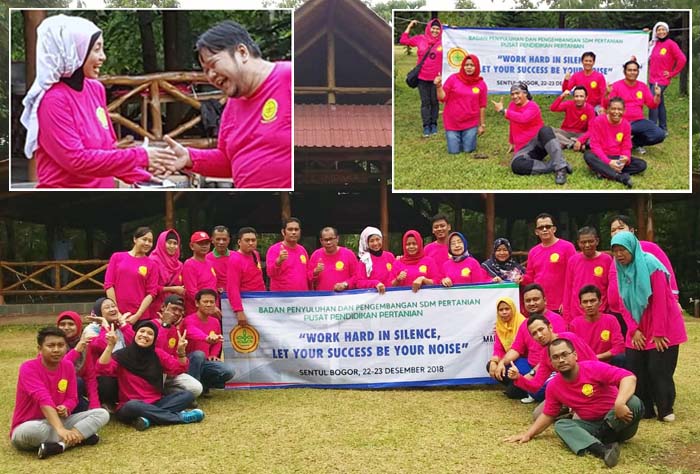 KERJASAMA TIM: Kapusdiktan Idha WA menyemangati stafnya (inset kiri atas) ikut bermain dalam tim (kanan atas) dan bersama sebagian peserta usai pembukaan outbound di Sentul (Foto2: Humas Pusdiktan/Erwin Z)
Bogor, Jabar (B2B) - ´Bekerja keras dalam senyap, biarkan hanya suksesmu yang terdengar´ adalah tema yang menyemangati insan-insan Pusat Pendidikan Pertanian (Pusdiktan) mengikuti outbound training, yang dipimpin oleh Kepala Pusdiktan, Idha Widi Arsanti di kawasan Sentul, Kabupaten Bogor.
"Ke depan, karyawan Pusdiktan tidak bisa lagi bekerja biasa-biasa saja, tapi harus bekerja di luar kebiasaan. Saya mengajak seluruh pejabat dan staf di Pusdiktan bekerja cerdas, fokus, cepat, dan terukur untuk mencapai output yang ditetapkan," kata Idha Widi Arsanti saat membuka kegiatan outbound training, Sabtu (22/12) yang berlangsung hingga besok, Minggu.
Dia mengingatkan, Pusdiktan sebagai salah satu pilar dari Badan Penyuluhan dan Pengembangan SDM Pertanian di Kementerian Pertanian RI (BPPSDMP) mengemban misi memantapkan sistem pendidikan pertanian yang kredibel, sesuai arah kebijakan kementerian untuk melakukan revitalisasi pendidikan pertanian dan pemantapan pendidikan menengah pertanian.
Menurutnya, kegiatan outbound training di luar kantor bermanfaat meningkatkan kemampuan aktualisasi diri karyawan, menumbuhkan jiwa leadership, melatih kerjasama tim, melatih kemampuan analisa dan pola pikir, meningkatkan kemampuan dan kedewasaan seseorang, menumbuhkan arti penting kebersamaan, dan menjadi sarana refreshing bagi PNS di Pusdiktan BPPSDMP Kementan.
"Dari beragam permainan di sini, diharapkan seluruh insan pendidikan Kementan semakin bersemangat ketika kembali bekerja, untuk melahirkan ide-ide dan terobosan baru yang bermanfaat untuk mendukung pengembangan SDM pertanian," kata Idha WA yang akrab disapa Santi.
Kapusdiktan mengharapkan seluruh insan pendidikan di BPPSDMP Kementan ke depan, bekerja ikhlas, sabar, jujur, karena bekerja juga merupakan manifestasi ibadah kepada Tuhan YME.
Tampak hadir Kepala Bidang Program & Kerjasama Pendidikan, Hasan Latuconsina; Kepala Bidang Penyelenggaraan Pendidikan, Ismaya Nita Rianti Parawan; sementara Kepala Bidang Kelembagaan & Ketenagaan Pendidikan, Inneke Kusumawaty berhalangan hadir dan diwakili oleh Kepala Subbidang Kelembagaan Pendidikan Erwin Zulkarnain. (Erw)
Bogor of West Java (B2B) - ´The work har in silence, let your success be your noise´ is a theme that drives civil servants of Indonesian Agricultural Education Center or the Pusdiktan participated in outbound training, led by Director of Pusdiktan, Idha Widi Arsanti in Sentul area of Bogor regency, West Java province.
"In the future, civil servants at the Pusdiktan don´t work normally, but must work hard out of the ordinary. I invite officials and staff at Pusdiktan works smart, focused, fast, and measurable to achieve output," said Mrs Arsanti while opened outbound activities here on Saturday (December 22) which lasted until tomorrow, Sunday.
She reminded, the Pusdiktan as subordinate of the Directorate General of Extention and Agricultural Human Resource Development or BPPSDMP carry out the mission of developing a credible agricultural education system, in line with the ministry´s policy to revitalize Indonesian agricultural education.
According to her, the outbound training is useful to improve employee actualization, developing leadership, train teamwork, practice analytical skills and mindset, improve ability and maturity, improve togetherness, and refreshing for civil servants in the ministry.
"With various outbound games, It is expected the civil servants will get excited when return to work, for new ideas and breakthroughs to support development of Indonesian agricultural human resources," Mrs Arsanti said.
Director of Pusdiktan expect civil servants in the office she leads to work sincere, patient, honest, because work is also the manifestation of worship to God Almighty.