Forum Politeknik, Kementan Inisiasi Sinergi dengan UPT Pendidikan Kemendikbud
Indonesian Govt Established the Polytechnic Forum to Support Agricultural Education
Reporter : Gusmiati Waris
Editor : Cahyani Harzi
Translator : Dhelia Gani

PUBLISHED: Jum'at, 28 Februari 2020 , 19:17:00 WIB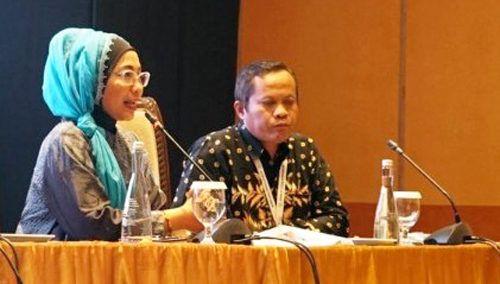 RAPAT KOORDINASI: Kepala Pusdiktan, Idha Widi Arsanti [kiri] memimpin kegiatan forum politeknik didampingi Direktur Polbangtan YoMa, Dr Rajiman di Mataram, NTB [Foto: Humas Pusdiktan]
Mataram, NTB [B2B] - Menteri Pertanian Syahrul Yasin Limpo [SYL] mengharapkan Politeknik Pembangunan Pertanian [Polbangtan] ada di setiap provinsi. Saat ini unit pelaksana teknis [UPT] BPPSDMP bidang pendidikan di bawah koordinasi Pusat Pendidikan Pertanian [Pusdiktan] barulah mencakup tujuh Polbangtan di delapan provinsi, sehingga Pusdiktan menggagas Forum Politeknik, dengan menggandeng UPT pendidikan dari Kementerian Pendidikan dan Kebudayaan [Kemendikbud].
Kepala Pusdiktan, Idha Widi Arsanti mengatakan Mentan SYL mengingatkan bahwa Polbangtan merupakan salah satu motor penggerak pembangunan pertanian nasional, untuk menghasilkan petani terdidik maka Pusdiktan membentuk Forum Politeknik. Guna mewujudkan tujuan ideal tersebut, Pusdiktan akan bekerjasama dengan politeknik di bawah koordinasi Kemendikbud, yang akan sinergi dalam Forum Politeknik.
"Mentan SYL berharap politeknik ada di setiap provinsi agar lulusannya siap bekerja dan membangun di provinsi masing-masing lulusannya. Apabila setiap provinsi ada politeknik akan lebih banyak pemuda tani yang sekolah dan kuliah, untuk mengajak pemuda lain untuk bekerja di sektor pertanian," kata Idha WA pada kegiatan Forum Politeknik Pertanian yang dihadiri seluruh penyelenggara politeknik pertanian seluruh Indonesia di Mataram, Nusa Tenggara Barat [NTB] pada Rabu [26/2].
Menurutnya, politeknik pertanian merupakan salah satu motor penggerak pembangunan pertanian Indonesia untuk mampu menghasilkan petani terdidik, maka Pusdiktan membentuk Forum Politeknik. Mengingat ada sekitar 50 juta peluang kerja di Indonesia setiap tahun yang harus dimanfaatkan oleh lulusan politeknik pertanian sebagai pendidikan vokasi.
"Atas dasar peluang tersebut, politeknik pertanian sebagai penggerak pembangunan pertanian Indonesia, perlu membentuk sebuah wadah untuk memperkuat perannya. Mengingat kondisi kelembagaan politeknik bermacam macam, maka dengan forum politeknik akan menjadi kuat, saling sharing untuk membangun pertanian Indonesia khususnya kegiatan dan program Kementan," kata Idha WA.
Dia menambahkan, sesuai arahan Mentan SYL maka secara bertahap, Kementan akan membangun politeknik lebih banyak lagi, maka dari Forum Politeknik akan terbentuk wadah lebih konkrit dengan membentuk program jangka pendek 2020 serta jangka menengah dan panjang hingga 2024.
Mataram of West Nusa Tenggara [B2B] - The Indonesian government develops cross-ministerial synergy to support education in agricultural polytechnics by forming the Polytechnic Forum initiated by Agriculture Ministry and Education Ministry. The goal is that agricultural polytechnics will exist in every province throughout the country, according the senior official of agriculture ministry.