Nilai Ekspor US$5 Miliar, Realisasi Perjanjian SPS Barantan dengan 4 Negara
Indonesian Agricultural Quarantine Supports Commodity Exports
Reporter : Gusmiati Waris
Editor : Cahyani Harzi
Translator : Dhelia Gani

PUBLISHED: Senin, 19 November 2018 , 19:20:00 WIB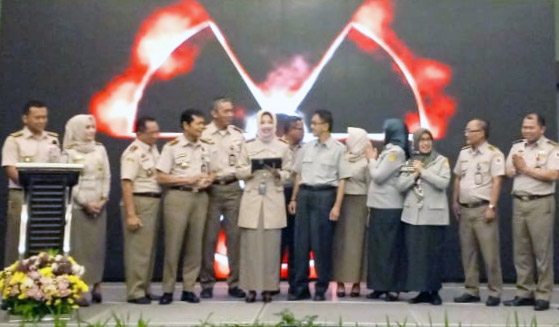 ERA INDUSTRI 4.0: Kepala Barantan Banun Harpini (memegang keyboard) didampingi para pimpinan dan perwakilan kepala UPT (Foto: B2B/Mya)
Bogor, Jabar (B2B) - Selama empat tahun terakhir, Perjanjian Protokol Karantina atau Sanitary and Phytosanitary (SPS) dengan Australia, Chile, Hong Kong, dan Uni Eropa mendukung realisasi ekspor komoditas pertanian senilai US$5 miliar. Badan Karantina Pertanian (Barantan) juga sudah menerapkan sertifikat elektronik atau e-Cert dengan Australia, Selandia Baru dan Belanda, segera menyusul Amerika, Jepang dan Singapura.
Kepala Barantan, Banun Harpini mengatakan pihaknya berupaya keras mendukung ekspor komoditas pertanian pada 2017 yang mencapai Rp441,9 triliun terkait layanan perkarantinaan seperti perjanjian SPS, e-Cert, dan mempercepat pemenuhan protokol karantina dengan melakukan proses inline inspection bersama petani.
"Barantan berupaya keras mendukung pencapaian ekspor komoditas pertanian seperti tahun lalu seperti perjanjian SPS, mempercepat pemenuhan protokol karantina, dan inline inspection dengan petani," kata Banun Harpini kepada pers di Bogor, Senin (19/11).
Dalam kegiatan paparan evaluasi nasional capaian kinerja empat tahun dan era industri 4.0, Banun menguraikan tentang capaian Barantan terkait SPS atau langkah/tindakan untuk melindungi manusia, hewan, dan tumbuhan dari penyakit dan hama (kontaminan).
Terhitung empat tahun, empat hasil perjanjian SPS untuk akselerasi ekspor komoditas pertanian Indonesia masing-masing Australia Comprehensive Economic Partnership Agrement (CEPA) untuk coklat, manggis, salak, dan kopi dengan nilai ekspor US$667,8 juta; Indonesia - Chile CEPA untuk minyak sawit (CPO) dan jagung senilai US$143,8 juta; Asian Hongkong China Free Trade Agreement (FTA) untuk tepung kelapa, mangga, SBW, kopi, madu, coklat, teh dan reptil senilai US$3 milyar, dan Indonesia-European Free Trade Association untuk rempah-rempah, kakao, kopi, teh, produk kayu dan ikan senilai US$1,2 miliar.
Sementara akses percepatan secara elektronik juga dilakukan dengan pertukaran data via e-Cert ke negara tujuan. Saat ini sudah tiga negara yakni Australia, Selandia Baru, Belanda, dan sedang proses penyetaraan sistem dengan Jepang, Amerika dan Singapura.
"Barantan dalam empat tahun tahun terakhir juga melakukan perluasan negara tujuan ekspor baru yaitu Ukraina, Timor Leste, dan Papua Nugini," kata Banun.
Indonesia juga menambah komoditas/produk baru ke negara-negara mitra dagang tradisional, misalnya salak ke Selandia Baru; mangga dan manggis ke Australia; manggis, PKE, produk kayu dan durian ke China; bunga krisan, pisang, nenas ke Jepang; kelapa dan produknya ke India dan Amerika Serikat; serta PKE ke Filipina.
Bogor of West Java (B2B) - Over the past four years, the quarantine protocol agreement: Sanitary and Phytosanitary or the SPS with Australia, Chile, Hong Kong and the European Union support realization of Indonesia´s agricultural commodity exports worth US$5 billion. The Indonesian Agricultural Quarantine Agency/IAQA or the Barantan has also applied electronic certificates or e-Cert with Australia, New Zealand and the Netherlands, immediately with America, Japan and Singapore.
Director General of IAQA Banun Harpini said Barantan was trying to support quarantine services such as the SPS agreement, e-Cert, and speeding up the quarantine protocol with an inline inspection process with farmers.
"The Barantan strives to support the achievement of agricultural commodity exports like last year, such as the SPS agreement, accelerating the quarantine protocol, and inline inspection with farmers," Mrs Harpini told the press here on Monday (November 19).
In the four-year performance evaluation and industry 4.0 era, he described Barantan´s achievements regarding SPS to protect humans, animals and plants from diseases and pests (contaminants).
For four years, four SPS agreements, namely the Australia Comprehensive Economic Partnership Agrement (CEPA) for chocolate, mangosteen, salak, and coffee with an export value of US $ 667.8 million; Indonesia - Chile CEPA for crude palm oil and corn US$143.8 million; The Asian Hong Kong China Free Trade Agreement (FTA) for coconut flour, mango, SBW, coffee, honey, chocolate, tea and reptiles worth US$3 billion, and the Indonesia-European Free Trade Association for spices, cocoa, coffee, tea, wood and fish products US$1.2 billion.
While access to electronic acceleration is also done by exchanging data via e-Cert to the destination country. Currently there are three countries namely Australia, New Zealand, and Netherlands, and process of equalizing system with Japan, America and Singapore.
"In the past four years, the Barantan has also expanded new export destinations namely Ukraine, Timor Leste and Papua New Guinea," Mrs Harpini said.
Indonesia also adds new commodities to trading partner countries; barked to New Zealand; mangoes and mangosteen to Australia; mangosteen, PKE, wood products and durian to China; chrysanthemum flowers, bananas, pineapple to Japan; coconut and its products to India and the United States; and PKE to the Philippines.