Gertam Kubu Raya, Kalbar Berpotensi jadi Lumbung Padi Nasional
West Borneo Province has Potential into Indonesian Rice Barns
Editor : M. Achsan Atjo
Translator : Dhelia Gani

PUBLISHED: Kamis, 19 Juli 2018 , 19:40:00 WIB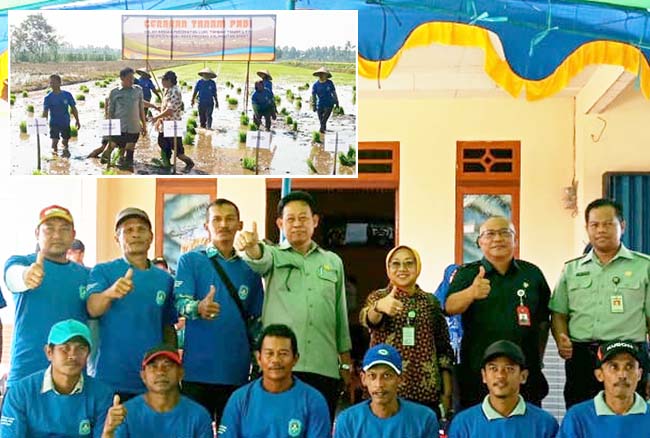 PJ Upsus Kalbar, Momon Rusmono (berdiri ke-4 kiri) dengan petani Gapoktan Solo Bersatu usai Gertam Padi di Sungai Kakap dengan Kadistan Kalbar Heronimus Hero dan Kadistan Kubu Raya, Gandhi Setyagraha (Foto2: Septalina Pradini)
Kubu Raya, Kalbar (B2B) - Kementerian Pertanian RI berkomitmen penuh mendukung pengembangan potensi pertanian di Provinsi Kalimantan Barat, khususnya produksi padi, mengingat realisasi luas tambah tanam (LTT) dan luas panen pada 14 kabupaten di Kalbar pada masa tanam Oktober 2017 sampai Mei 2018 menunjukkan trend positif, sehingga dapat menunjang swasembada beras tingkat provinsi dan mengatasi kebutuhan pangan daerah lain.

Hal itu dikemukakan oleh Penanggung Jawab Upsus Kalbar, Momon Rusmono pada kegiatan gerakan tanam serentak (Gertam) di Kecamatan Sungai Kakap, Kabupaten Kubu Raya, Kamis (19/7) didampingi Kepala Dinas Pertanian Pemprov Kalbar, Heronimus Hero; dan Kadistan Kubu Raya, Gandhi Setyagraha.

"Potensi LTT padi Kalbar tergolong luar biasa seperti halnya gerakan tanam padi di Kubu Raya hari ini, yang direspons positif oleh pemerintah daerah. Pemerintah pusat berharap banyak pada dukungan daerah seperti Pemprov Kalbar maupun Pemkab Kubu Raya, begitu pula 13 kabupaten dan kota di Kalbar," kata Momon Rusmono usai memimpin Gertam Kubu Raya bersama para petani dari gabungan kelompok tani (Gapoktan) Solo Bersatu.
Momon menguraikan bahwa luas lahan padi Kabupaten Kubu Raya pada Juli 2018 mencapai 17.000 hektar, dan potensi tanam 13.792 hektar.

Dia menyampaikan harapan Menteri Pertanian RI Andi Amran Sulaiman bahwa Kalbar ke depan terus meningkatkan produksi padi untuk menjadi lumbung pangan nasional, mengingat saat ini LTT dan luas panen di pulau Jawa mengalami stagnan.

"Hingga saat ini, Kalbar secara umum menunjukkan trend positif, tidak ada rapor merah dari realisasi target LTT misalnya. Apa-apa yang ditargetkan Kementan, dapat dicapai dengan baik," kata Momon Rusmono, yang juga menjabat Kepala Badan Penyuluhan dan Pengembangan SDM Pertanian (BPPSDMP) Kementan.

Tampak hadir Kepala Balai Pengembangan Teknologi Pertanian (BPTP) Kalbar, Ahmad Musyafak; Kepala Pusat Penyuluhan Pertanian (Pusluhtan) BPPSDMP Kementan, Siti Munifah; dan Kepala Staf Kodim (Kasdim) 1207/BS Pontianak, Letkol Inf Hardi Darmawan.

Peluang dan Kendala
Heronimus Hero mengapresiasi perhatian Jakarta khususnya Kementan dalam mengawal LTT padi, jagung dan kedelai (Pajale), begitu pula dengan dukungan pemerintah kabupaten mendorong petani di Kecamatan Sungai Kakap dan kecamatan lainnya di Kubu Raya untuk mendukung Gertam.

Sementara Gandhi Setyagraha mengingatkan para penyuluh pertanian di Kubu Raya untuk mendukung dan berkomunikasi dengan para petani meningkatkan produksi Pajale melalui pemanfaatan alat mesin pertanian (Alsintan).

"Traktor tangan untuk 2018 ada 100 unit di Kubu Raya, apabila kekurangan dapat meminjam ke Distan provinsi untuk perbaikan tanggul atau kebutuhan lainnya. Kami berharap dukung power tresher untuk percepatan pasca panen, karena selama ini petani butuh waktu sampai lima hari dengan cara manual," kata Gandhi.
Kubu Raya of West Borneo (B2B) - Indonesian Agriculture Ministry is committed support development of agricultural potential in West Borneo province or the Kalbar, especially rice production, realization of extensification of rice crops or the LTT and harvested area in 14 districts the planting period of October 2017 to May 2018 shows a positive trend, so that it can support rice self-sufficiency at the provincial level.

It was stated by the Person in Charge of increased production of food crops or Upsus Pajale for Kalbar, Momon Rusmono of the rice planting activities here on Thursday (July 19) accompanied by the head of the provincial agricultural office, Heronimus Hero; and district office, Gandhi Setyagraha.

"The Kalbar agricultural potential is high especially rice in Kubu Raya, which is supported by the local government. The central government expects the full support of local governments including 13 districts and cities in West Borneo," said Mr Rusmono here.
Mr Rusmono elaborated about the potential of rice fields in Kubu Raya district in July 2018 reached 17,000 hectares, and the potential of planting 13,792 hectares.
He conveyed the expectations of Agriculture Minister Andi Amran Sulaiman to West Borneo continues to increase rice production to become the national food barn, considering that the current LTT and harvested area on Java island is stagnant.
"Until now, West Borneo in general showed a positive trend, no red report from the realization of LTT targets for example," said Mr Rusmono, who also serves as the Director General of Indonesia´s Agricultural Extension and Agricultural Human Resources or the BPPSDMP.

Opportunities and Constraints
Mr. Hero appreciated the attention of Jakarta especially the ministry to increase the production of food crops, as well as district government support encourages farmers in Sungai Kakap and other subdistricts in Kubu Raya.

While Mr Setyagraha reminded the agricultural extensionists in Kubu Raya district to support farmers through agricultural mechanization.

"Hand tractor for 2018 there are 100 units in Kubu Raya, if less able to borrow to the provincial agricultural service. We expect government assistance such as power tresher for post-harvest acceleration," Mr Gandhi said.