Kadin Jerman DIHK Dukung Pengembangan Pendidikan Vokasi Pertanian RI
Germany Supports Indonesia to Developing Agricultural Vocational Education
Editor : M. Achsan Atjo
Translator : Dhelia Gani

PUBLISHED: Minggu, 24 Februari 2019 , 19:41:00 WIB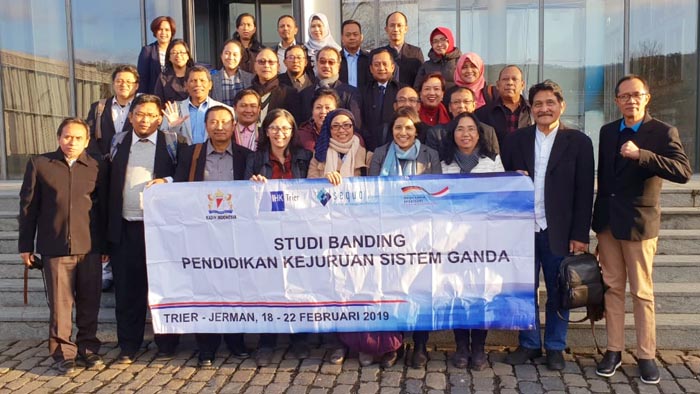 STUDI BANDING: Kepala Pusdiktan Idha Widi Arsanti (depan), Wakil Ketua Kadin Anto Supit dan pimpinan PT Trans Retail Indonesia (Carrefour) Sumarni beserta rombongan Kadin Indonesia di Jerman (Foto: Pribadi)
Trier, Jerman (B2B) - Pemerintah RI berupaya meningkatkan kualitas sistem pendidikan pertanian untuk mempersiapkan generasi muda pertanian yang produktif dan berdaya saing. Kementerian Pertanian RI melalui Pusat Pendidikan Pertanian di Badan Penyuluhan dan Pengembangan SDM Pertanian (Pusdiktan BPPSDMP) mengadakan benchmarking ke Jerman di Deutscher Industrie- und Handelskammertag atau DIHK (Kadin Jerman) dan Industrie-und Handelskammer (IHK/Kadin Trier), yang merupakan mitra kerja sama pelatihan vokasi kejuruan ganda (pemagangan) dengan Kamar Dagang dan Industri Indonesia (Kadin).
"Mengapa belajar dari Jerman? Penerapan pola pendidikan vokasi atau sistem ganda, membuat Jerman mampu menekan angka pengangguran hingga 6,7 persen. Posisi tersebut merupakan peringkat pertama di dunia seperti dilansir IHK Trier pada 2017," kata Kepala Pusdiktan, Idha Widi Arsanti melalui pesan singkat via WA.
Dalam penerapannya, Kadin Jerman mendapat kewenangan penuh dari pemerintah untuk mengembangkan sistem, berfungsi sebagai pengawas dan pelatih tempat kerja, serta memberikan sertifikasi kepada perusahaan pelaksana sistem vokasi dan monitoring serta evaluasi.
Menurut Idha WA, pola tersebut memberikan manfaat kepada berbagai pihak, bagi perusahaan diuntungkan setelah mendapat tenaga kerja terampil dan sesuai dengan kebutuhan. Sementara bagi siswa dapat langsung bekerja, jenjang karier profesi yang jelas dan mendapatkan gaji/upah, dan pemerintah tidak perlu mengeluarkan dana besar untuk pendidikan vokasi sekaligus mengurangi jumlah pengangguran.
Pusdiktan BPPSDMP Kementan menyadari peran strategis sektor pertanian karena merupakan penyumbang pertumbuhan produk domestik bruto (PDB) yang cukup signifikan. Kontribusi peningkatan PDB pada semester kedua 2018 mencapai 9,93%, sehingga perlu dilakukan pendidikan holistik untuk mempertahankan sektor tetap menjadi pengungkit pertumbuhan ekonomi nasional, mengingat sebagian besar rakyat Indonesia berkecimpung di subsektor agribisnis.
"Solusinya adalah pembenahan sistem pendidikan pertanian untuk menyiapkan generasi muda pertanian yang produktif dan berdaya saing. Salah satu indikator adalah serapan tenaga kerja dari Polbangtan atau SMK-PP sebagai job seeker atau job creator. Dalam hal ini pendidikan vokasi atau sistem ganda yang bersifat praktis diperlukan, sehingga link and match dengan dunia usaha dan dunia industri atau DuDi adalah mutlak," kata Kapusdik Idha WA di sela kunjungan di WesNetz di Trier, Jerman. (Iwa)
Trier of Germany (B2B) - Indonesian government seeks to improve quality of agricultural education system to prepare the young generation of agriculture young generation productive and competitive. The Agriculture Ministry through the Agricultural Education Center of Directorate General of Extension and Agricultural HR Development or the BPPSDMP benchmarking at the Deutscher Industrie- und Handelskammertag or the DIHK and Industrie-und Handelskammer who is the vocational training cooperation partner with the Indonesian Chamber of Commerce and Industry or the Kadin.
"Why learn from Germany? Germany was able to reduce unemployment from dual system education to 6.7 percent. This position is ranked first in the world as reported by the IHK Trier in 2017," said Director of Pusdiktan, Idha Widi Arsanti via WA short messages.
In its implementation, the German Chamber of Commerce and Industry has the authority of government to developing system, function as workplace supervisors and trainers, and provide certification to companies that implement vocational systems, monitoring and evaluation.
According to Arsanti, the pattern of vocational education benefits for many parties, the company benefits from getting the required skilled labor. While students can work immediately, clear career paths, get salary / wages, the government saves budget and simultaneously reduces the number of unemployed.
The ministry realizes strategic role of agricultural sector as significant contributor to gross domestic product growth. Contributing 9.93% to economic growth in the second semester of 2018, the holistic education is needed to maintain the agricultural sector as a lever for national economic growth, considering that most Indonesians are involved in the agribusiness sub-sector.
"The solution is to revamp the agricultural education system to prepare young people for productive and competitive agriculture. One indicator is to developing agricultural polytechnic education in Polbangtan as the job seeker or job creator. so that the link and match with the business world and the industrial world is very important," Arsanti said.