Tumbuh 5,63%, Ekspor Nonmigas Turun kecuali Pertanian
Indonesian Agricultural Export Volume January to Mei in 2020 Up 26.9%
Reporter : Gusmiati Waris
Editor : Cahyani Harzi
Translator : Dhelia Gani

PUBLISHED: Selasa, 16 Juni 2020 , 19:42:00 WIB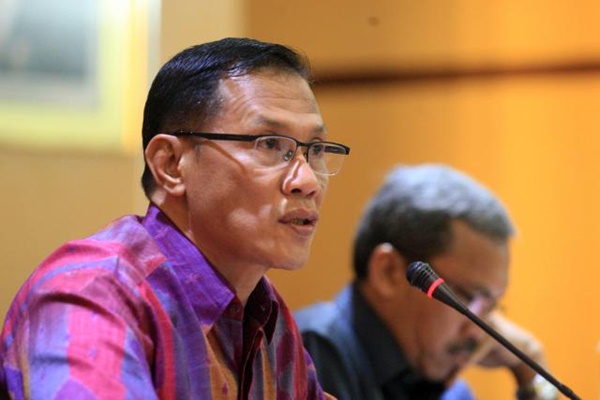 Kepala BPS Suhariyanto: Ekspor pertanian Januari hingga Mei 2020 pertumbuhannya cukup mengembirakan mencapai 5,63% karena meningkatnya ekspor buah-buahan tahunan [Foto: istimewa]
Jakarta [B2B] - Penurunan ekspor terjadi pada semua sektor periode Januari hingga Mei 2020, kecuali pertanian yang mencapai US$1,43 miliar atau tumbuh 5,63% dari periode sama 2019 sebesar US$1,35 miliar.
Kepala Badan Pusat Statistik [BPS] Suhariyanto mengatakan ekspor nonmigas Indonesia Januari - Mei 2020 mencapai US$60,97 miliar atau turun 3,50%, yang menyumbang 94,58% dari total ekspor yang mencapai US$64,46 miliar atau turun 5,96% dari periode sama 2019.
"Penurunan ekspor terjadi pada hampir seluruh sektor kecuali pertanian. Sektor migas anjlok hingga 34,93%, industri pengolahan turun 0,08%, sektor tambang dan lainnya turun 21,02%," kata Suhariyanto melalui live streaming di Jakarta, Senin [15/6].
Menurutnya, semua sektor mengalami pertumbuhan negatif kecuali pertanian. Ekspor pertanian Januari hingga Mei 2020 pertumbuhannya cukup mengembirakan mencapai 5,63% karena meningkatnya ekspor buah-buahan tahunan.
Secara global, katanya, jika dilihat per negara maka pangsa pasar ekspor nonmigas periode Januari hingga Mei 2020 tidak banyak berubah. Ekspor Indonesia masih tertuju ke China, pangsa ekspornya 17,04% disusul Amerika Serikat 11,84% dan Jepang 8,69%.
Menanggapi hal itu, Kuntoro Boga Andri selaku Kepala Biro Humas dan Informasi Publik, Kementerian Pertanian RI mengatakan, saat indikator ekonomi nyaris negatif, pertanian masih bertumbuh, padahal pandemi Covid-19 terus berlangsung.
"Sektor ini selalu memberi harapan dan berkontribusi positif bagi ekonomi nasional.
Pangan selalu dibutuhkan. Saat pandemi dan semua aktivitas sosial perdagangan menurun, sektor pertanian masih bergerak positif. Itu kabar baik bagi perekonomian nasional," tegas Kuntoro.
Jakarta [B2B] - The decline in Indonesian exports occurred in all sectors for the period January to May 2020, except agriculture increased by US $ 1.43 billion or grew 5.63% from the same period in 2019 of US $ 1.35 billion, according to Indonesian Central Statistics Agency.