Ali Jamil Gantikan Banun H, Fadjry Djufry Pimpin Badan Litbang Kementan
Indonesian Agricultural Minister Inaugurated the 1st Echelon Officials
Reporter : Gusmiati Waris
Editor : Cahyani Harzi
Translator : Dhelia Gani

PUBLISHED: Senin, 04 Februari 2019 , 19:50:00 WIB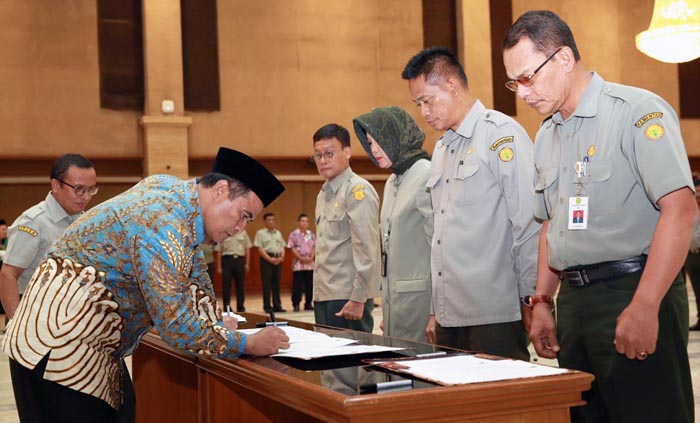 PEJABAT ESELON SATU: Mentan Amran Sulaiman meneken SK pengangkatan Ali Jamil (kanan), Fadjry Djufry (ke-2 kanan) sebagai Kepala Barantan dan Balitbangtan (Foto: Humas Kementan/Fajar)
Jakarta (B2B) - Setelah menjabat sebagai Kepala Badan Karantina Pertanian (Barantan) dan Kepala Badan Penelitian dan Pengembangan Pertanian (Balitbangtan) sejak 1 Juni 2015, Banun Harpini dan Mohammad Syakir digantikan oleh Ali Jamil dan Fadjry Djufry. Kedua pejabat baru eselon satu tersebut dilantik Menteri Pertanian RI Andi Amran Sulaiman pada Senin (4/2) bersama 22 pejabat eselon satu dan dua di Kementerian Pertanian RI.
Sementara Banun Harpini dilantik menjadi Staf Ahli Menteri (SAM) bidang Perdagangan dan Hubungan Internasional, dan M Syakir memasuki masa pensiun.
Mentan Amran Sulaiman mengingatkan kepada para pejabat yang dilantik untuk bekerja keras bagi kepentingan rakyat, khususnya petani.
"Semua pegawai terutama pejabat di Kementan harus siap melayani rakyat 24 jam. Jangan ada handpone yang tidak aktif. Harus siap 24 jam," kata Mentan dalam arahannya.
Ir. Ali Jamil, M.P., Ph.D.
Ali Jamil, pria kelahiran Siabu, Kabupaten Mandailing Natal, Provinsi Sumatera Utara pada 30 Agustus 1965 sebelumnya menjabat Direktur Aneka Kacang dan Umbi pada Ditjen Tanaman Pangan, yang dilantik Mentan Amran Sulaiman pada 3 Juli 2018.

Fungsional peneliti utama Balitbangtan ini adalah doktor lulusan Doctor of Philosophy dari Dept of Soil Science, UPLB, Los Banos, Filipina melalui program JSSP periode Oktober 2002 hingga Maret 2006, dan merupakan Life Membership of Gamma Sigma Delta (GSD), the Honor Society of Agriculture.
Posisi strategis di Badan Litbang Pertanian adalah Kepala Balai Pengkajian dan Penerapan Teknologi (BPTP) Riau di Pekanbaru (2007 - 2012); Kepala BPTP Sumut di Medan (2012 - 2013); Kepala Balai Penelitian Tanah di Bogor (2013 - 2014); Kepala Balai Besar Penelitian Padi di Sukamandi Subang (2014 - 2016); Kepala Pusat Penelitian dan Pengembangan Tanaman Pangan di Bogor (2016).
Posisi strategis di direktorat jenderal adalah Direktur Tanaman Tahunan dan Penyegar - Ditjen Perkebunan (Desember 2016 - Maret 2017); Direktur Serealia, Ditjen Tanaman Pangan (Maret 2017- Juli 2018); dan 3). Direktur Aneka Kacang dan Umbi, Ditjen Tanaman Pangan (Juli 2018- Feb 2019).
Dr. Ir. Fadjry Djufry MSi
Sebelum dilantik Mentan, Senin (4/2), pria kelahiran Makassar 14 Maret 1969 ini menjabat sebagai Kepala Pusat Penelitian dan Pengembangan Perkebunan (Puslitbangbun) sejak Juli 2015. Jabatan sebelumnya, Kepala BPTP Papua (2008-2012) dan Kepala BPTP Sulawesi Selatan (2012-2015).

Fadjry Djufry memperoleh gelar sarjana pertanian (S1) bidang studi Agronomi di Universitas Hasanuddin Makassar (Unhas) pada 1993. Sementara pendidikan S2 dan S3 ditempuh di Institut Pertanian Bogor (IPB) pada bidang studi Agroklimatologi/Pemodelan Tanaman, yang dirampungkan pada 2000 dan 2005.

Dia juga menjadi dosen pasca sarjana (S2) di beberapa universitas: Universitas Islam Makassar (2012-2015), Unhas (2012-2015), dan Universitas Lambung Mangkurat Banjarmasin (2005-2007).
Jakarta (B2B) - Indonesian Agriculture Minister Andi Amran Sulaiman inaugurated four of the ministry´s first echelon officials among others, Ali Jamil as the Director General of Agricultural Quarantine or the Barantan replaced Banun Harpini; and Fadjry Djufry as the Director General of Agricultural Research and Development or the Balitbangtan replaced Muhammad Syakir. Senior ministry officials inaugurated here on Monday (February 4) with 22 other senior officials.

Minister Sulaiman reminded senior officials who were inaugurated to work hard for the people, especially farmers.

"All civil servants, especially ministry officials, must be ready to serve the people 24 hours a day. Smartphones must be ready 24 hours," Sulaiman said in his direction.
Ali Jamil
Ali Jamil was born in Siabu, Mandailing Natal district of North Sumatra province on August 30, 1965, previously served as the Director of Nuts and Tubes at the Directorate General of Food Crops, who was inaugurated on July 3, 2018.

He is a doctor from the Philosophy Department of Soil Science, UPLB, Los Banos, Philippines through the JSSP program from October 2002 to March 2006, and is the Life Membership of Gamma Sigma Delta (GSD), the Honor Society of Agriculture.

Jamil has held several strategic positions at the Balitbangtan since 2007, including: Director of Riau´s Assessment Institute for Agricultural Technology or the BPTP Riau (2007 - 2013), Director of the Soil Research Center (2013 - 2015), Director of Center for Rice Research (2015 - 2016), and Director of Food Crops Research and Development Center (April 2016).

Fadjry Djufry
Fadjry Djufry before being inaugurated by Minister Sulaiman, Monday (February 4), he was born in Makassar´s March 14, 1969, served as Director of the Center for Estate Crops Research and Development since July 2015. His previous position was Director of BPTP Papua (2008 - 2012), and Director of BPTP South Celebes (2012 - 2015).

He has a degree in agronomy of Makassar´s Hasanuddin University or the Unhas in 1993 while postgraduate and doctoral education of Bogor Agricultural Institute or the IPB Bogor in 2000 and 2005.

He also became a postgraduate lecturer in several universities such as the Makassar Islamic University (2012 - 2015), the Unhas (2012 - 2015), and the Banjarmasin´s Lambung Mangkurat University (2005 - 2007).