Instruksi Mentan, Pekarangan UPT Pusdiktan di Kupang Terapkan P2L
Urban Farming Supports the Decline of Poor Households in Indonesia
Editor : M. Achsan Atjo
Translator : Dhelia Gani

PUBLISHED: Selasa, 09 Juni 2020 , 19:58:00 WIB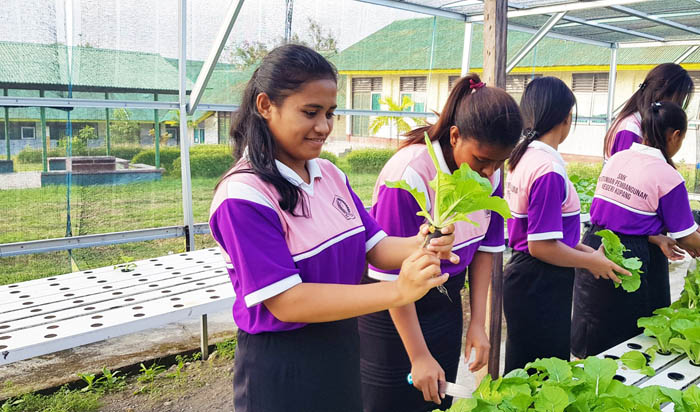 PARTISIPASI SISWA: Hasil panen dinikmati sendiri atau dijual kepada civitas SMK-PP Negeri Kupang hingga masyarakat luas. Sebagian hasil penjualan disisihkan agar budidaya berkelanjutan [Foto: Humas SMK-PP Negeri Kupang]
Kupang, NTT [B2B] - Pekarangan asrama putra SMK-PP Negeri Kupang di ibukota Provinsi Nusa Tenggara Timur [NTT] seluas 100 m2 kian hijau oleh aneka tanaman sayuran seperti terong, pepaya dan cabai. Sementara wortel, kubis, kaylan, lengkuas, jahe dan kunyit di polybag melaksanakan instruksi Menteri Pertanian RI Syahrul Yasin Limpo melalui program Pekarangan Pangan Lestari [P2L].
"Pemanfaatan pekarangan telah dilakukan sejak Agustus 2019 lalu. Jenis tanaman yang ditanam pun berganti-ganti, disesuaikan dengan musim serta kondisi yang ada," kata Pembimbing Asrama SMK-PP Negeri Kupang, Nikodemus Usfinit melalui pernyataan tertulis, Selasa [9/6].
Menurutnya, kegiatan budidaya dilakukan di luar jam sekolah. Bahan-bahan untuk budidaya memanfaatkan apa yang ada di sekitar. Misalnya pupuk, merupakan feses ternak sapi di instalasi. Tanam di polybag atau pot memanfaatkan limbah dari bungkus minyak goreng maupun gelas plastik.
Kreativitas di pekarangan asrama itu pun berbuah manis. Hasil panen dinikmati sendiri atau dijual kepada civitas SMK-PP Negeri Kupang hingga masyarakat luas. Sebagian hasil penjualan disisihkan agar budidaya berkelanjutan.
Saat pandemi Covid-19, siswa-siswi SMK-PP Negeri Kupang belajar dari rumah. Hal itu mendorong Nikodemus Usfinit, akrab disapa Niko, meneruskan budidaya di pekarangan itu. Apabila pandemi mereda, dia berharap siswa-siswa lebih terlatih untuk kreatif menerapkan ilmu pertanian dalam kehidupan sehari-hari.
"Kegiatan perilaku pertanian ini merupakan kegiatan positif yang harus terus didukung dan difasilitasi agar berlanjut. Hal itu sudah menjadi komitmen kami," kata Kepala SMK-PP Negeri Kupang, Stepanus Bulu.
Kepala Pusat Pendidikan Pertanian [Pusdiktan BPPSDMP] Idha Widi Arsanti mengapresiasi pengembangan P2L di lingkungan asrama SMK-PP Negeri Kupang. Hal itu sejalan instruksi Menteri Pertanian RI Syahrul Yasin Limpo untuk memanfaatkan setiap jengkal tanah kosong untuk budidaya tanaman pangan dan hortikultura.
"Langkah alternatif strategis memenuhi kebutuhan pangan keluarga melalui program P2L, titik beratnya pada pemberdayaan kelompok masyarakat," kata Kapusdik Idha WA mengutip instruksi Mentan Syahrul.
Hal itu juga didukung Kepala BPPSDMP, Prof Dedi Nursyamsi untuk mengembangkan P2L di pekarangan rumah hingga asrama siswa dan mahasiswa dari unit pelaksana teknis [UPT] pendidikan SDM Pertanian di seluruh Indonesia.
"Manfaatkan semua limbah rumah tangga untuk diolah menjadi pupuk organik, kemudian aplikasikan pada tanaman di pekarangan," katanya. [Vtr]
Kupang of East Nusa Tenggara [B2B] - Food security in Indonesia can start from the family, by developing urban farming in yard area of house to meet food needs by planting chili so it can save the household expenses because chili prices often soared during the religious holidays and National holiday, according to Indonesia senior official.