Sosialisasi YESS, Pusdiktan BPPSDMP Temui Bupati Tanah Laut di Pelaihari
Millennial Farmers are the Target of Developing Indonesian Agricultural HR
Editor : M. Achsan Atjo
Translator : Dhelia Gani

PUBLISHED: Sabtu, 12 September 2020 , 20:00:00 WIB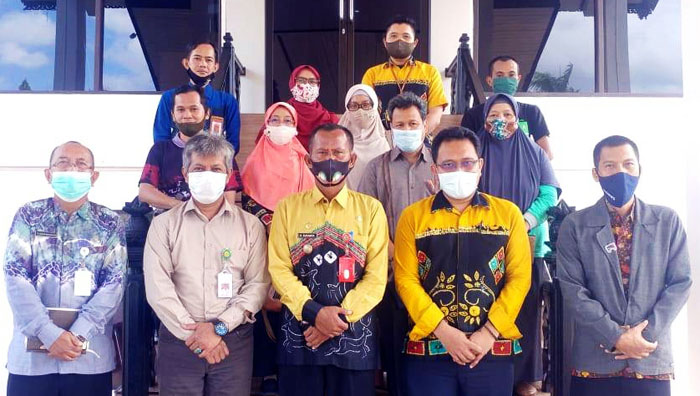 DUKUNGAN DAERAH: Wakil Direktur Program YESS, Setya Budi Udrayana [ke-2 kiri] bersama Bupati Tanah Laut, Sukamta [ke-3 kanan] dan tim Pusdiktan BPPSDMP serta jajaran Pemkab Tanah Laut [Foto: Pusdiktan BPPSDMP]
Pelaihari, Kalsel [B2B] - Kementerian Pertanian RI melakukan sosialisasi Program Youth Entrepreneurship and Employment Support Services [YESS] pada Bupati Tanah Laut, Sukamta, yang menyambut dan mendukung Program YESS bagi pengembangan regenerasi petani dan kewirausahaan di sektor pertanian oleh generasi milenial.
"Kesungguhan melaksanakan program, jalinan koordinasi didukung pemerintah daerah dan pemangku kepentingan dalam implementasi kegiatan, harus didorong demi tercapainya tujuan regenerasi petani," kata Bupati Sukamta saat menerima kunjungan Wakil Direktur Program YESS, Setya Budi Udrayana di Pelaihari, ibukota Tanah Laut, Jumat [11/9].
Tanah Laut merupakan salah satu lokasi piolot project kegiatan YESS di Provinsi Kalimantan Selatan [Kalsel]. Selain Tanah Laut, lokasi lain di Kalsel adalah Kabupaten Banjar dan Tanah Bumbu.
Bupati Sukamta mengingatkan Tim Provincial Project Implementation Unit [PPIU] Kalsel agar sungguh-sungguh mendukung penguatan kapasitas kaum muda di bidang usaha dan kompetensi kerja berbasis pertanian.
Setya Budi Udrayana menguraikan tentang Program YESS dilaksanakan Kementan khususnya Badan Penyuluhan dan Pengembangan SDM Pertanian [BPPSDMP]. YESS didukung oleh Dana Internasional untuk Pengembangan Agrikultural [International Fund for Agricultural Development/IFAD]. Pelaksanaannya di bawah koordinasi Pusat Pendidikan Pertanian [Pusdiktan BPPSDMP].
"Program ini berupaya menghasilkan wirausahawan muda pedesaan di bidang pertanian dan menghasilkan tenaga kerja kompeten sektor pertanian," kata SB Udrayana, yang juga menjabat Kabid Program Pusdiktan BPPSDMP.
Menurutnya, Program YESS sejalan dengan arahan Menteri Pertanian RI Syahrul Yasin Limpo menegaskan sudah saatnya tongkat estafet pembangunan pertanian dilanjutkan oleh generasi millenial berfikiran maju, modern, berdaya saing mandiri dan tangguh. "Regenerasi petani, hal mutlak yang harus segera dilakukan."
Hal itu digarisbawahi oleh Kepala BPPSDMP Dedi Nursyamsi bahwa untuk mencapai target dan kondisi ideal bagi pemenuhan kebutuhan pangan nasional, menuntut tersedianya SDM pertanian profesional, mandiri, berdaya saing, dan jiwa wirausahawan.
"Dalam menghadapi perkembangan dan persaingan pasar, khususnya komoditas pertanian dibutuhkan dukungan SDM potensial yang andal. Peran generasi milenial sudah menjadi keharusan dalam mendukung pembangunan pertanian di negara mana pun, termasuk Indonesia," kata SB Udrayana, yang akrab disapa Uud.
Program YESS diluncurkan sejak Oktober 2019 pada empat provinsi sebagai pilot project yakni Kalimantan Selatan, Sulawesi Selatan, Jawa Barat dan Jawa Timur.
Dalam kesempatan terpisah, Sekretaris Dinas Pertanian Kabupaten Tanah Laut, Iwan Persada menyatakan siap mendukung kesuksesan program sekaligus menjembatani komunikasi dan koordinasi antara pengelola dan instansi terkait, serta akan membantu pelaksanaan di lapangan. [Sbu/Ll/Vtr]
Pelaihari of South Borneo [B2B] - Indonesian government in the next five years prioritizes the development of human resources that are ready to face globalization in the era of industrialization 4.0, carry out its role to develop millennial farmers who understand information and communication technology, according to the senior official of the agriculture ministry.