Ekspor Benih, Mentan Apresiasi Andil Petani Dukung Devisa Negara
Indonesian Govt Appreciates Farmers Support Export of Agricultural Commodities
Reporter : Gusmiati Waris
Editor : Ismail Gani
Translator : Dhelia Gani

PUBLISHED: Sabtu, 27 Oktober 2018 , 20:08:00 WIB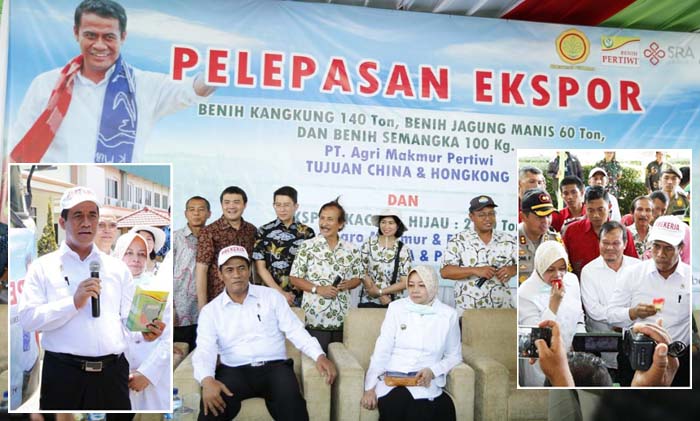 LEPAS EKSPOR: Mentan Andi Amran Sulaiman (kemeja bertopi) didampingi Bupati Kediri, Haryanti Sutrisno; Kadistan Jatim Hadi Sulistyo; dan Dirut PT Agri Makmur Pertiwi Junaidi Sungkono (Foto2: Humas Kementan)
Kediri, Jatim (B2B) - Pemerintah RI mendukung ekspor komoditas pertanian ke mancanegara, ditandai kehadiran Menteri Pertanian RI Andi Amran Sulaiman untuk melepas ekspor benih kangkung 140 ton ke China, 60 ton benih jagung manis dan 100 kg benih semangka ke Hong Kong, dan 2.200 ton kacang hijau ke Filipina dan China yang dilepas keberangkatannya dari Kediri, Provinsi Jawa Timur, Sabtu (27/10).
"Kami bangga pada petani Indonesia yang mampu menghasilkan benih unggul untuk tujuan ekspor, hal itu mengindikasikan bahwa produk pertanian nasional dapat memenuhi kebutuhan nasional maupun untuk ekspor karena kinerja petani mendukung perolehan devisa negara," kata Mentan Amran Sulaiman kepada pers di Kediri didampingi para eksportir.
Mentan juga mengapresiasi kinerja eksportir yang mendukung program pemerintah meningkatkan ekspor komoditas pertanian, dan menghasilkan devisa negara, sehingga perizinan dan kemudahan ekspor harus didukung. Sementara Kementerian Pertanian RI telah melakukan sejumlah langkah untuk mendorong investasi dan ekspor komoditas pertanian antara lain deregluasi 291 peraturan yang dinilai menghambat.
Ketiga komoditas benih ekspor merupakan hasil produksi PT Agri Makmur Pertiwi, sementara kacang hijau yang diekspor diperoduksi oleh dua perusahaan, yakni PT Sumber Roso Agromakmur, dan PT Exindokarsa Agung.
Presiden Direktur PT Agri Makmur Pertiwi Junaidi Sungkono menyatakan bahwa banyak tantangan dalam mengekspor benih, namun Indonesia terbukti mampu bersaing. Tantangan utamanya adalah cita rasa harus menyesuikan dengan standar masyarakat disana, begitu juga dengan kesesuaian iklim negara tujuan.
"Tantangan penting lain adalah inovasi varietas yang cepat berkembang. Kalau di Indonesia varietas digunakan puluhan tahun, riset di mancanegara dapat menghasilkan tren penggunaan varietas baru setiap dua tahun, untuk mengganti yang lama," kata Junaidi.
Kinerja ekspor pertanian 2017 tergolong positif, Rp442 triliun atau naik 24% dari 2016 yang berdampak pada surplus neraca perdagangan pertanian 2017 mencapai Rp 214 triliun. Tren positif akan terus dipacu sehingga dapat meningkat 13% dari tahun sebelumnya.
Kediri of East Java (B2B) - Indonesian government supports export of agricultural commodities to foreign countries, marked by the presence of Agriculture Minister Andi Amran Sulaiman to release exports of 140 tons of spinach seeds to China, 60 tons of sweet corn seeds and 100 kg of watermelon seeds to Hong Kong, and 2,200 tons of green beans to Philippines and China, the shipment was released from Kediri of East Java province on Saturday (October 27).
"We are proud of Indonesian farmers who are able to produce superior seeds for export, this indicates that national agricultural products can meet national and export needs because performance of farmers supports foreign exchange," Minister Sulaiman told the press here.
President Director of Agri Makmur Pertiwi, Junaidi Sungkono stated that there were many challenges in exporting seeds, but Indonesia proved able to compete. The main challenge is taste must be according to international standards as well as the climate suitability export destinations.
Minister Sulaiman also appreciated the performance of exporters who support government programs to increase exports of agricultural commodities for foreign exchange, so that licensing and export facilities must be supported by the government.
Agricultural seed commodities for export are the product of private companies such as the Agri Makmur Pertiwi, while green beans by Sumber Roso Agromakmur, and Exindokarsa Agung.
"Another important challenge is fast-growing varieties of innovation. If in Indonesia varieties are used for decades, International research can result in the use of new varieties every two years," Mr Sungkono said.
The 2017 agricultural commodity exports relatively positive, IDR442 trillion, up 24% of 2016 impact of agricultural trade surplus in the balance of 2017 around IDR214 trillion. A positive trend will continue to be maintained so that it will increase by 13% from the previous year.