12,66% Pertumbuhan Ekspor Komoditas Pertanian per April 2020
Food Exports Triggered the Positive Growth of Indonesia`s Agricultural Sector
Reporter : Gusmiati Waris
Editor : Cahyani Harzi
Translator : Dhelia Gani

PUBLISHED: Rabu, 03 Juni 2020 , 20:20:00 WIB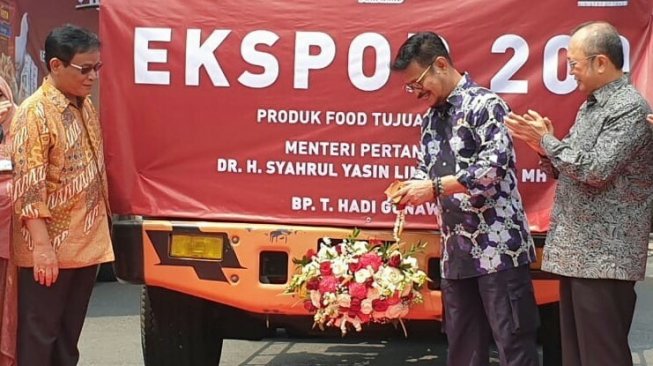 PRODUK PETERNAKAN: Mentan Syahrul Yasin Limpo [ke-2 kanan] melepas ekspor komoditas peternakan didampingi Dirjen Peternakan dan Kesehatan Hewan, I Ketut Diarmita [Foto: istimewa]
Jakarta [B2B] - Komoditas pertanian tetap tangguh mengisi pundi-pundi devisa negara meskipun dirundung pandemi Covid-19. Badan Pusat Statistik [BPS] mencatat ekspor pertanian per April 2020 mencapai US$0,28 miliar atau tumbuh 12,66% dibandingkan periode yang sama tahun 2019 [year on year/YoY].
"Berdasarkan sektornya, hanya pertanian yang mengalami kenaikan ekspor secara year of year atau YoY," kata Kepala BPS, Suhariyanto kepada pers di Jakarta, Selasa [2/6].
Menurutnya, pada periode Januari-April 2020, ekspor non migas Indonesia didominasi oleh ekspor lemak dan minyak hewan atau nabati sebesar US$6,25 miliar atau 12,24%.
"Ini merupakan sinyal positif dan menjadi angin segar dimana pertanian dan olahannya memperlihatkan pertumbuhan yang positif," kata Suhariyanto.
Suhariyanto menyampaikan upah nominal buruh tani juga mengalami kenaikan. Tercatat secara month on month (MoM) upah nominal pada April 2020 naik 0,12% dari bulan sebelumnya 55,254 menjadi 55,318.
"Namun untuk upah rill cenderung stabil dikisaran 52,214 dan tidak terjadi perubahan signifikan."
Jakarta [B2B] - Indonesian Central Statistics Agency [BPS] said that agricultural exports must be increased to maintain Indonesia´s economic growth, while at the same time increasing people´s welfare.