Sarpras KostraTani, Kepala BPPSDMP `Teleconference` dengan 15 BPP di Jabar
Indonesia`s Agricultural Extension Connected through the KostraTani
Reporter : Gusmiati Waris
Editor : Cahyani Harzi
Translator : Dhelia Gani

PUBLISHED: Jum'at, 28 Februari 2020 , 20:02:00 WIB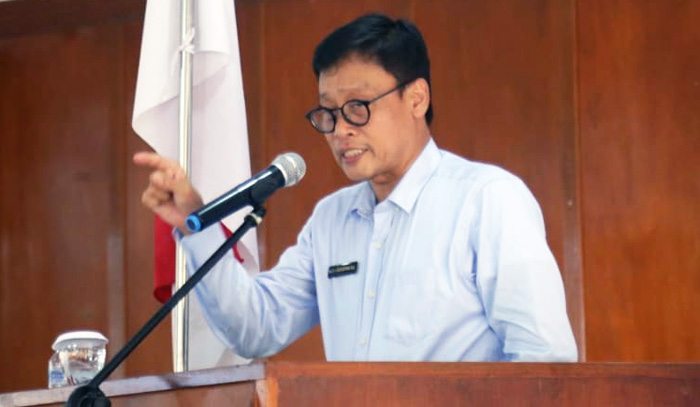 PERESMIAN AOR: Kepala BPPSDMP Kementan, Prof Dedi Nursyamsi mengingatkan tentang KostraTani sebagai pusat kegiatan pembangunan pertanian di tingkat kecamatan melalui BPP sebagai locust pembangunan pertanian
Bandung, Jabar [B2B] - BPPSDMP Kementan berupaya mendukung percepatan akses Agriculture Operation Room [AOR] dari KostraTani di Balai Penyuluhan Pertanian [BPP] ke Agriculture War Room [AWR] pada KostraTanas di Kementerian Pertanian RI di Jakarta, seperti dilakukan Kepala BPPSDMP, Prof Dedi Nursyamsi, Jumat [28/2] melakukan teleconference dari AOR di BBPP Lembang dengan 15 AOR KostraTani di Kabupaten Subang, Sumedang dan Tasikmalaya di Provinsi Jawa Barat.
Dedi Nursyamsi mengatakan bahwa Menteri Pertanian Syahrul Yasin Limpo [SYL] telah mencanangkan Program Komando Strategis Pembangunan Pertanian [KostraTani] sebagai titik dari seluruh aktivitas pertanian yang terpusat di kecamatan sebagai locust pembangunan pertanian.
"KostraTani menjadikan BPP di tingkat kecamatan sebagai pusat kegiatan pembangunan pertanian, untuk optimalisasi tugas, fungsi dan peran BPP melalui pemanfaatan teknologi informasi mewujudkan pertanian maju, mandiri dan modern," katanya.
Dia menambahkan, Mentan SYL telah menetapkan Tiga Program Aksi yakni KostraTani; pengembangan 2,5 juta pengusaha milienial dalam lima tahun; mendukung program eselon satu lingkup Kementan melalui Grasida, Sikomandan, KUR, PMS dan GratiEks.
Dedi Nursyamsi mengingatkan balai besar pelatihan pertanian [BBPP] sebagai unit pelaksana teknik [UPT] pelatihan dari BPPSDMP mengemban tugas melaksanakan pelatihan bagi aparatur maupun non-aparatur pertanian, dan mengembangkan AOR yang terhubung dengan AWR di Kementan.
"Kegiatan teleconference menjadi ajang bagi semua pihak terkait di sektor pertanian untuk mengungkap potensi, kinerja, dan kendala lapangan yang kesemuanya bermuara pada peningkatan produksi pertanian, ketahanan pangan, kesejahteraan petani, peningkatan ekspor komoditas pertanian seperti diinstruksikan oleh Mentan SYL," katanya.
Bandung of West Java [B2B] - The Indonesian Agriculture Ministry to disseminate the development of agricultural extension centers at the sub-district level [BPP] into the center of Indonesian agricultural development [KostraTani] across the country, according to Indonesian senior official of the ministry here on Wednesday [Februari 28].