Rp3 Miliar, Omset Petani Milenial Alumni PWMP Kelola `Feedlot` Domba
Millennial Farmers are the Target of Developing Indonesian Agricultural HR
Editor : M. Achsan Atjo
Translator : Dhelia Gani

PUBLISHED: Selasa, 15 September 2020 , 20:32:00 WIB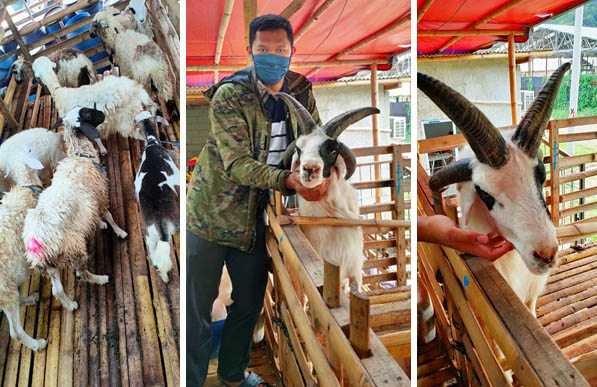 PENGGEMUKAN DOMBA: Alumni IPB Richard Fahrur Rozi di usaha feedlot domba yang dikembangkan bersama dua rekannya setelah mengikuti Program PWMP dari Pusdiktan BPPSDMP [Foto: Pusdiktan BPPSDMP]
Bogor, Jabar [B2B] - Tiga sarjana dari Institut Pertanian Bogor [IPB] membuktikan manfaat Program Penumbuhan Wirausahawan Muda Pertanian [PWMP] pada 2017. Omsetnya pada 2019 menembus Rp3 miliar dari usaha penggemukan hewan ternak [feedlot] khususnya domba di lingkungan Rumah Potong Hewan [RPH] Bubulak di Kota Bogor, Jawa Barat dengan branding Kandangku.
Alumni IPB Richard Fahrur Rozi bersama Ahmad Rizal Fahmi dan Ardiansyah mengikuti Program PWMP dari Kementerian Pertanian RI khususnya Badan Penyuluhan dan Pengembangan SDM Pertanian [BPPSDMP], di bawah koordinasi dan kendali Pusat Pendidikan Pertanian [Pusdiktan BPPSDMP] pada 2017.
Ketiga petani milenial memilih menggeluti usaha feedlot domba. Dinamai Kandangku, sebagai branding agar lekat dengan imaji tentang bisnis subsektor peternakan.
"Usaha feedlot lebih menarik dan menguntungkan ketimbang pembibitan dan pembesaran. Modal relatif lebih kecil, waktunya lumayan singkat. Penggemukan selama dua hingga tiga bulan. Kalau untuk akikah maksimal hanya tiga minggu," kata Richard FR melalui keterangan tertulis dari Pusdiktan kepada B2B, Selasa [15/9].
Berbeda dengan usaha pembibitan, waktunya hampir satu tahun untuk mendapat harga jual pantas. Laba memang lebih besar, tapi harus sabar ditopang modal besar.
Menurutnya, alur feedlot berawal dari menerima domba dari petani/peternak dan prosesnya maksimal tiga bulan. Memanfaatkan sistem kandang panggung. Pemeliharaan intensif secara koloni didukung pakan formulasi dan proses silase disertai pemisahan domba sehat dan sakit.
Dari seekor domba diraih laba 10% hingga 20% per ekor. Laba berlipat ganda hingga Rp1 juta per ekor ketika Idul Adha. Omset tertinggi diraih pada 2019, hingga Rp3 miliar dalam setahun, namun 2020 melorot lantaran pandemi.
Utamanya, karena permintaan Akikah turun setelah Pembatasan Sosial Skala Besar [PSBB] mendorong masyarakat mengurungkan niat menggelar hajatan untuk Akikah. Kiat pemasaran pun ditempuh melalui media sosial, selain Akikah, kini Kandangku menyuplai kebutuhan katering di wilayah Bogor dan sekitarnya.
"Di fase New Normal, mulai banyak masyarakat adakan Akikah. Kami tidak menyerah, karena kendala ini bukan hanya kami yang mengalami. Yakin usaha kami berangsur akan pulih kembali," kata Richard FR.
Kapusdik Idha Widi Arsanti mengapresiasi bisnis feedlot Kandangku, karena memberikan manfaat bagi warga sekitar tempat usaha, dengan menyediakan rumput pakan ternak hingga kotoran domba untuk membuat pupuk.
Menurutnya, hal itu sejalan dengan instruksi dan arahan Menteri Pertanian RI Syahrul Yasin Limpo tentang generasi milenial piawai melihat peluang sekaligus mensiasatinya menjadi usaha profit oriented, khususnya melalui PWMP di bawah kendali Pusdiktan BPPSDMP.
"Generasi milenial harus menghadapi tantangan zaman, dengan mengambil peran penting dalam pembangunan pertanian sehingga berdampak ekonomi dan sosial bagi masyarakat dan serta kemajuan daerahnya," kata Kapusdik Idha WA mengutip Mentan Syahrul.
Pendapat senada dikemukakan Kepala BPPSDMP Dedi Nursyamsi bahwa PWMP merupakan upaya menumbuhkembangkan minat generasi milenial terhadap sektor pertanian. Mengingat PWMP dilaksanakan melalui kerjasama sejumlah pihak terkait, termasuk perguruan tinggi mitra khususnya IPB Bogor. [Ll/Vtr]
Bogor of West Java [B2B] - Indonesian government in the next five years prioritizes the development of human resources that are ready to face globalization in the era of industrialization 4.0, carry out its role to develop millennial farmers who understand information and communication technology, according to the senior official of the agriculture ministry.